Più volte mi avete chiesto di
scrivere nei miei post qualcosa di più su di me.
La verità è che sono una persona abbastanza riservata e non ho mai trovato il modo o il contesto per scrivere qualcosa in più su di me e la mia vita privata. Poi mi sono imbattuta in questa serie di domande in un blog finlandese: quale migliore occasione per far scoprire qualcosina in più su di me?  Buona lettura!
▪▪
You have often write me to let you know more about me and my life. The truth is that I'm a really reserved person and I haven't find the way to write more about me on my blog yet! Then I read some of those questions on a Finnish blog: the better way to let you know something more about me! Happy reading! 
Quanti anni hai? How old are you?
23
Quanto sei alta? How tall are you?
177
Quanto pesi? How much do you weigh?
63 kg. Sono ingrassata dalla passata estate ma ho già perso 3 kg grazie alla palestra!
63 kg. I have made fat since this summer but I have already lost 3 kg thanks to the gym!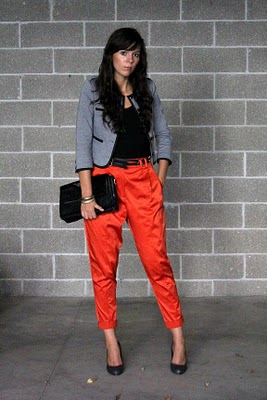 Perchè blogghi? Why do you blog?
Mi piace condividere la mia passione per la moda con altre persone con lo stesso interesse e conoscere nuove persone!
I like to share my passion for fashion with other people and meet other girls :D
Quando hai cominciato a bloggare? When did you start blogging?
Un anno fa, il 28 ottobre!
One year ago, the 28th of October!
Cosa fai nel tuo tempo libero? What are you doing in your free time?
Nel mio tempo libero mi piace andare in palestra (per me è l'unico metodo per non ingrassare dato che mangio come uno scaricatore di porto, con tutto il rispetto per la categoria :D), guardare telefilm e film e leggere un buon libro in poltrona bevendo un thè verde bollente!
In my free time I like to go to the gym (for me this is the only way to not make fat!), to watch telefilm and films and to read a good book on my armchair drinking an hot green tea!
Sei felice? Are you happy?
Sono una persona solare quindi sono felice molto spesso :) Però sono anche molto sensibile quindi altrettanto spesso mi abbatto!
I'm a sunny person so I'm happy really often! :) But I am also very sensitive so sometimes I lose heart.
Ti piace pianificare la tua vita come ad esempio creare liste di cose da fare o preferisci essere spontanea? Do you like to plan your days, like a to-do-list or do you prefer to be spontaneous?
Io sono la ragazza delle liste :D Quando frequentavo l'università ogni minuto della mia vita era programmato!
I'm the girl of lists! :D When I attended the university every minute of my life was scheduled! :D
Hai qualche abitudine fastidiosa?Do you have annoying habits?
Sono davvero disordinata :D
Hai qualche amico di penna? Do you have any pen friends?
Sì, ho un amica di email dalla Sicilia: la adoro!
Yes, I have an email friend from Sicily: I love her!
Dove vorresti andare e perchè?Where do you wanna travel and why?
Mi piacerebbe visitare gli Stati Uniti, non solo le tradizionali mete, e il Giappone: sono innamorata della cultura giapponese!
I would like to visit the United States, not only the tradionals destinations and Japan: I'm really in love with the japanese culture.
Quali nazioni hai visitato? Which countries have you visited?
Spagna (tre volte: Valencia, Barcellona, Ibiza), Portogallo, Francia, Germania, Austria, Svizzera e Irlanda.

Spain (three times: Valencia, Barcelona, Ibiza), Portugal, France, Germany, Austria, Switzerland and Ireland.
Qual'è la tua città preferita? What is your favourite city?
Io amo Firenze e Roma da buona italiana! Ma tra le altre città estere che ho visitato mi piacciono Lisbona e Valencia: sono due città in cui non mi dispiacerebbe affatto vivere!
I love Florence and Rome so much! But among the other cities I have visited I have to mention Lisboa and Valencia: two towns in which I would like to live!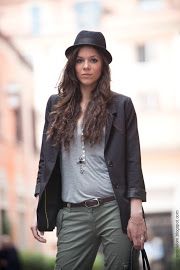 Se vincessi un sacco di soldi.. If you won a lot of money…
Mi piacerebbe frequentare un master decisamente costosto e fare un'esperienza all'estero per un annetto. Dopo di ciò mi piacerebbe comprare una casa tutta mia e sposare il mio fidanzato!
I would like to attend a very expensive master's degree and then I would like to have an foreign experience like to live a year abroad. Then I would like to buy my own house and marry my boyfriend!
Sei un gufo o un allodola? Are you a night owl or early bird?
Sono sicuramente un'allodola anche se qualche volta mi trasformo in un gufo!
I'm certainly a early bird even if sometimes I turn into a night owl: but just sometimes :D
Bevi alcohol? Do you drink alcohol?
No, non mi piace. L'unico alcolico che bevo è un bicchiere di vino bianco una volta ogni tanto!
No, I don't like it. The only alcohol that I drink is a glass of white wine once in while!
Fumi sigarette? Do you smoke cigarettes/weed?
No!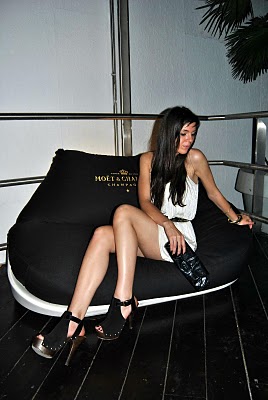 Quante lingue parli? How many languages do you speak?
Parlo Inglese, Francese e Spagnolo ma non sono molto brava nel parlare lingue straniere (anche perchè sono 4 anni che non le pratico, ahimè!).
I speak English, Franch and Spanish, but I'm not really good in speaking foreign languages.
Quale è il tuo libro preferito? What is your favorite book?
"Memorie di una Geisha" by Arthur Golden
"Memoirs of a Geisha" by Arthur Golden
Qual'è il tuo film preferito? What's your favourite movie?
E' difficile da dire! Sono una mangiatrice di film :D Comunque i miei peferiti sono i romantici :P
It's hard to say that! I'm a movie eater :D Anyway love the romantic ones!
Quali sono i tuoi telefilm preferiti? What are your favourite tv shows?
Dexter, Fringe, Doc House, 90210, The event, Glee, Gossip Girl, The walking dead..
Ti piacciono i reality? Do you like to watch reality shows?
Non molto anche se le prime due edizioni del GF me le sono viste bene! Ultimamente guardo solo ANTM!
Not so much: I only watch America's Next Top Model. :)
Leggi qualche blog? Do you read any blogs?
Ovvio! Ogni giorno apro Style Scrapbook, il mio blog preferito di sempre e Lovely Pepa, che è semplice ma carino!
Yes, of course! Everyday I open Style Scrapbook, my favorite blog ever and Lovely Pepa which is simple but pretty!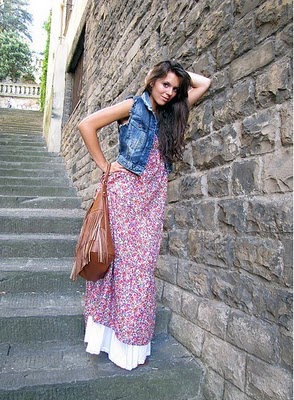 Quali sono i tuoi tre blog preferiti? Which are your 3 favorite blogs?
Style Scrapbook, Lovely Pepa e The Fashion Fruit tra i blog italiani!
Style Scrapbook, Lovely Pepa and The Fashion Fruit among the Italian blogs!
Quali siti visiti di più? What websites do you visit most?
Facebook e Chicisimo sono quelli che visito di più!
Facebook e Chicisimo are the most visited.
Hai una sorella o un fratello? Do you've got a sister or a brother?
Ho un fratello, Gabriele che ha 16 anni!
I have a brother, Gabriele who is 16 years old!
Hai un fidanzato? Do you have a boyfriend?
Sì, Giovanni e lo amo tanto :D
Yes, Giovanni, and I love him so much :D
Come descriveresti le caratteristiche del tuo perfetto marito? How do you describe perfect candidate for your husband?
Deve essere paziente, sincero e innamorato.. e penso di aver trovato l'uomo (quasi) perfetto!
He have to be patient, honest and in love.. and I think I have found the perfect man :D
Hai un cane? Do you have a dog?
Non ho un cane ma Giovanni sì, quindi li considero anche miei :D Lui ha due cani: Kira e Dodo!
I don't have a dog but Giovanni does, so I consider them as mine! So we have two dogs: Kira and Dodo!
Porti con te la macchina fotografica ovunque tu vada? Do you carry the camera with you all the places you go?
No e non ho nemmeno un telefono con la fotocamera: devo assolutamente comprarlo!
No I don't and I don't have a mobile phone with a camera: I have to buy it :D
Chi ti scatta le foto? Who takes the photos of you ?
Il mio fratello e il mio ragazzo!
My brother or my boyfriend!
Che macchina fotografica usi? What camera do you have?
Ho una Canon 550d: la amo!
I have a Canon 550d: I love it!
Lo sanno i tuoi amici che hai un blog? Know your friends that you've got a blog?
Sì, lo sanno tutti!
Hai molti amici o solo amici stretti? Do you have many friends or just few close ones?
Ne ho di entrambi ovviamente! Ho 3 migliori amiche.. e sono le migliori amiche di sempre, quasi sorelle: siamo cresciute insieme!
I have bought of them, obviously! I have 3 best friends.. and they are the best friend ever, almost sisters, we grow up together!
Cosa ti piace fare quando sei con gli amici? What do you like to do when you are with your friends?
Mi piace parlare, parlare, parlare :D Mi piace anche uscire: fare shopping o un aperitivo!
I like to talk, talk and talk! :D I like to hang out: going shopping or take an apaeritif!
Hai qualche consiglio da dare per rendere un blog di successo? Have you any tips on how to make a blog successful?
Direi di essere se stessi e mettere passione e costanza nel proprio blog! Belle foto e bella grafica sono molto utili!
I recommend to be yourself and to put passion and constancy on your blog! Beautiful pics and a good graphics work is really useful!
Sei affiatata con i tuoi genitori? Are you close to your parents?
Sono molto affiatata con i miei, specialmente con mia mamma!
I'm really close to my parents, especially to my mum!
Che ruolo avevi in classe? What role did you have in the classroom? (the silent one, the diva, the smart one)
Ero la secchiona.. ma con stile :D
I was always the nerd girl.. but with style :D
Cosa hai studiato all'università? What did you study at University?
Ho studiato Economia nel ramo del turismo e dell'organizzazione di eventi!
I have studied Economy, something concerned tourism and events management!
Che lavoro fai? What kinds of job do you do?
Ora sto lavorando per Chicisimo.it. Inoltre scrivo qualcosa come freelance e faccio qualche lavoro a chiamata che non riguarda l'ambito fashion. Infine ho in serbo un progetto lavorativo che partirà all'inizio del prossimo anno. Spero il prossimo settembre di avere abbastanza soldi per frequentare un master che è, al momento, decisamente costoso!
Now I'm working for Chicisimo.it. Then I'm writing something as a freelance and I do some free lance works (not in fashion). Then I have a working project that will start at the beginning of next year. I hope next September to have enough money to attend an expensive master's degree.
Condividi