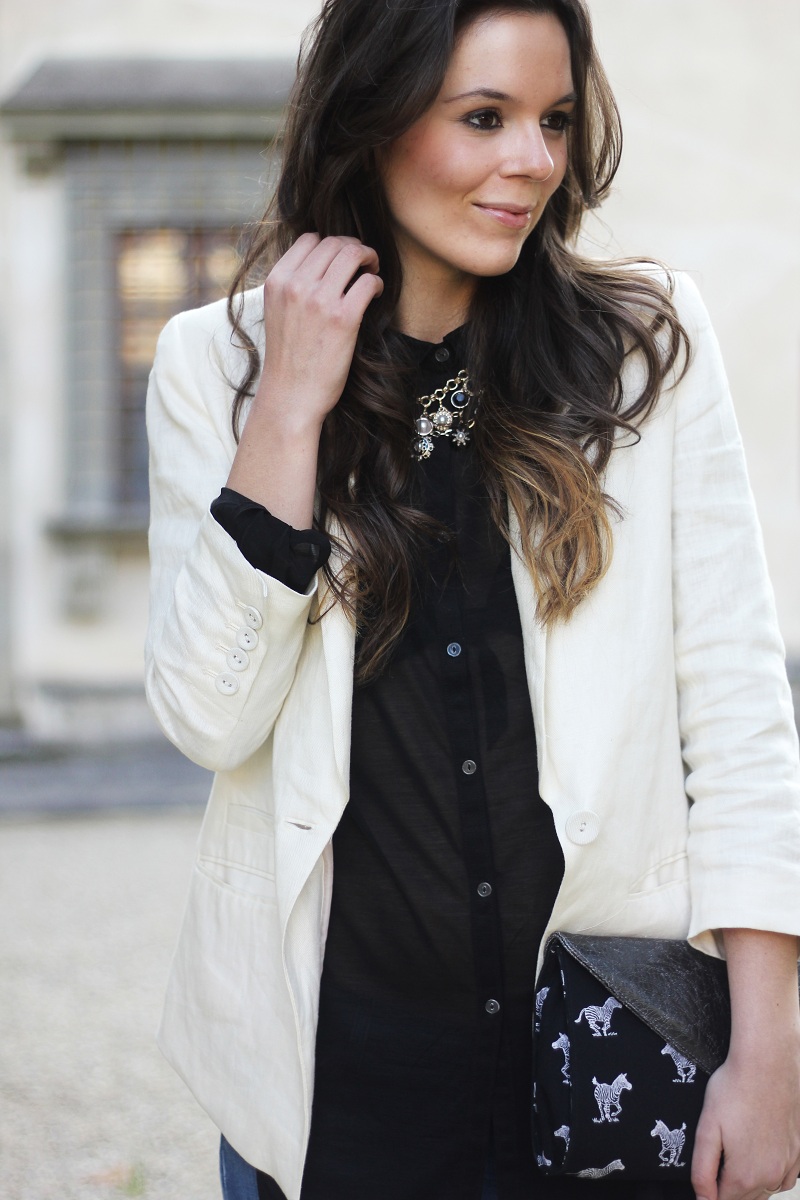 Buongiorno ragazze! 
Vi scrivo in diretta da Firenze
: queste giornate di vacanza sono ufficialmente terminate! In questi giorni, ci sarà
aria di nuovi progetti e cambiamenti:
 prima tra tutti, la mia reflex, inesorabilmente defunta durante questi giorni in montagna! Avete un bel modello da consigliarmi? Poi, avete visto? Anche 
la mia pagina Facebook
è stata totalmente rinnovata nel look: ci saranno foto più grandi e più interazione! Sul blog, nella sidebar di sinistra, ho inserito poi 
l'archivio dei post del blog e i post più popolari!
 Ma torniamo all'outfit di oggi, risalente al giorno prima della mia partenza per Madonna di Campiglio: classico bianco e nero e jeans, per quei giorni da
"ohcavolochecosamimetto!"
, arricchito da dettagli interessanti. La pochette 
Marakita
, di una stilista emergente fiorentina che spero vi piaccia come l'ho adorata io, una collana importante e scarpe design firmate 
United Nude
. Spero che l'outfit vi piaccia. Come sempre,
fatemi sapere che cosa ne pensate!!
 Un abbraccio a tutte belle donne!! :):)

Good morning girls! I'm writing you from Florence: those days of holiday are defenitly over! Those days will be about changes and new projects! First of all, I have to change my camera Reflex: it's dead! Have you got any advice about that? Then my facebook page is totaly new: take a look! But let's talk about my today outfit: I was wearing a super simple black and white outfit with interesting details like, the Marakita bag (handmade by an upcoming designer from Florence), a very important necklace and the United Nude shoes. Hope you'll enjoy my outfit! As always, let me know what do you think about that!! Have a nice morning! 
I'M WEARING:
Ps. Ed ecco i risultati del gioco Sarenza! La nuova Sarenza Girl 2012 è Federica Ventura!! La seconda è Lucia!! Complimenti!