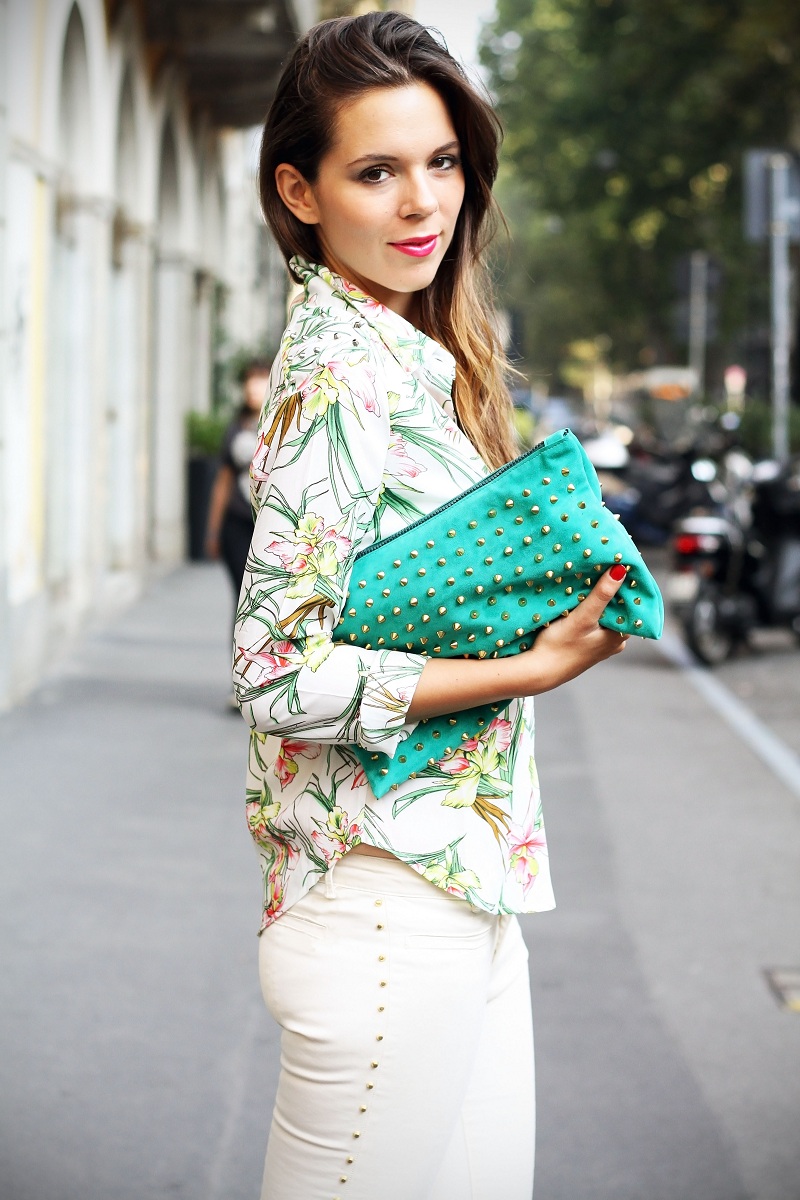 |Un total look borchie per una giornata a Milano. Ecco il mio outfit del giorno!
|
Buongiorno carissime! Prima di iniziare 
i preparativi per la Vogue Fashion Night a Roma
 di domani, dove sarò ospite di Fornarina presso lo store in via del Corso dalle ore 20.30 in poi, insieme a Melissa Satta, oggi giornata di decompressione che dedicherò a rimettermi in pari con alcuni arretrati di lavoro per partire serenamente e, soprattutto, utilizzare il 
day after
 a Roma per fare la turista insieme a Giova :D L'outfit che vi faccio vedere oggi l'ho scattato l'ultimo giorno a Milano, venerdì scorso (
QUI

, 

QUI

, 

QUI

 e 

QUI
 per vedere 
i post da Milano
, se ve li siete persi) dove finalmente indosso la mia clutch verde con borchie oro della
mia amica Benedetta
 (La adoro!). Indosso poi i pants acquistati a super saldo da Zara,
 ve li ricordate
? Spero che questo casual outfit vi piaccia: ci sentiamo nel pomeriggio con un
 post dedicato ai capelli :D 
|PHOTOS| 
by Giovanni Gambassi
|A studs total look for a day in Milan. Here my outfit of the day!|
Good morning girls! Before to start packing for the Rome Vogue Fashion Night Out tomorrow night, where I'm going to be Fornarina's guest at via del corso store from 08.30 PM, today will be an organization day when I'll try to work hard to do all the work to do before to leave to have a tourists day in Rome on friday after the event! Today i would like to show you girls the studs outfit I was wearing my last day In Milan (to see all the posts from Milan click 

HERE,

 HERE

, 

HERE

 and 

HERE

). For this outfit I was wearing 

my friend Benedetta's clutch 

(I love it) and the Zara pants I bought on sale (

do you remember?

) Hope you'll like this casual outfit: let's talk this afternoon with a post dedicated to.. hair!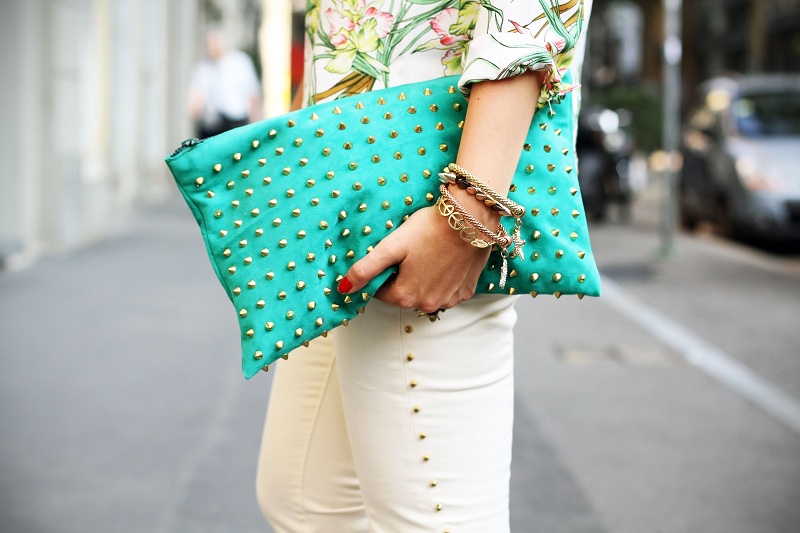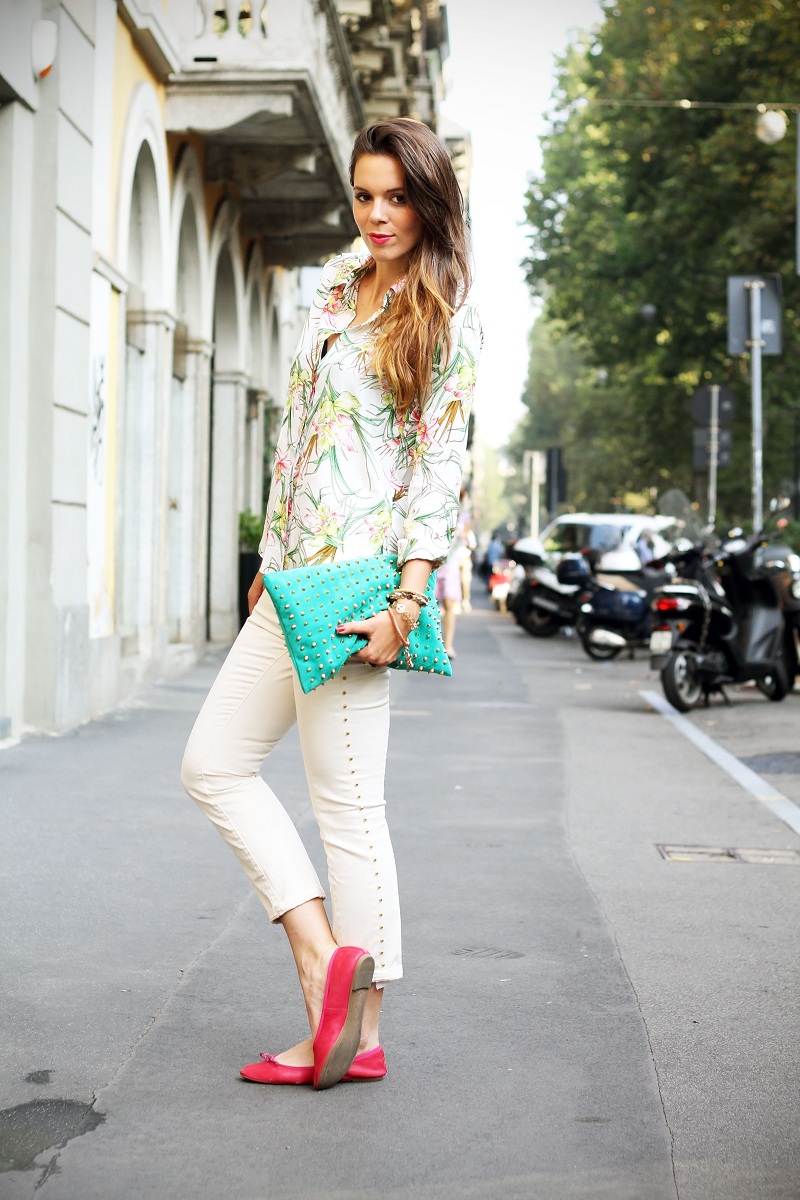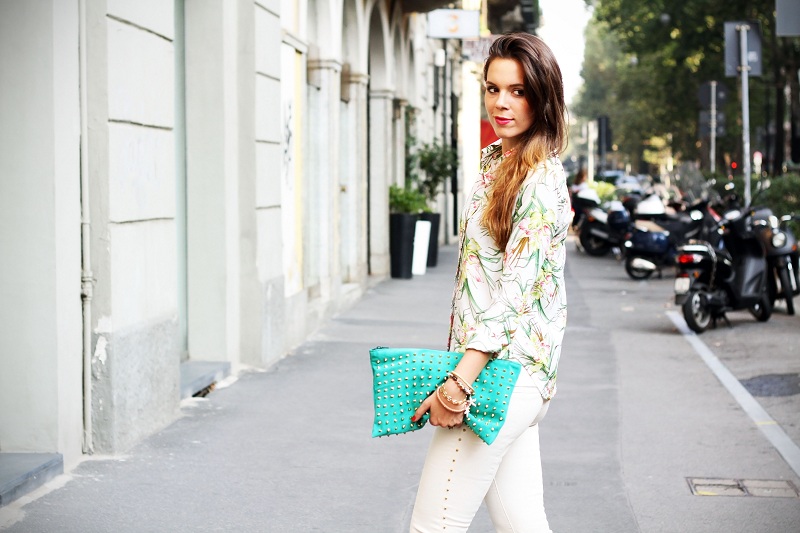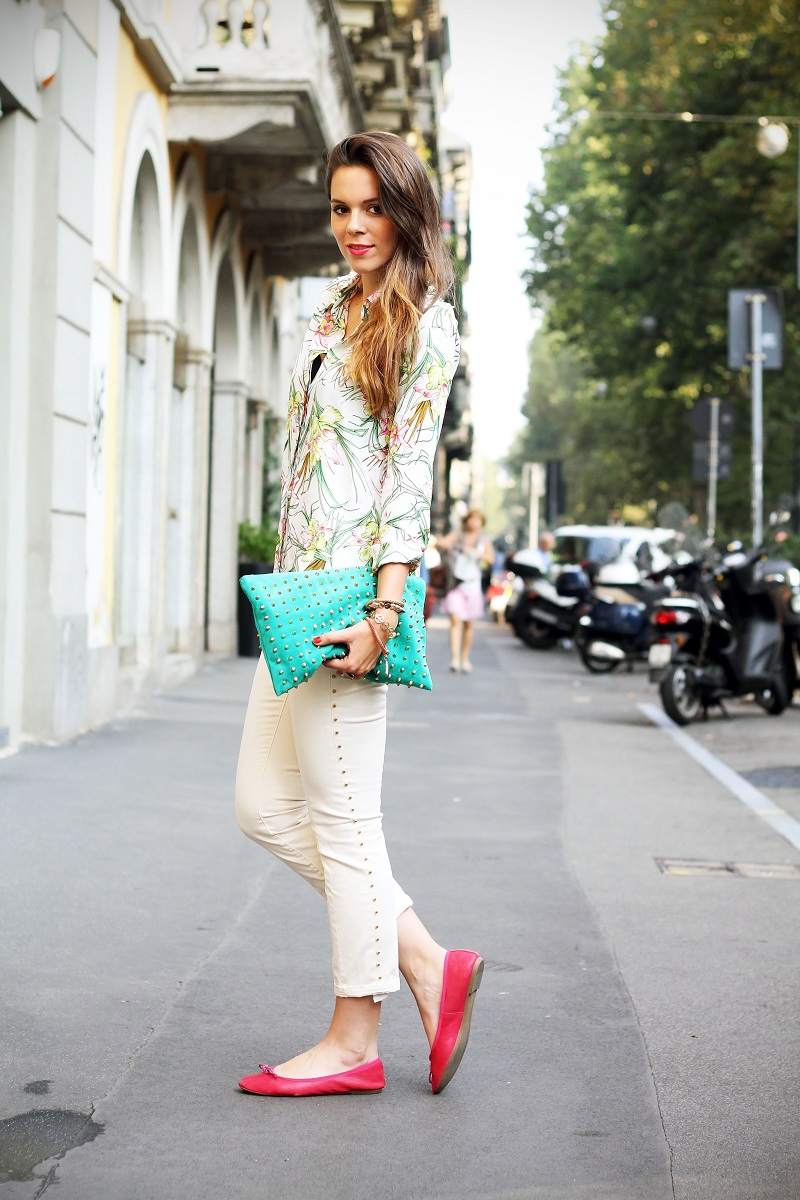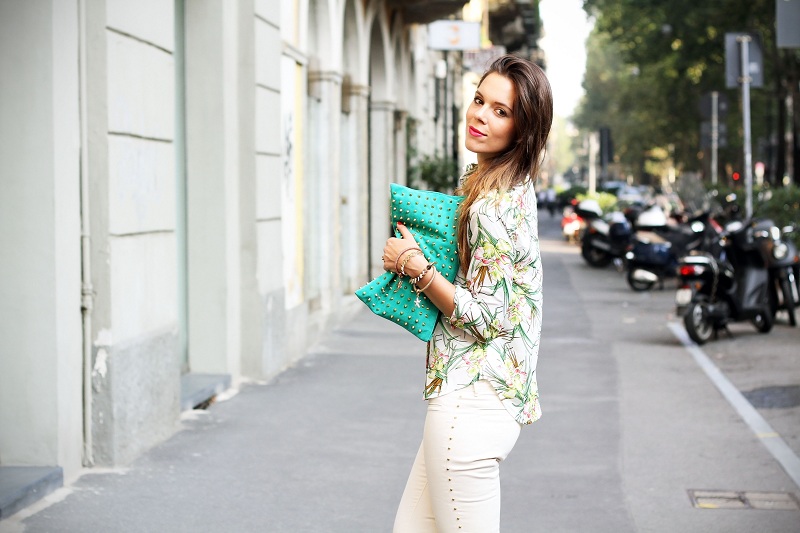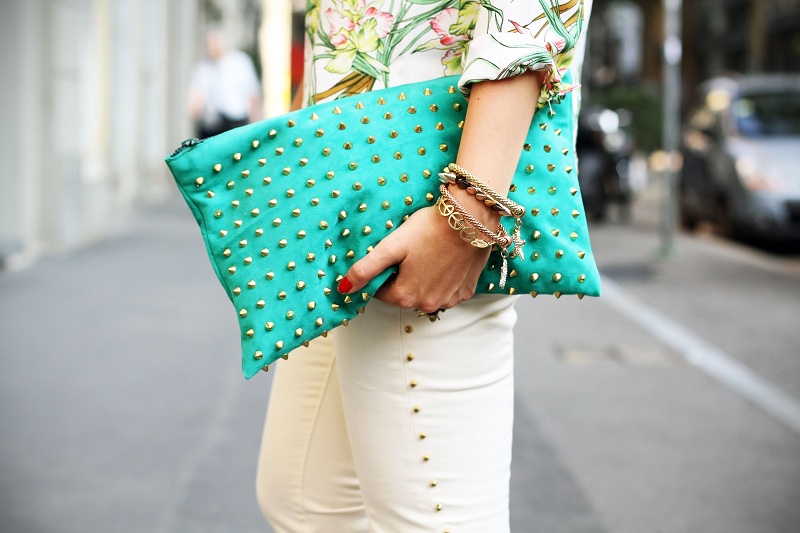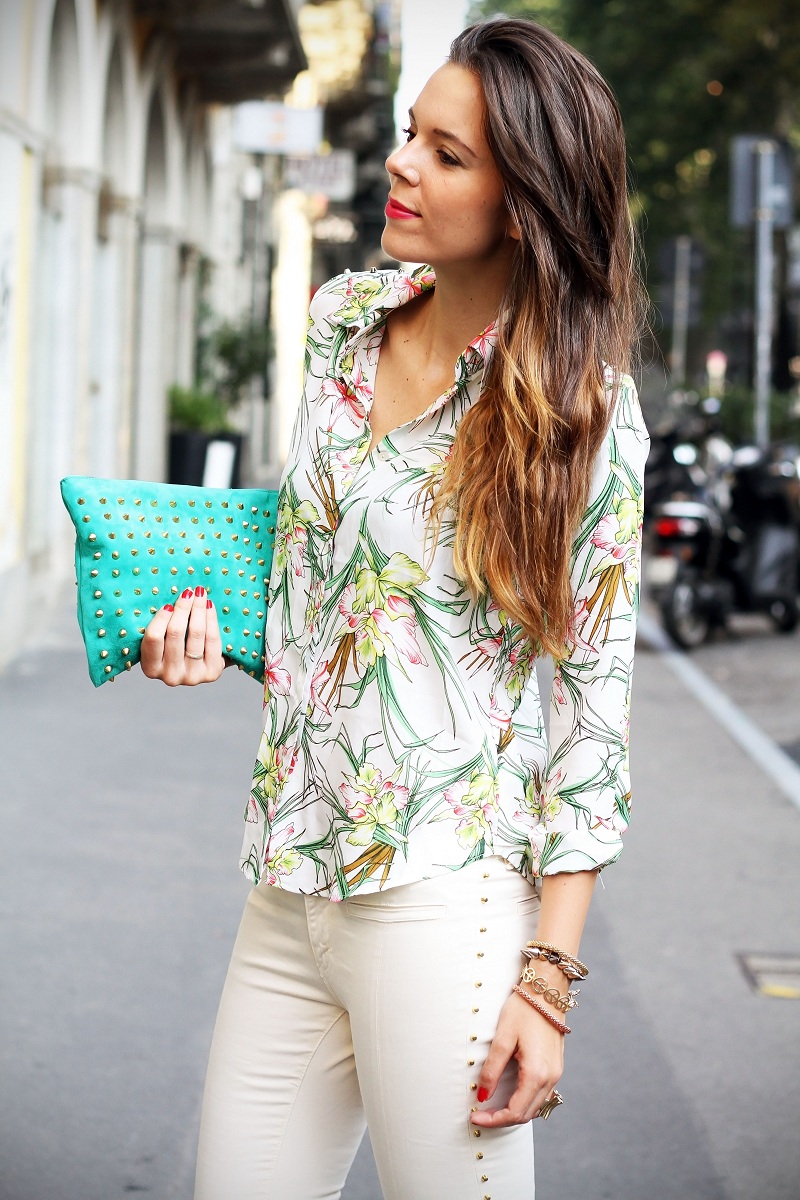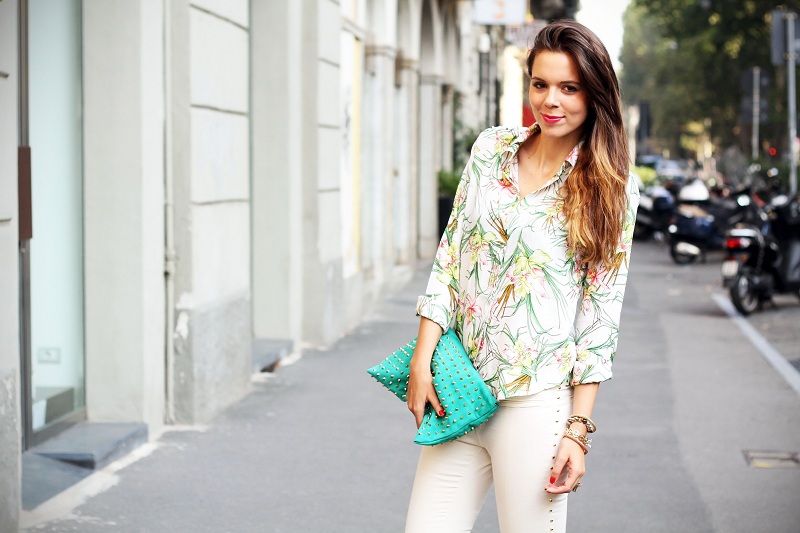 Ps. Su Instagram durante il pranzo dopo l'evento Dior, vi ho fatto vedere live una nuova applicazione per travel addicted come me, Blink Booking, ed in molte mi hanno scritto per avere più informazioni. Vi spiego meglio qui sul blog visto che è un App. davvero interessante per tutti coloro che si spostano per piacere eo lavoro, in Italia e all'estero. Blink Booking è un'app per Android e Iphone (Puoi scaricarla QUI) in cui è possibile acquistare il soggiorno in un hotel della città in cui ti trovi il giorno stesso del tuo soggiorno (Io ho pernottato un pernottamento per la VFNO di Milano e ho prenotato il mio hotel all'ora di pranzo!). Il vantaggio è che ogni giorno hai a disposizione una selezione di hotel luxury o super nice a prezzi scontati (I love last minute!) e che puoi prenotare super rapidamente dal tuo cellulare. Grazie alla cartina ed il codice di prenotazione che genera l'applicazione dopo il pagamento, puoi raggiungere subito il tuo hotel senza problemi e non avrai costi aggiuntivi. Io ho fatto proprio così ed ho soggiornato, a prezzo scontato, in uno degli hotel più belli di Milano! Consigliata :D Fatemi sapere se avete bisogno di ulteriori dettagli :D  
Ho già indossato i capi di questo outfit in questi post. 
I have already worn those items here.
Micro shorts and pink