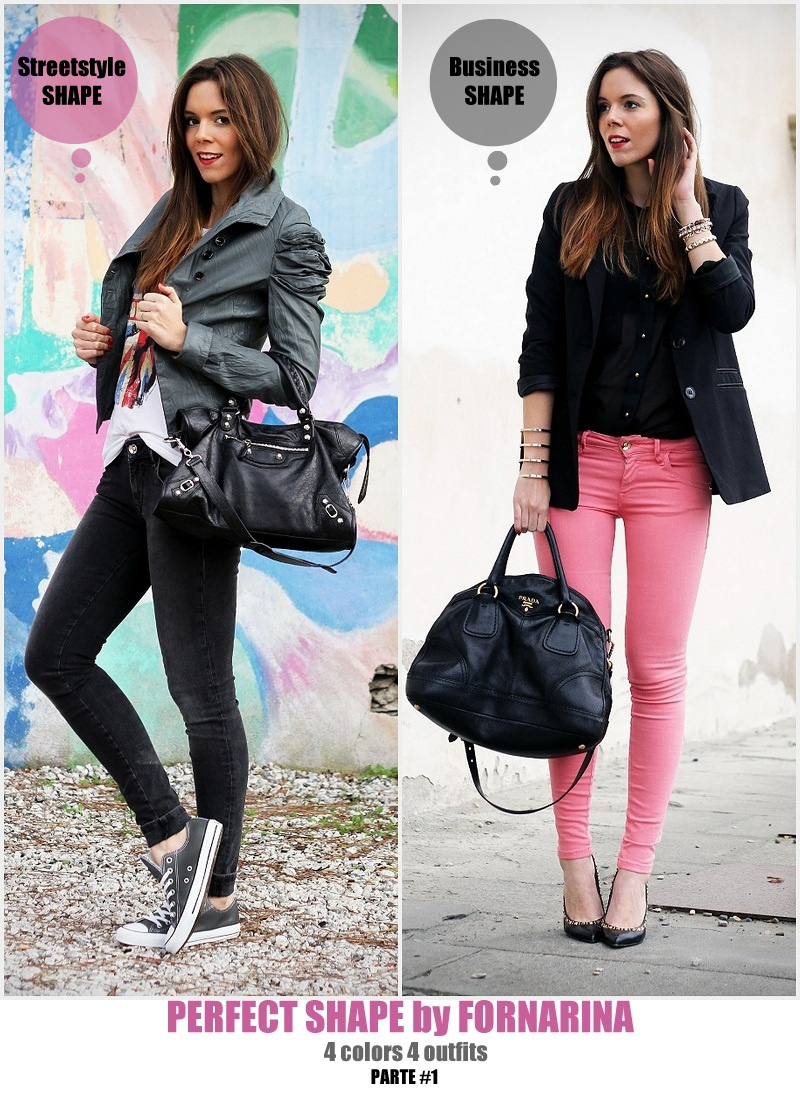 |Il Jeans Perfect Shape by Fornarina che segue le curve del corpo con effetto push in: ecco i primi due outfits!|
Buongiorno carissime! Come vi ho accennato sulla pagina Facebook Irene's Closet in questi giorni, sono contenta di farvi vedere una serie di due post, con quattro diversi outfits, dedicati al nuovo jeans Perfect Shape di Fornarina.  Di che si tratta? E' un jeans innovativo, in grado di mantenere inalterata la vestibilità con un effetto push-in:  il tessuto segue le curve del corpo senza deformarsi e ritornando velocemente alla sua forma originale grazie alla nuova tecnologia recall in shape di iSKO. Carinissimo anche il packaging (Ve lo faccio vedere a fondo post!): ogni jeans è contenuto in un bauletto colorato in pvc!
Il jeans è disponibile in 13 diverse sfumature: io ho scelto di farvi vedere 4 colori, creando 4 looks e 4 diversi mood. Ed ecco i primi due(Le altre due proposte arriveranno la prossima settimana, non perdetevele!).
Fatemi sapere qual è il vostro outfit preferito!!
|PHOTOS| by Giovanni Gambassi
|The Perfect Shape denim by Fornarina with a push in and shape effect: here the first 2 outfits!|
Happy day girls!!  As I told you on my Irene's Closet Facebook page, I'm really happy to show you two different posts with four different outfits dedicated to Perfect Shape denim by Fornarina. It's a new kinda denim that has a wonderful fit with a push in and shape effect. Also the packaging is really lovely: a cute bag in pvc (all the pics at the end of this post).The Perfect Shape denim is available in 13 different colours: I decided to show you my fav 4 colours creating 4 differents outfit with 4 different moods. Today you are going to find out the first two outfits (The other ones will be on Irene's Closet next week!). Let me know which is your fav outfit! 
Il primo Perfect Shape che ho scelto è nel colore peach, che ho deciso di abbinare in un outfit super glam, adatto ad un meeting business. Dettagli oro, blazer maschile e un paio di decolletè borchiate.
IL MIO LOOK
BAG: 
PRADA
SHIRT + ACCESSIRIES: 
ASOS
STREETSTYLE SHAPE
Ho scelto poi il colore 
black denim 
che mi ha subito ispirato un outfit super casual dal mood street. Ho abbinato i miei denim ad un paio di Converse in pelle grigie e la giacca in pelle con maniche arricciate tono su tono.