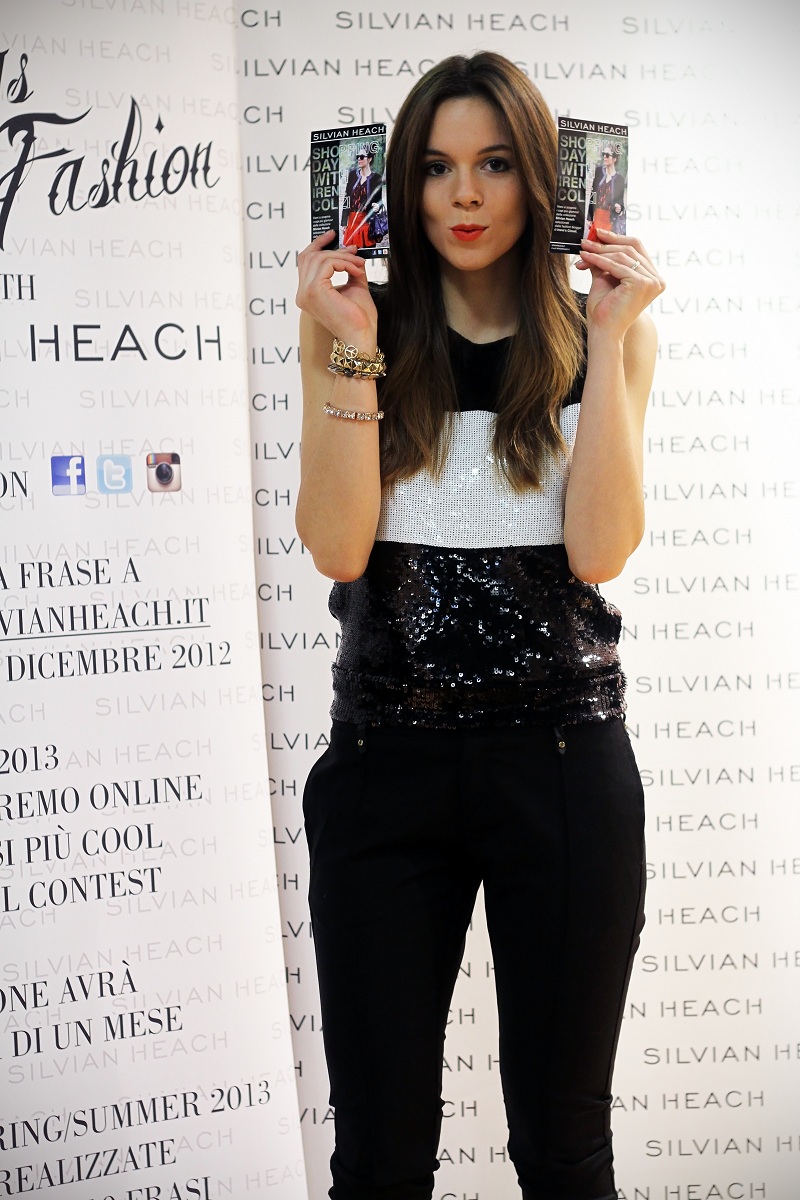 ..
|Christmas Tour Silvian Heach, weekend 1: da Reggio Emilia fino a Milano e Genova. Let's go!!! (PARTE #1)|
Buongiorno carissime! Vi scrivo dal mio lettone del mio hotel di Genova, il terzo hotel di tre diverse città che ci ha ospitato per questo incredibile tour. E' stato un fine settimana pazzescamente folle! E' iniziato infatti venerdì il mio "Christmas Tour" sponsorizzato da Silvian Heach che ha toccato e toccherà alcuni tra i più importanti COIN di Italia. La nostra "carovana" si è spostata come prima tappa a Reggio Emilia venerdì, per poi spostarci a Milano sabato ed infine a Genova domenica, città dalla quale vi sto scrivendo prima di ripartire verso casa (Il tour riprenderà SABATO 8, presso COIN del centro commerciale di ROMA Bufalotta, vi aspetto!).
Durante le tre tappe, ho avuto il piacere di conoscere tantissime di voi tra un bicchiere di spumante, uno sguardo alla collezione di Natale super sparkling di Silvian Heach, una fetta di panettone e tante tee gratuite distribuite: è stato stupendo parlare con voi a quattro occhi, finalmente conoscervi e quindi grazie mille di essere passate e grazie anche per i consigli su dove-mangiare-cosa-vedere durante le tappe del tour ci sono stati utilissimi. (Un po' meno per i miei fianchi, ahhaah!). E' stato davvero divertente :D
Durante questi primi tre giorni di tour Silvian Heach abbiamo scattato una miriade di fotografie e girato un sacco di video (Presto vi farò vedere!) per immortalare tutti i momenti più divertenti, esilaranti, teneri e particolari del nostro tour. Nel post di oggi vedrete la prima parte delle fotografie di questo weekend di Tour, la seconda parte delle fotografie arriva nel pomeriggio! :D
|PHOTOS| by Giovanni Gambassi
|Christmas tour Silvian Heach, weekend 1: from Reggio Emilia to Milano and Genova. Let's go!!!|
Good morning girls! I'm writing you from my hotel room in Genoa, the third hotel of three different cities that has hosted our team during this crazy funny weekend! It has been an incredible weekend! It started this friday my "Chritmas tour" sponsored by Silvian Heach that has reached and will reach the most important COIN stores in Italy. The team has started the weekend in Reggio Emilia, then in Milan and then Genova (And this weekend we will be in Rome!). During the tour I had the chance to know a lot of you girls, to drink with you a glass of wine and to eat typical Christmas cakes. It has been really fun to celebrate Christmas with you! Then during this weekend, we shoot sooooo many pictures to shoot the most funny, cute, particolar moments of our tour. Today you are going to see the first part of the pics of our tour, the second part will be up this afternoon! Don't miss it! 
 Ps. un grazie di cuore a Gianfranco, stylist e amico di Silvian Heach, che ci ha seguito per tutto il weekend!
(La seconda parte delle fotografie di questo weekend di tour arriva nel pomeriggio :D)