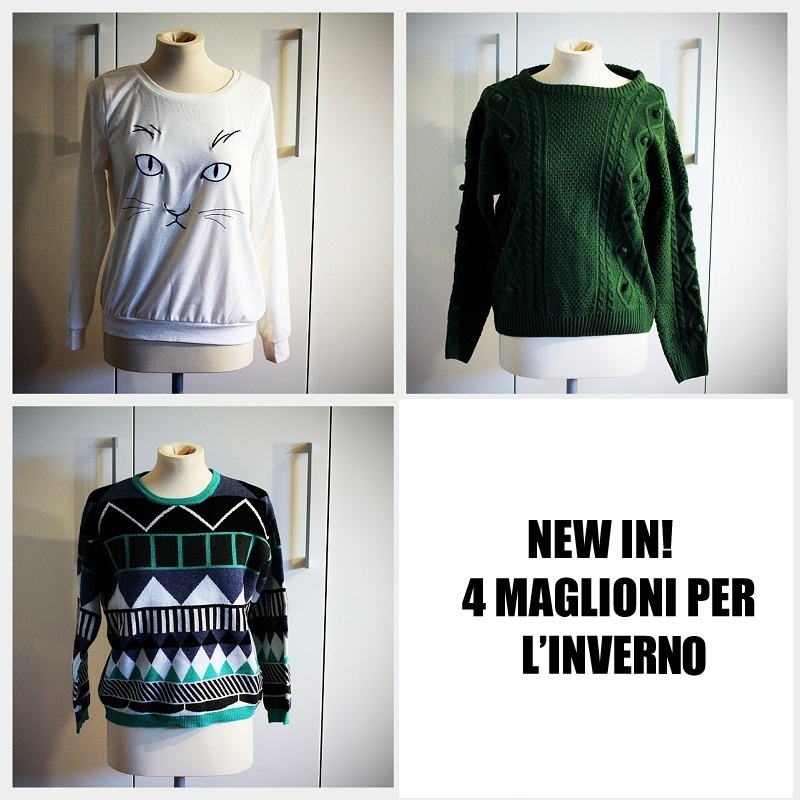 |Shopping New In: 4 maglioni per l'inverno!|
Buongiorno careee!! E' un po' che non vi faccio vedere dei 
nuovi acquistini,
 per questo oggi ho deciso di fare un paio di foto ai nuovi maglioni frutto dello shopping online di questi ultimo periodo: ho deciso di puntare su maglioncini e felpe colorate per stare calda in questo mese che si prospetta gelidissimo!
Mi sa proprio che, per andare a 
Torino 
questo weekend porterò uno di questi maglioncioni. 
Quale dovrei portare?
 Qual è il vostro preferito? Ci vediamo a Torino sabato dalle 17.30 alle 19.30 presso il negozio Massanova per l'ultima tappa del Christmas Tour (sigh sigh): spero di potervi salutare in tantissimeeeeee! Un abbraccio fortissimo a tutte!!
|New In shopping: 4 sweaters for winter!|
Happy day girls!!  Today I would like to show you my new in, sweaters and pull new in: I think this month will be sooooo freezing!! I think that to go to Tourin this weekend I will bring with me one of those sweater.. which one you think I should bring with me? Which is your fav? A big hug girls!!
1. Sheinside / 2. Oasap / 3. Choies / 4. Oasap

Ci vediamo a Torino girls, presso il negozio MASSANOVA, sabato 15 dicembre dalle ore 17.30 alle ore 19.30 per fare due chiacchiere dal vivo :D