|Benvenuta Rosita!|
Buongiorno fanciulle! Buon martedì! Io ADORO, trascorrere il weekend, staccando da tutto, nella colonica di Giova in collina, a pochi  minuti dal centro di Firenze. Nessun rumore, se non quello degli uccellini che cinguettano (O dei nostri Dodolone e Kira che cercano di acciuffare la sfotunata lucertola di turno), buona cucina toscana, aria pulita e tanti animali. Dopo le galline, che ogni mattina ci regalano le uova fresche per i pancake del pomeriggio più buoni dell'universo e dopo il nostro amico Felipe, la capra tibetana che fa  compagnia ai miei nipotini nel grande parco intorno alla colonica, da qualche giorno è arrivata anche la piccola Rosita, una capretta di quasi un anno che è già diventata la fidanzata di Felipe e che è ancora timidissima (Al contrario di Filipe, che invece è gelosissimo di troppe attenzioni verso la sua protetta!). Domenica pomeriggio dopo pranzo, abbiamo scattato un po' di foto, sia al mio outfit pratico (Che però mi piace molto) che ai nostri cuccioloni. Buon salto in campagna :DPs. Inizia Pitti :D Tra sfilate, presentazioni ed eventi saranno due giorni di full immersion! Domani dalle 9.30 alle 11 ci vediamo da Loretta Caponi, in piazza Antinori 4: evento ad ingresso libero, con colazione free e proiezione di un meraviglioso corto!
|PHOTOS| by Giovanni Gambassi
|Welcome Rosita!|
Goodmorning ladies! Happy day! I LOVE to spend the weekend, just relaxing at Giova's house at the countryside near Florence citycenter. No noise, only the birds and maybe the sound of the little wars between our dogs Kira and Dodo and the little animals of the garden of the big countryside house. And then I love the Tuscan cuisine, the clean air and all the animals there: the chickens that every morning gift us with superb eggs with which every sunday we cook amazing pancakes, the little goat Felipe and now, also Rosita, the little new goat that soon will become Felipe wife! After lunch we took some pictures of my outfit and of all our animals friends. Happy countryside post :D 
|DO YOU REMEMBER?|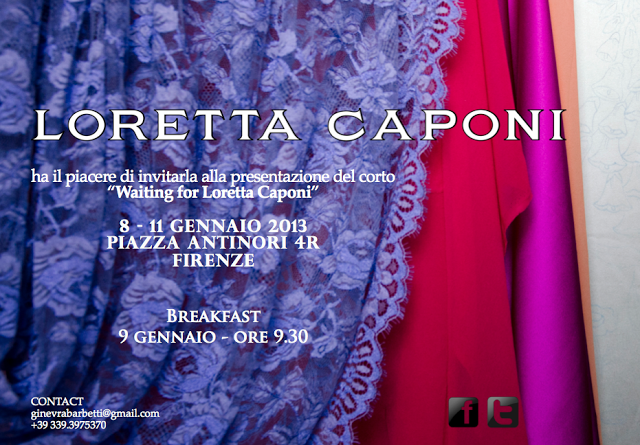 Pronte per PITTI?
Vi segnalo un evento molto carino al quale parteciperò anche io, ad ingresso libero: una COLAZIONE dalle 9.30 alle 11.00 da Loretta Caponi n piazza Antinori 4r (Firenze)! Se vi va di fare colazione tutte insieme e fare due chiacchiere ci vediamo domani!
Vinci un viaggio a New York e la possibilità di assistere alle sfilate nella grande mela durante la Fashion Week con me grazie a 
Fashiolista
 :D :D Votami 
QUI
!
Win a trip to New York and the chance to attend the NY fashion week runway shows with me thanks to Fashiolista :D Vote me 
HERE
!