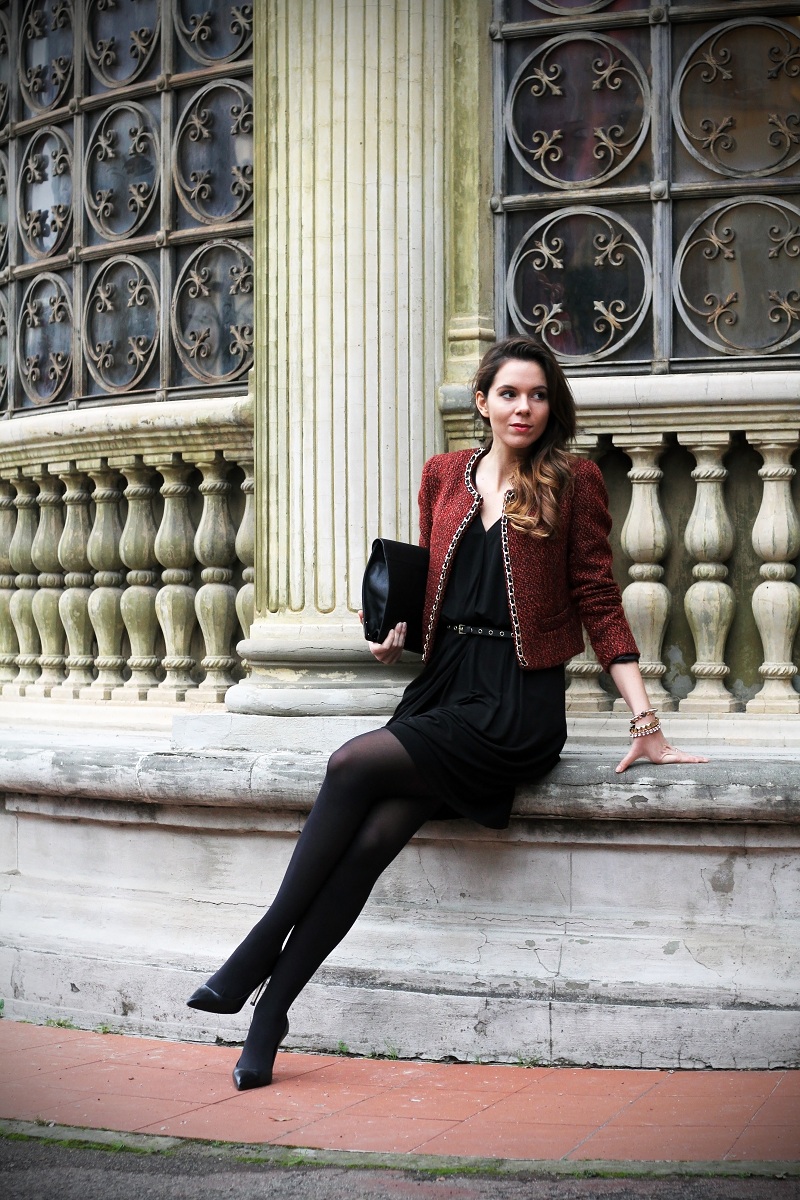 |Un look elegante per un sabato particolare |
Buongiorno e buon lunedì carissime, buon rientro a scuola\lavoro dopo le vacanze! Passato un buon weekend? Io ho trascorso il mio sabato pomeriggio a Montecatini Terme (Vi ricordate l'ultima volta per Miss Italia?)  per fare il tifo per la mia amica Benedetta Mariotti che ha fatto sfilare le sue creazioni di ispirazione anni Ottanta (Come la sua clutch con le borchie, ormai must di ogni sua collezione): Levi's shorts, tee stampate, gonne di tulle e glitter e poi, le mie preferite, le giacche in jeans oversize con perle e borchie. Abbiamo poi concluso la serata con una grande cena tutti insieme: una serata diversa dal solito e decisamente emozionante! Go Benedetta, go! Per la serata ho indossato un abito di For.Me Elena Mirò abbinato ad una giacca bordeaux profilata. Ho poi acconciato i capelli con un mosso voluminoso, come non facevo da tempo: che ne dite? :) Un abbraccio fortissimo!
Ps. Tra poco inizia Pitti, io intanto do via ai preparativi.. E se vi va di fare colazione con me mercoledì, leggete a fondo post :D
|PHOTOS| by Giovanni Gambassi
|A chic outfit for a unique saturday|
 Good morning ladies and happy monday! How about your weekend? I have spent my saturday at Montecatini Terme, together with my Giova to enjoy my friend Benedetta Mariotti how has organized a great runway show ispired by Eighties: Levi's shorts, printed tee, big skirts and  my fav, the oversized denim jackets with studs and pearls. Go, Benedetta Go! For the eveing I was wearing a For.Me by Elena Mirò dress  paired with a bordeaux jacket: what do you think about my hair? :) A big hug

|MY LOOK|
DRESS: 
FOR.ME ELENA MIRO'
JACKET: 
RINASCIMENTO
SHOES: 
JONAK
BAG: 
STRADIVARIUS
MAKE UP:
DIOR (tutorial 

HERE

)
MAKE UP:
 DIOR
|DO YOU REMEMBER?|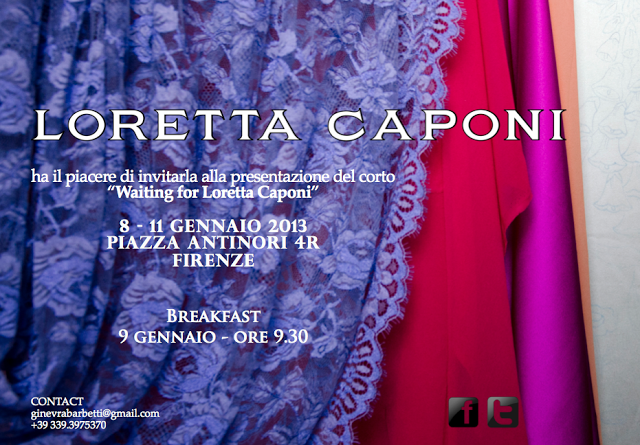 Pronte per PITTI?
Vi segnalo un evento molto carino al quale parteciperò anche io, ad ingresso libero: una COLAZIONE dalle 9.30 alle 11.00 da Loretta Caponi n piazza Antinori 4r (Firenze)! Se vi va di fare colazione tutte insieme e fare due chiacchiere ci vediamo il 9 gennaio! :)
Vinci un viaggio a New York e la possibilità di assistere alle sfilate nella grande mela durante la Fashion Week con me grazie a
Fashiolista
 :D :D Votami 
QUI
!
Win a trip to New York and the chance to attend the NY fashion week runway shows with me thanks to Fashiolista :D Vote me 
HERE
!