|I miei beauty secrets di febbraio: ecco i prodotti che mi sono piaciuti e che sto provando sulla mia pelle!|
Buongiorno e buon giovedì carissime! Eccoci oggi al secondo appuntamento "Bellezza e Benessere: i miei beauty secrets"! Se seguite il mio blog sapete che mi capita spesso di ricevere dei tester omaggio di prodotti beauty da uffici stampa o aziende che sono interessate a far provare a noi blogger i loro prodotti. A questi, poi, aggiungo tutti quelli che sono i prodotti beauty che compro durante il mese nella mia profumeria: una vera e propria ossessione! Ho deciso dunque di creare un appuntamento fisso mensile per farvi vedere i prodotti che mi sono piaciuti e che sto provando sulla mia pelle! :DPronte?
|PHOTOS| by Irene Colzi
|My february beauty secrets: here the products that I'm loving and|
Happy day girls!!  If oyu follow my blog you know that very often I receive free tester of new products from press offices, brands and so on, how are interested in let us (I mean bloggers) try new beauty products. Then since every month I buy tons of new body products, I have decided to creare a new monthly post dedicated to "My beauty secrets" to show you which are my fav products of the month. Are you ready? :)

CORPO: ROUTINE DA PALESTRA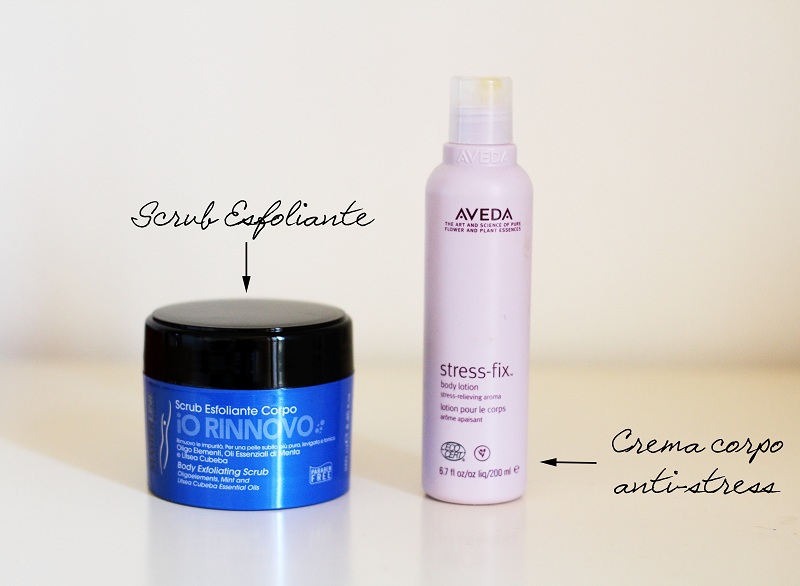 1. SCRUB ESFOLIANTE CORPO MASTERLINE
Da qualche tempo ho iniziato a completare il mio allenamento in palestra con qualche seduta di termario, il centro benessere che si trova all'interno di essa. Dopo un circuito di bagnoturco, doccia fredda, idromassaggio, sauna, doccia fredda ed idromassaggio la mia palle è pronta per essere rivitalizzata. Questo mese sto provando lo scrub esfoliante corpo di Masterline. Si tratta di un prodotto da utilizzare su tutto il corpo (In particolare gambe, glutei, gomiti, ginocchia, talloni) che contiene Oligo Elementi, olii essenziali di menta e che, come risultato, rinnova la pelle, eliminando le impurità e rivitalizzando l'epidermine. L'odore è buonissimo (Ah! Non contiene Parabeni ed è dermatologicamente testato presso il centro di cosmetologia dell' Università di Ferrara)
2. STRESS – FIX CREMA PER IL CORPO AVEDA
Dopo lo scrub è OBBLIGO applicare una buona crema idratanete. Io in questo periodo, dopo la palestra, utilizzo questa crema di Aveda, molto nutriente ma fresca e che si stende subito. E poi ha un grande pregio: ha un aroma che contribuisce a distendere i nervi e calmare lo stress. Mi serve :D
 PROFUMO: PER ME E PER LUI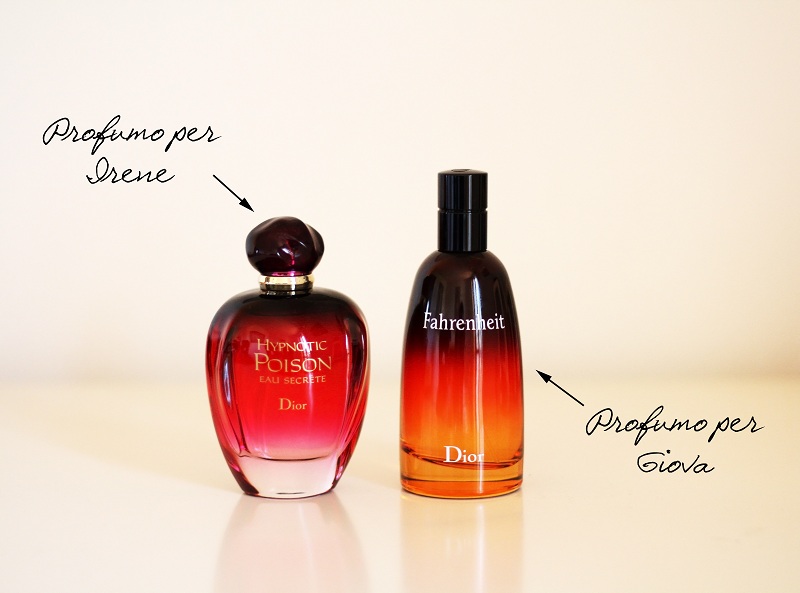 1. 
HYPNOTIC POISON
 -
 per me
Probabilmente lo sapete, è il profumo del momento (Visto la nuova pubblicità in TV con Melanie Laurent?). Benchè io sia fedele a J'adorequesto è il profumo che è riuscito in parte a metterlo in ombra: è una fragranza  secondo me, molto, molto, molto sensuale, leggera sì ma che richiama molto l'oriente. Provatelo e sappiatemi dire!
2.  FAHRENHIET- per lui
In questi giorni cade il 25esimo compleanno di Fahrenhiet, una fragranza storica nel mondo dei profumi maschili e uno tra i dieci profumi da uomo più comprati al mondo. Un ottima idea come regalo di San Valentino :D E Giova ringrazia.. :D
 CAPELLI: A TUTTO PROFUMO E PROTEZIONE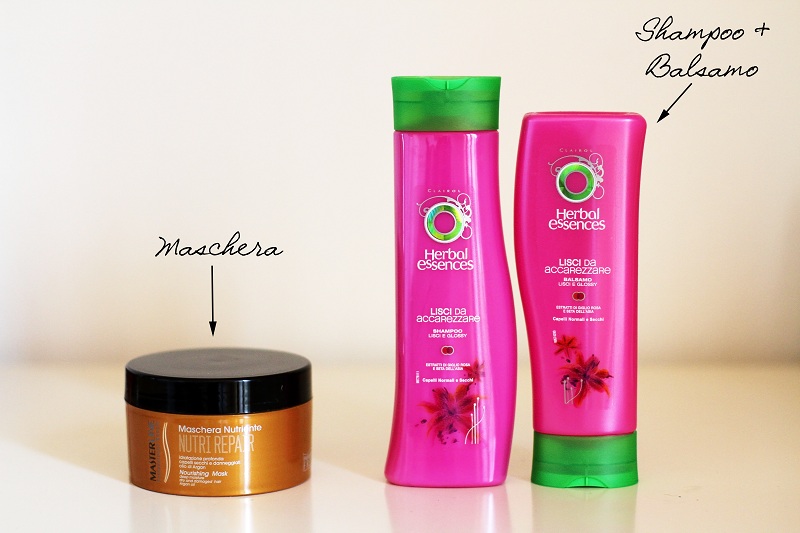 1. MASCHERA NUTRIENTE NUTRI REPAIR  MASTERLINE
Una maschera perfetta per le punte dannaggiate (Tipo le mie!): ricco di Olio di Argan (E senza Parabeni!) nutre in profondità le punte e le rende idratate e morbide contribuendo a restituire quel nutrimento per renderle sane. Consigliata dopo lo shampoo un paio di volte a settimana (E poi il prezzo ci piace, super lowcost!)
2. SHAMPOO + BALSAMO HERBAL ESSENCES
Non avevo mai provato Herbal Essences lo ammetto. In queste settimane ho provato la linea Lisci da Accarezzare con effetto Glossy: devo dire che il profumo è pazzesco e rimane sui capelli a lungo. Però ad essere onesta per me che ho la cute sensibile è troppo forte e quindi se per il profumo va un bel 10+ quanto a performance il voto scende. Voi che ne pensate?
 MAKE UP: NUOVI ESSENZIALI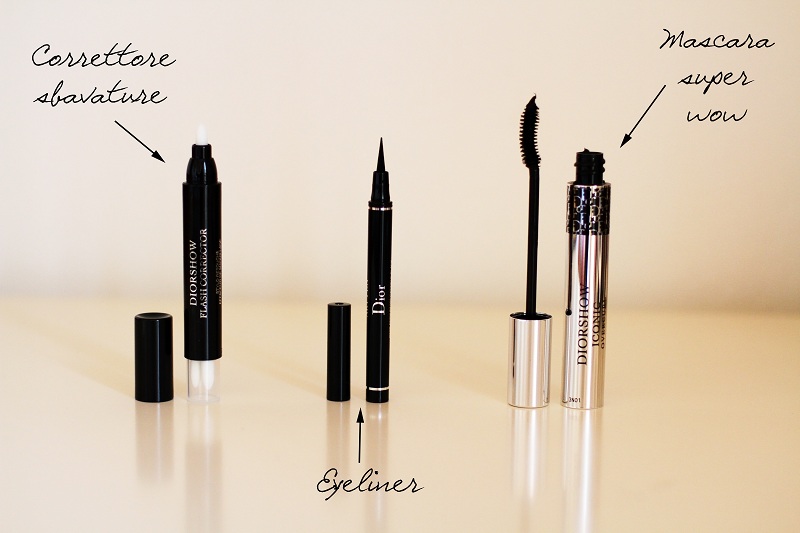 1. FLASH CORRECTOR - DIOR 
Provato a Parigi, è quel tipo di prodotto che una volta che provi non puoi più abbandonare: è una penna con più punte di ricambio imbevuta di struccante che serve per eliminare con precisione solo le piccole sbavature senza dover rifare il trucco. Imperdibile!
2. EYELINER - DIOR
Il prodotto è ottimo, ma io l'eyeliner lo amo e lo odio. Odio l'eyeliner perchè non riesco a fare un tratto preciso, lo amo perchè l'effetto è così bello! Con la penna eyeliner Dior il tutto è reso più facile ma per me e la mia mano c'è ancora mooolta pratica da fare :D
3. DIORSHOW ICONIC OVERCURL MASCARA - DIOR
Il prodotto Dior della stagione, a mio parere. Lo spazzolino incurvato e la formula con Polimeri K volumizza ed incurva e contiene un segreto: è anche trattante! Sì perchè giorno dopo giorno le ciglia sono più forti e resistenti . Secondo me è il miglior mascara Dior in assoluto!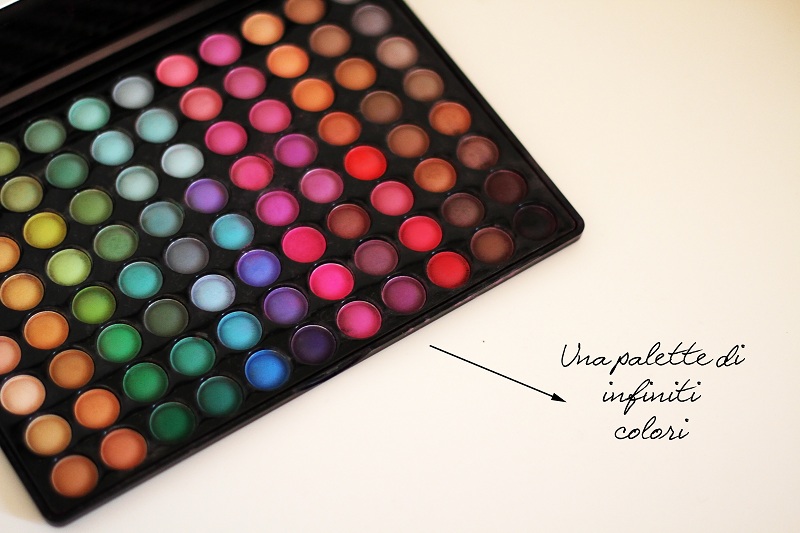 4. UNA PALETTE DI COLORI INFINTA
Ed infine, per giocare, una palette di colori infinitiiii :D Giusto per rimanere in tema trucchi! Grazie per lo splendido regalo :D
Fatemi sapere se conoscete questi prodotti e se li avete utilizzati una vostra opinione!
Cosa invece vi ha incuriosito di più?