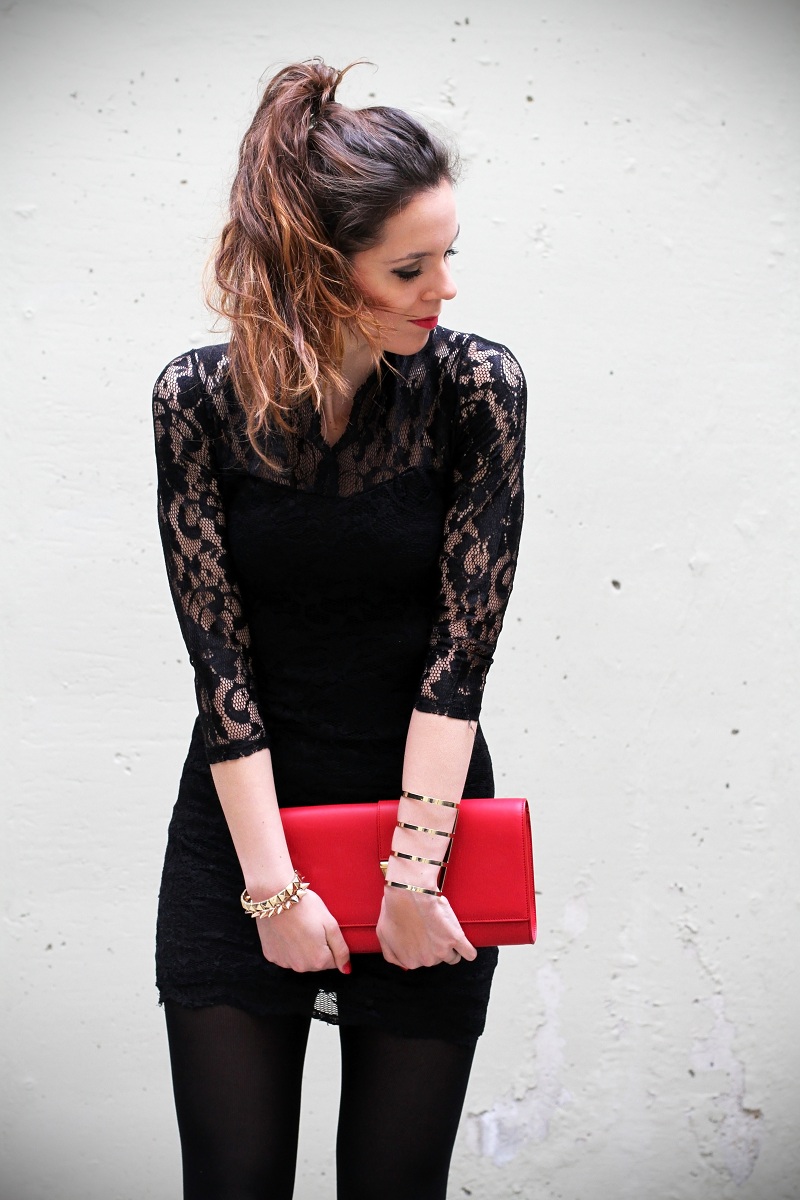 Buongiorno e buon martedì a tutte, ragazze! Come state? Come è andato il rientro dal Weekend? 
Io ero su tutte le furie, praticamente:
io ed il mio Giova abbiamo incrociato le nostre agende della settimana e in sostanza il sunto è che riusciamo a vederci soltanto un pomeriggio… Argh!!! Sono e saranno 
settimane intense, per me e per lui:
 da parte mia, non vedo l'ora di farvi vedere che cosa sto combinando (E per la verità, spero di mostrarvelo prestissimo :P).Dunque, come vi dicevo, ero su tutte le furie: quale miglior modo per farmi sbollire? Ovviamente con un 
"Amore, stasera vestiti carina che ti porto in un posto!"
 (La mia risposta, sempre sul mood acido muriatico "Amore, tesoro, mi vesto SEMPRE carina!"). Comunque, poi mi sono davvero sbollita perchè
 lui era ancor più carino del posto carino in cui mi ha portata :D  
Il mio outfit? Ho optato per un vestitino in pizzo nero con maniche 3\4 che ho deciso di abbinare ad un total black con tocchi oro ed una macchia di colore, la bellissima pochette YSL rosso fuoco di 
Gasmy.it
Spero che l'outfit vi piaccia: non vedo l'ora di leggere i vostri commenti :)
|PHOTOS| by Gabriele Colzi
Good morning girls! How are you? How about your weekend? I was so pissed: the summary is that my Giova and I we crossed our agendas and well, this week we are able only to stay together one afternoon. This is insane, right? :D Those will be super intense weeks both for me and for him and, me, I can't wait to show you what I'm doing :D (And I hope to show you everything very soon!). Then, my BF decided to relax me with a date in a beaufitul restaurant: so I decided to wear something sexy and chic. A lace dress and red and golden details. Hope you'll like this outfit girls! Have a nice day and let me know what do you think!