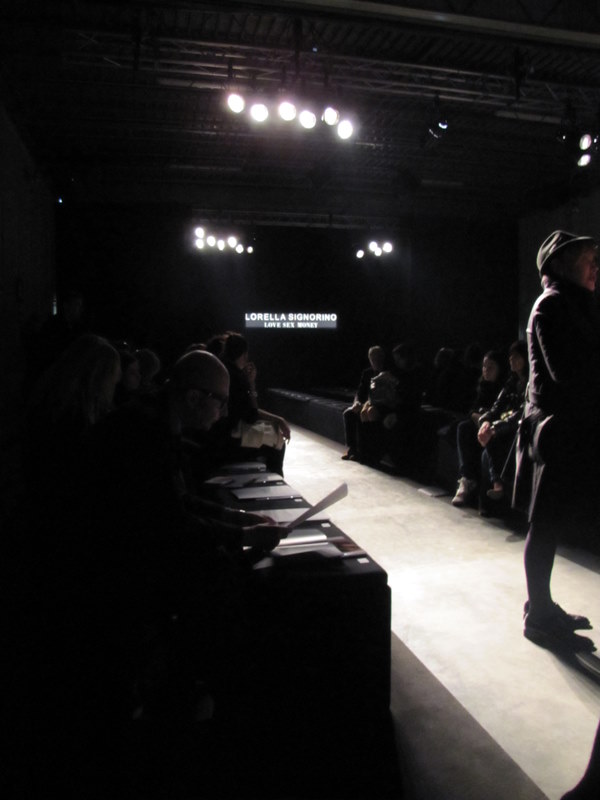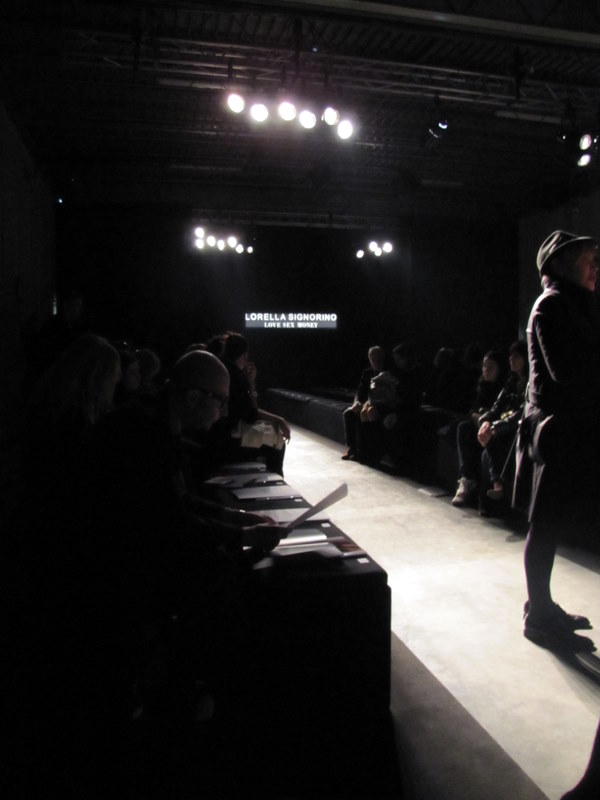 Dopo la prima ricognizione allo Store di Salmoiraghi e Viganò, alias sede temporanea di Donna Moderna, io e Stefania di www.stefaniarocks.com siamo partite alla volta della nostra prima sfilata: Love Sex Money.
Io proveniendo da un paesino della provincia di Firenze, non avevo mai visto così tante persone ben vestite in uno stesso luogo: tacchi vertiginosi, pelliccie, borse da sogno, tubini e accessori focalizzavano la mia attenzione mentre aspettavamo di entrare in coda davanti all'ingresso con i nostri pass in mano.
Una volta visionati i nostri passi ci hanno fatte sedere in posizione buonissima e tra una foto e l'altra, una musica coinvolgente e dei fotografi davvero spiritosi e superbamente esperti di fashion (Riferendosi ad una signora sul front row: "Signora, tolga la borsa dalla passerella, tanto è anche della scorsa stagione!!") la sfilata è iniziata, con i suoi 30 minuti canonici di ritardo!
After the first visit of the Store Salmoiraghi and Viganò, alias temporary seat of Donna Moderna, Stefania and I left for the our first fashion show: Love Sex Money.
I come from a village in the province of Florence, I had never seen so many well dressed people in one place: High heels, furs, handbags, black dresses and accessories focused my attention while we waited to get in line outside the entrance with our pass in hand.
They made us sit in a very good position and between a photo and the other, a very exciting music and witty Photographer the parade began, with its canonical 30 minutes later!
La collezione di Lorella Signorino per Love Sex Money mi è piaciuta moltissimo ed ha avuto critiche sicuramente positive dal mondo del fashion world. In sintesi la sfilata era caratterizzata da:
Bubble coat arrotondati e mini cappotti.

Stripe fur (strisce di pelliccia)

Blouson a corpo e abiti minuscoli.

Panta-kilt: la nuova gonna-pantalone con un lembo del kilt.

Mixmetico: camouflage fuso a patchwork di tessuti diversi.

Pelle d'avatar. Laminato oro con sfumature blu avatar.

Tartan.

Patchwool: collage di punti artigianali.

Bubble gloves. I guanti a manopola di volpe.
Colori dominanti: biscotto, cammello, bordeaux, , pale pink, grigio, verdone, cioccolato. Niente (o poco) nero.
Uno dei dettagli che più mi è piaciuto è stato quello degli stivaletti vertiginosi con i calzettoni bordeaux che abbiamo appurato essere uno dei colori dominanti del prossimo autunnoinverno.
 I liked so much Lorella Signorino for Love Sex Money collection and had definitely positive criticism from the world of the fashion world. In summary, the parade was characterized by:
Blouson a tiny body and clothes.
Panta-kilt: the new skirt with a corner of the kilt.
Mixmetico: camouflage cast a patchwork of different fabrics.
Skin avatar. Gold metallic shades blue avatar.
Patchwool: collage of handmade items.
Bubble gloves. Gloves mitten fox.
Dominant Colors: biscuit, camel, burgundy, pale pink, gray, green, chocolate. Nothing (or little) black.
One of the details that I liked was that of vertiginous boots with socks burgundy we found to be one of the dominant colors of autumn winter.
Al termine della sfilata siamo entrate nel 
backstage della sfilata
dove abbiamo potuto visionare gli
stand degli abiti delle singole modelle, le foto provino della sfilata, nonchè assistere all'intervista della stilista Lorella Signorino.
After the parade we enter the backstage where we could see the stand the habits of individual models, the photos prove , as well as aiding the designer interview Lorella Signorino.
Emozionatissime e felicissime per questa nuova esperienza, io e Stefaniarocks siamo riuscite anche a intraverede nel backstage della sfilata di Giorgio Armani le modelle in pausa sigaretta che molto gentilmente ci hanno concesso una foto.  Ma.. riconoscete questa donna? Proprio lei Anna Wintour, con cipiglio di ordinanza e capelli impeccabili che abbiamo incrociato all'uscita della sfilata.
Excited and very happy for this new experience, Stefaniarocks and I we also see the backstage of Giorgio Armani fashion show: models in cigarette break who very kindly granted us a picture. Recognize this woman? Her own Anna Wintour with impeccable hair and scowl of order that we cross at the exit of the fashion show
Foto di: Francesco Chignola
A presto per il proseguimento delle nostre avventure Milanesi!
Foto di Irene e Stefania (http://www.stefianiarocks.com/)
PER TUTTE LE NEWS SULLE SFILATE E I NOSTRI ARTICOLI COME INVIATE SPECIALI PER DONNA MODERNA:
http://blog.donnamoderna.com/le-sfilate-in-diretta/
Stripe fur (strips of fur) Bubble coat rounded and mini coats.
Condividi