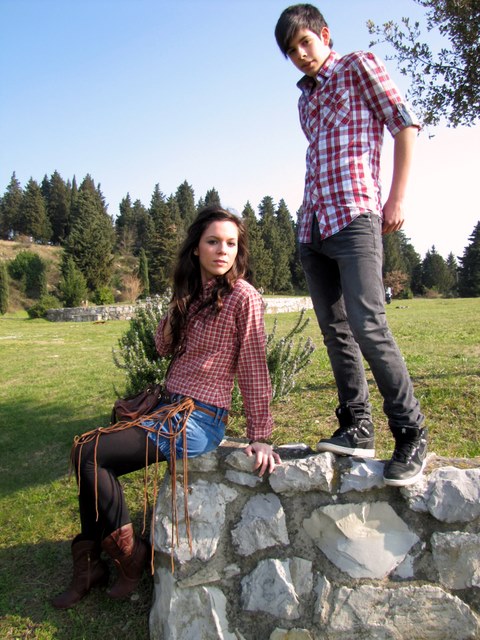 Oggi volevo proporvi uno shooting effettuato un paio di mesi fa con mio fratello e che non ho mai pubblicato perchè tali foto dovevano essere parte di un progetto che poi si è dilungato con i tempi e che quindi richiederà un outfit più adeguato alla stagione. Questo infatti è un outfit prettamente invernale (ancora indossavo le calze di cashmere!), ma con una giusta dose di immaginazione questo stile da cowgirl può essere reinterpretato in veste primaverile. Via le calze, arrotolate le maniche.. e voilà!

Today I want to show you a shooting made a couple of months ago with my brother that I never published because it had to be part of a project which was postponed and therefore now it requires a more appropriate outfit. As a matter of facts this is a winter outfit (still wearing cashmere tights) but with the right amount of imagination the cowgirl style can be reinterpreted as a spring outfit. No socks, rolled up the sleeves .. and voilà!
Ho deciso di creare uno shooting che coinvolgesse il mio "fratellino" quasi sedicenne di 1.80 mt che da quando è nato il mio blog mi asseconda e mi sostiene. Lui ha creato il gruppo e la fan page su Facebook, lui ha curato inizialmente le parte "pubblicitaria" se così si può chiamare, e non poche volte mi ha scattato fotografie mettendoci tutto l'impegno possibile!
I decided to create a shooting that involved my "little brother" (who is 15 years ald and 1.80 mt tall) that has supported me since my blog was born. He created the group and fan page on Facebook, he edited the first part of "advertising" and often he took outfit pictures by putting all the effort!
Questo shooting è stato troppo divertente!
Mio fratello è abbastanza timido quando si tratta di scattare delle fotografie (non ci crederete ma, prima di aprire il blog, anche io non volevo mai farmi fotografare!) dunque in metà delle foto è venuto con le mani sulla faccia, con gli occhi chiusi o con la bocca storta! Dunque ho coinvolto Gabriele
nelle mitiche foto in salto,
che sono troppo divertenti! Peccato che il
pargolo giochi a pallavolo a livelli molto alti
e che quindi, quando ho detto "VIA!" abbia staccato da terra così tanto da uscire dall'inquadratura!
This shooting was too funny! My brother is quite shy when he has to take pictures. Then in half of the photos he had hands over his face, closed eyes or crooked mouth! So I involved Gabriele to take jumps photos.. so funny!! Unfortunatly the infant play volleyball at very high levels and then, when I said "GO!" has detached from the ground so much to escape from the pic!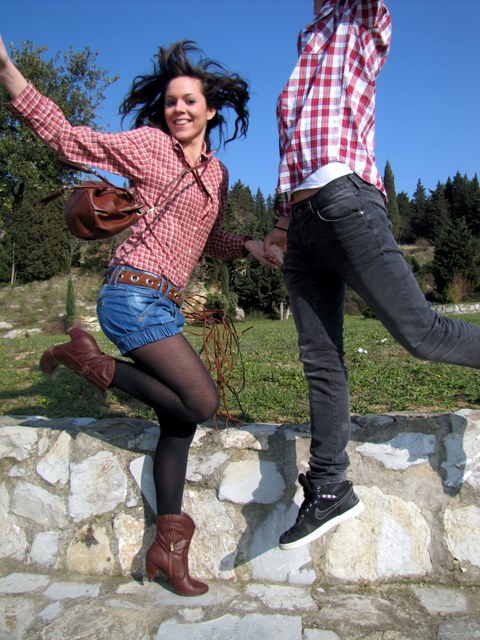 Per questo shooting avevamo scelto un outfit con a tema le camicie da boscaiolo, che certo non sono una novità ma, anche se viste e riviste, sono il capo preferito da mio fratello. Per cui la scelta è ricaduta sulle sue preferenze!  Non mi è rimasto altro dunque che reinterpretare la camicia in un look da cowgirl con una cintura vintage a lunghe frange, stivaletti marroni, shorts in denim e camicia incriminata.
For this shoot we had chosen an outfit which theme was the pladded shirts, which certainly are not new, but even if seen and seen again, is my bro preferred item. So the choice fell on his preferences! I have reinterpreted the shirt in a cowgirl look with a vintage belt with long fringes, brown boots, denim shorts and plad shirt.
Queste foto mi fanno piegare dal ridere! Abbiam provato a fare una cosa come 100 foto in salto insieme e non ne è uscita nemmeno una.. nemmeno una di una! Ecco alcune delle nostre performances!
These pictures make me laugh so bad! We tried to do something like 100 photos jumping together and no one was ok! Here some of our performances:
Gabri ti voglio bene e grazie di tutto!
Gabri I love you and thank you for everything!
COSA INDOSSIAMO WHAT WE WEAR:
IRENE
STIVALI BOOTS:
SESTO FIORENTINO'S LOCAL MARKET
20 Euro
DENIM SHORTS:
STRADIVARIUS
29,90 Euro (last summer)
CINTURA BELT:
VINTAGE (vintage shop in Florence)
20 Euro
CAMICIA SHIRT:
VINTAGE (Sesto Fiorentino's local market) 
3 Euro
BORSA PURSE:
H&M
12,95 Euro
SCARPE SHOES: NIKE 89,99 Euro
JEANS:
H&M MAN
24,90 Euro
 SHIRT CAMICIA:
ZARA MAN
24,90 Euro
MAGLIA TEE:
OVS INDUSTRY
4,95 Euro
Condividi