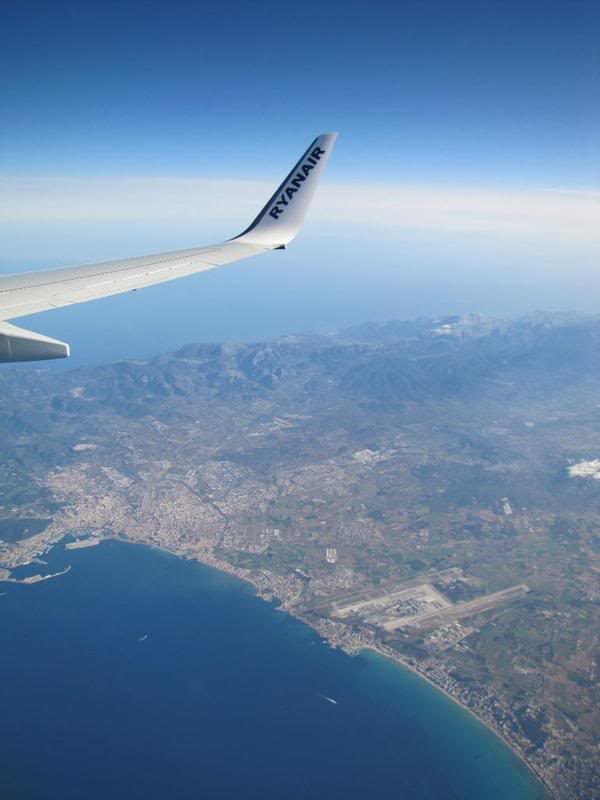 The magic view of Maiorca Island
Fare la valigia per una vacanza all'estero in piena primavera è davvero un'impresa! Se infatti il tempo è bizzarro di suo in questo periodo e già è difficile vestirsi nel proprio paese.. figurarsi quando si va all'estero!
It's really difficult to pack for an abroad holiday in full spring! Indeed, if the weather is bizarre in this period and it's hard to dress also in our own country.. let's imagine when you have to pack to go abroad!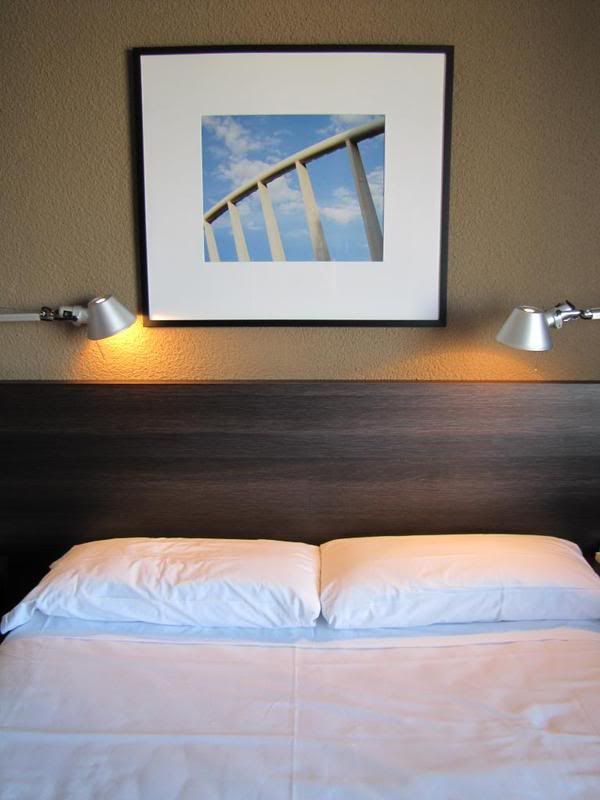 Our 4 stars hotel in Valencia: Medium Hotel Valencia. Design hotel with swimming pool, gym, wifi.. and also cheap!
Il primo passo è sicuramente guardare le previsioni meteo e le temperature previste, il giorno in cui decidete di fare la valigia. E poi, in base a ciò, decidere cosa portare. Poi occorre guardare il peso massimo della valigia da imbarcare che, nel caso di Ryanair è di 15 Kg, ricordandosi di non partire già carichi per lasciare un po' di acquisti per lo shopping. Infatti ogni Kg in più rispetto ai 15 Kg sono 20 Euro da pagare. Ricordatevi però che avete 10 Kg di bagaglio a mano, ma attenzione, un solo bagaglio a mano (se avete una borsa dovete infilarla dentro l'unico bagaglio a mano, per intendersi!)!
The first step for your packing operation is to watch the weather and temperatures forecast the day you decide to pack. And then, based on this, decide what to bring. Then you have to look at the luggage maximum weight which is 15 Kg for Ryanair. Remember to leave some space in your luggage  for your shopping! In fact every Kg over 15 kg are 20 euros to be paid. But remember you have 10 kg of hand luggage!
Me and my love. I was looking i don't know what! :-D
Nei quattro giorni che a noi interessavano
il tempo previsto a Valencia
era tendenzialmente soleggiato, con un po' di pioggerella il secondo e quarto giorno del nostro viaggio. Le temperature previste invece erano dai 16 ai 25 gradi circa.
According to the weather forecast in Valencia was basically sunny, with a little rain on the second and fourth day of our trip. The temperatures were  from 16 to about 25 degrees according to the forecast.
Per cui in valigia ho deciso di mettere:


So I decided to pack:
due paia di jeans
two pairs of jeans
tre canottiere 
three vests
una maglia a maniche
corte

a shirt-sleeve
 tre paia di scarpe comode, di cui uno da ginnastica nel caso di vesciche o mal di piedi vario 
three pairs of shoes, one gym shoes in case of blisters or sore feet.
un vestito lungo per la sera
a long dress for the evening
un giubbotto di pelle
a leather jacket
un foulard
una sola borsa, capiente e comoda
one bag, roomy and comfortable.
un paio di occhiali da sole
sunglasses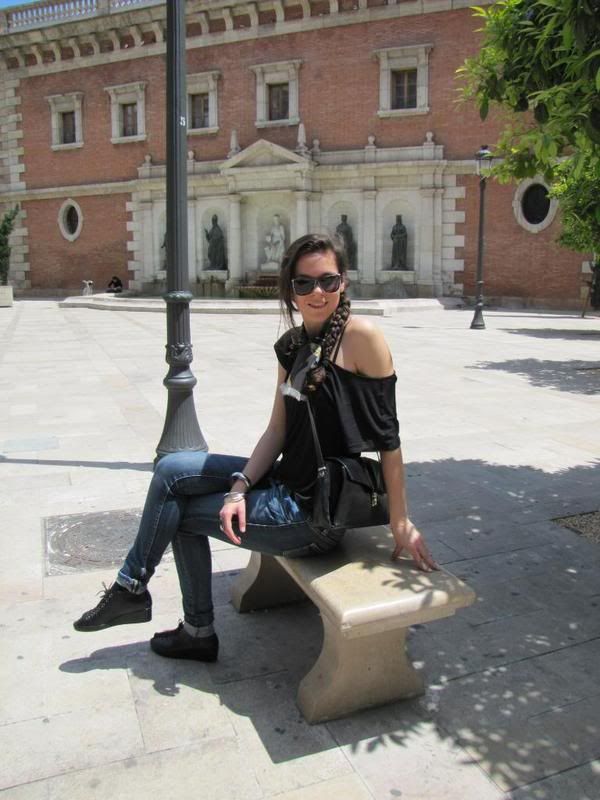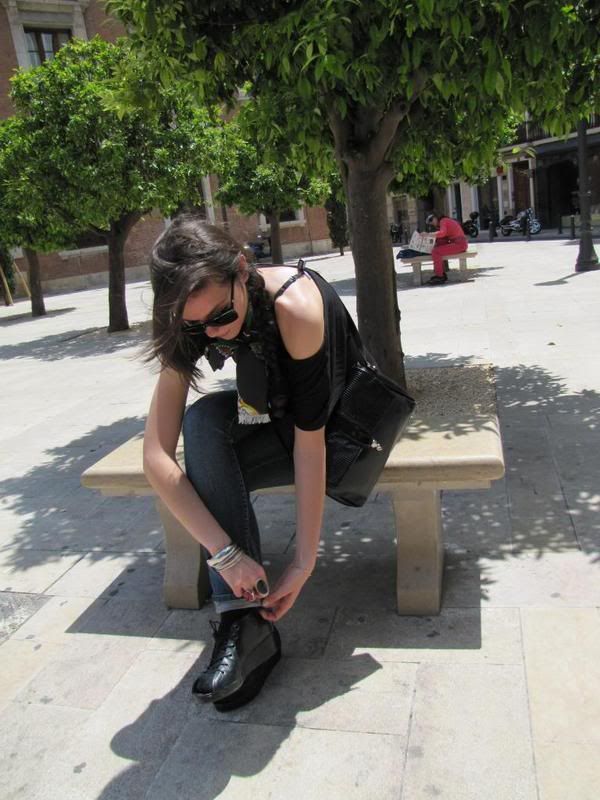 In questi 4 giorni vorrei proporvi i miei outfit da viaggiatrice "fàscion" ma che vuole vestire comoda (insieme a foto di Valencia, ovviamente!). Infatti da sempre le mie vacanze all'estero sono state segnate da sveglia presto, letto presto e molti Km macinati a piedi… ma la soddisfazione di godere della città ospitante a pieno è davvero una cosa meraviglosa!
In these four days I would like to show you guys my traveler but "fàscion" outfits for who wants to wear comfortable (with photos of Valencia, of course!). In fact always my holidays abroad have been marked by: wake up early, sleep early and walk several kilometers … but the satisfaction of enjoy the host city is really a wonderful thing!
Il primo giorno siamo partiti con l'aereo da Bologna alle ore 7 (sveglia alle ore 3, panico!) e alle 10.30 eravamo già con la nostra fidata guida cartacea a zonzo per Valencia. Per il primo giorno, comprendente anche il viaggio, ho optato per la mise più semplice di questi quattro giorni. Skinny effetto used (primo dei due paia di jeans messi in valigia), maglia a maniche corte nera con il vezzo della spalla scoperta, foulard vintage, borsa vintage e scarpe comode con dettagli argentati quale cintura e bracciali vari. Il primo giorno ho sofferto un po' il caldo e dunque.. vedrete nel prossimo outfit! :-D
The first day we left by plane from Bologna at 7 am (woke up at 3 o'clock, panic!) And at 10.30 we were at Valencia with our paper guide. For the first day I decided to wear the simplest outfit of these four days: Skinny used effect (first of two pairs of jeans packed), black shirt with nude shoulder, vintage scarf, vintage bag, comfortable shoes and silver details such as bracelets and belt. The first day it was really hot then .. let's see next outfit! :-D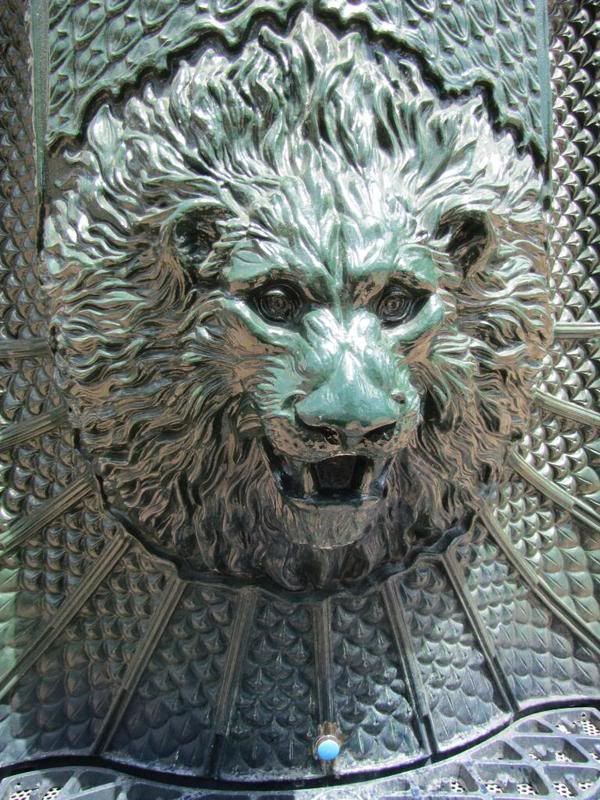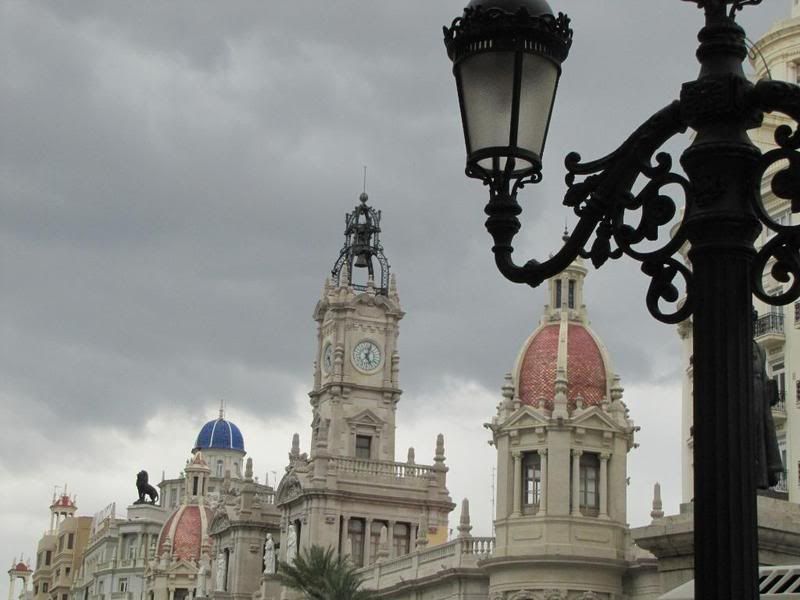 Che dire di Valencia.. una città con profonde radici storiche ma aperta anche alla modernità. Una città tranquilla ma giovane. Un luogo da visitare assolutamente durante un weekend lungo ma anche un posto dove vivere! Vedrete meglio nei prossimi 3 post!
What about Valencia .. a city with deep historical roots but also open to modernity. A quiet  but young city. A place to visit during a  long weekend but also a place to live! You will know it better in the next 3 posts!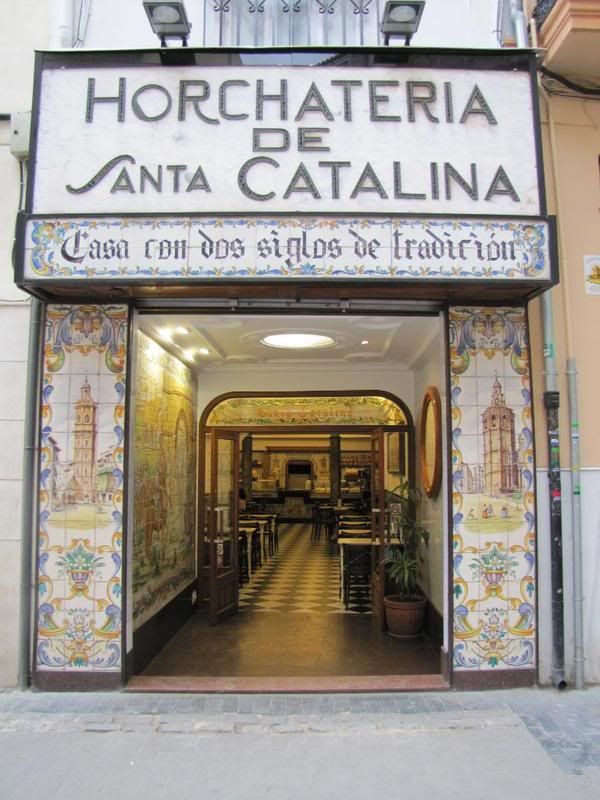 Horciata is the typical valencia drink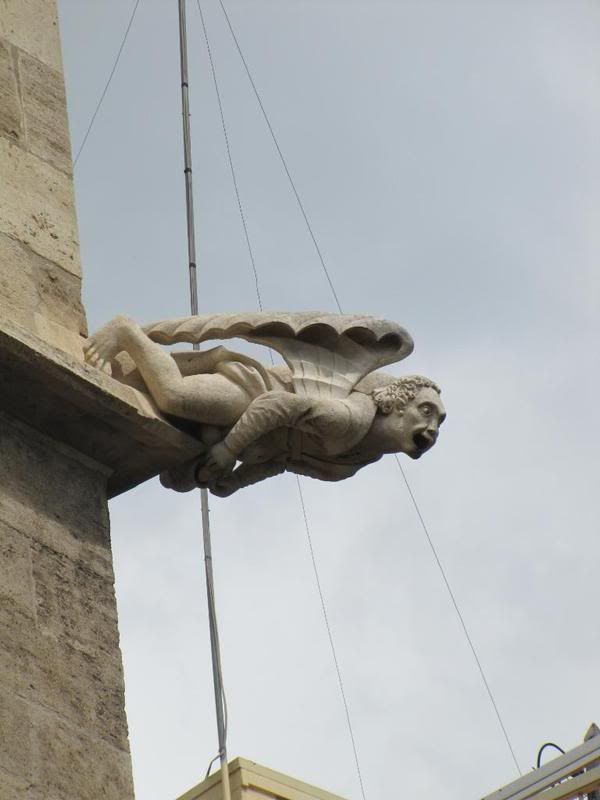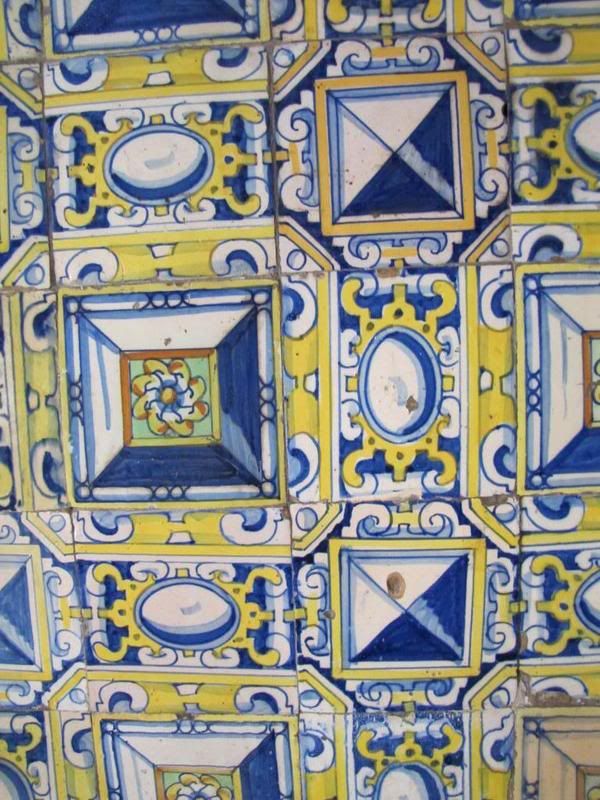 Spero che questo mio
"outing" in tema di valigia vi sia utile
in caso, come me, vi dobbiate recare all'estero in questa stagione primaverile! Ecco, di seguito, altre foto random di Valencia!
I hope this "outing" in terms of luggage will be useful if, like me, you have to travel abroad this spring! Here, other random Valencia's photos!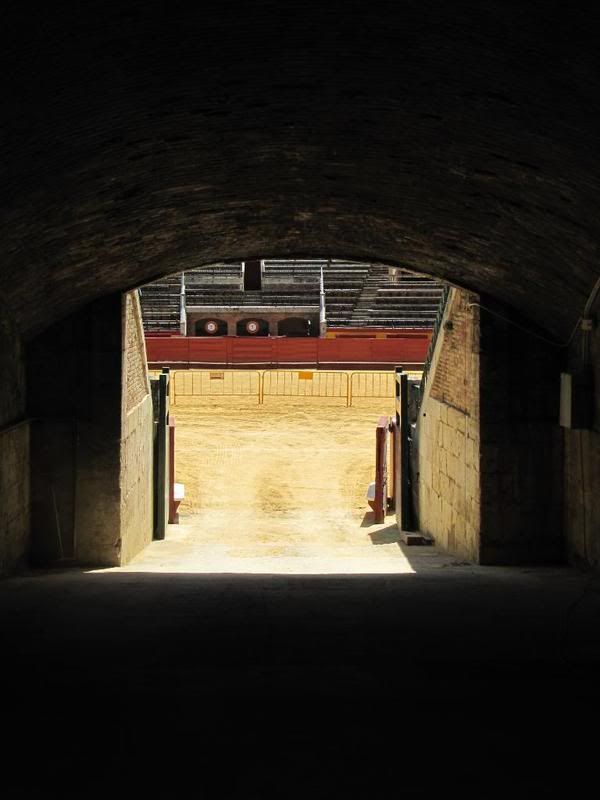 Plaza de toros, the toro's arena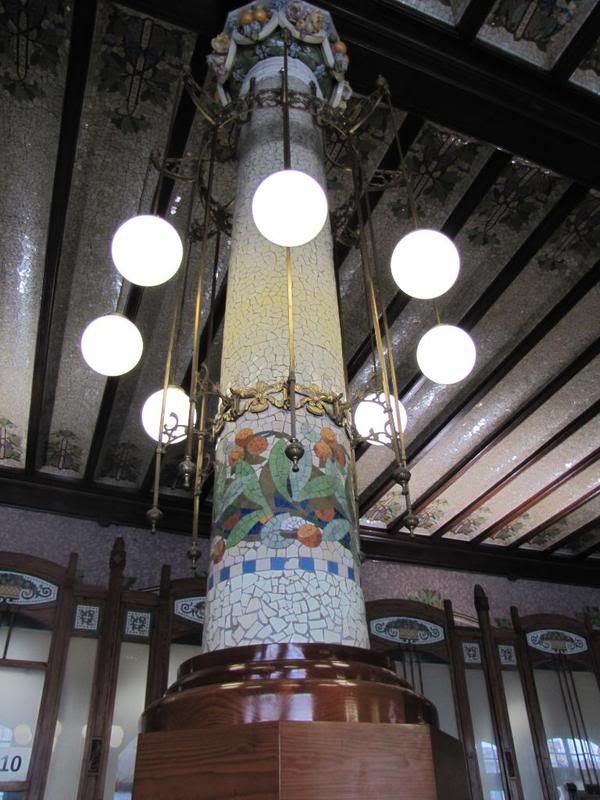 The central train station
COSA INDOSSO I'M WEARING:
SCARPE SHOES: H&M spring collection 19,90 Euro
JEANS: BERSHKA bought 6 years ago
CINTURA BELT: VINTAGE 5 Euro
MAGLIA SHIRT: H&M 7 Euro
FOULARD: VINTAGE Porta Portese open market (Rome) 1 Euro
OCCHIALI DA SOLE SUNGLASSES: LAURA BIAGIOTTI VINTAGE (vintage selection, Florence) 30 Euro
BORSA PURSE: VINTAGE Sesto Fiorentino's open market (FI) 10 Euro
ANELLO NERO BLACK RING: my uncle's gift
ANELLO ROSSO RED RING : Porta Portese's open market (ROMA) 1 Euro
BRACCIALETTI BRACIALETS: www.ireneccloset.comfolliegioielli.com e H&M
Condividi