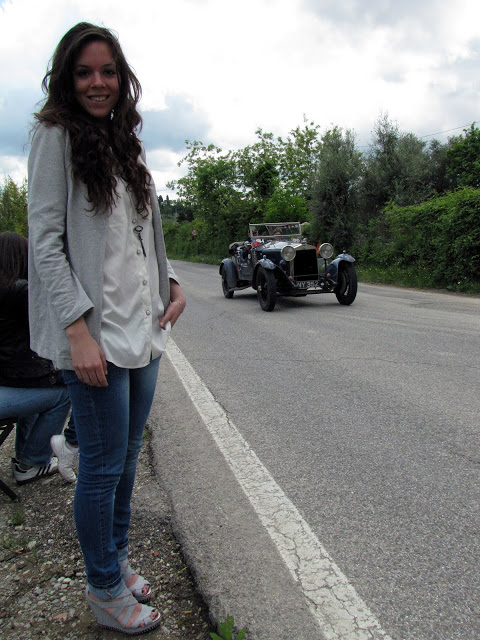 Lo so, lo so. L'outfit è banalmente banale e le foto non sono di estrema accuratezza. Ma poco importa. Avevo piacere di creare un post diverso dal solito, proponendovi un outfit calato nel contesto della mitica Mille Miglia.

I know, I know guys. The outfit is banal and the photos are not extremely accurate. But no matter. I'd like to create a different post than usual, with an outfit fell within the legendary Mille Miglia.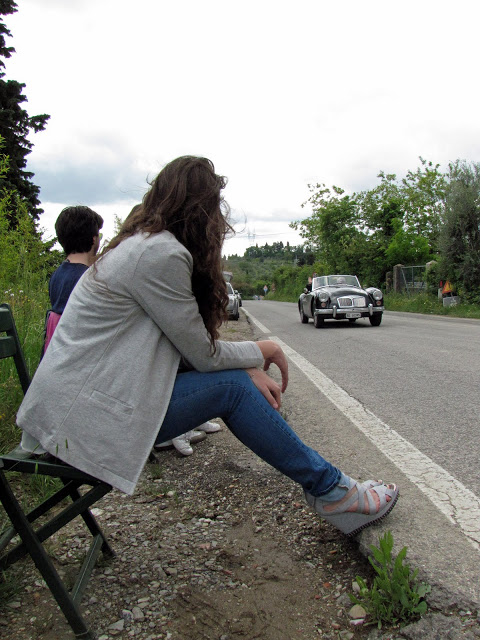 La Mille Miglia originariamente era una corsa di lunga distanza, effettuata su strade aperte al traffico, che si è disputata in Italia per ventiquattro volte dal 1927 al 1957 (13 edizioni prima della seconda guerra mondiale e 11 dopo il 1947). Dal 1977 la Mille Miglia rivive sotto forma di gara d'auto d'epoca. La partecipazione è limitata a vetture prodotte prima del 1957 che avevano partecipato alla corsa originale. La gara si svolge su un percorso Brescia – Roma e ritorno ripercorrendo le strade della Mille Miglia originale.
The Mille Miglia was originally a race of long distance, made on roads open to traffic, which was played in Italy for twenty-four times from 1927 to 1957 (13 editions before the Second World War and 11 after 1947). Since 1977 the Mille Miglia is a raceof vintage car. Participation is limited to cars manufactured before 1957 that had participated in the original race. The race takes place on a route Brescia – Rome retracing the streets of the original Mille Miglia.

Come ogni anno le
Mille Miglia sono passate anche difronte
la via di accesso alla villa del mio fidanzato a Impruneta. Dunque, graziati dalla pioggia, Io, Giova, Marco, Lau e il mio nipotino di 4 anni abbiamo
allestito un bivacco con sedie e tavolini al margine della strada
dove abbiamo fatto un picnic godendoci lo spettacolo delle Mille Miglia.
Like every year the Mille Miglia's cars have driven near my boyfriend villa located in Impruneta. So Giovanni, Marco, Laura, my four years old nephew and I, we built a campfire with chairs and tables at the roadside where we had a picnic enjoying the spectacle of the Mille Miglia.
Questo outfit è davvero molto semplice, composto da una giacca del materiale delle tute da ginnastica, una camicia oversize vintage, un paio di skinny e le mie zeppe di Pull&Bear che bramavo di indossare da tempo.
This outfit is very simple and consisting of a jacket created with the material of tthe racksuits, oversized vintage shirt,skinny jeans and my wedges Pull & Bear that I wants to wear from a long time.
COSA INDOSSO I'M WEARING:
PLATFORMS: PULL & BEAR 39,90 Euro
JEANS: ZARA 29,90 Euro (winter collection)
CAMICIA SHIRT: VINTAGE 3 Euro
BLAZER: H&M 14,95 Euro insted of 24,95 Euro (new collection)
NECKLACE: DIY (keys are original ancient keys, 1 euro per key)
BORSA PURSE: FORTE DEI MARMI'S LOCAL MARKET 30 Euro
Condividi