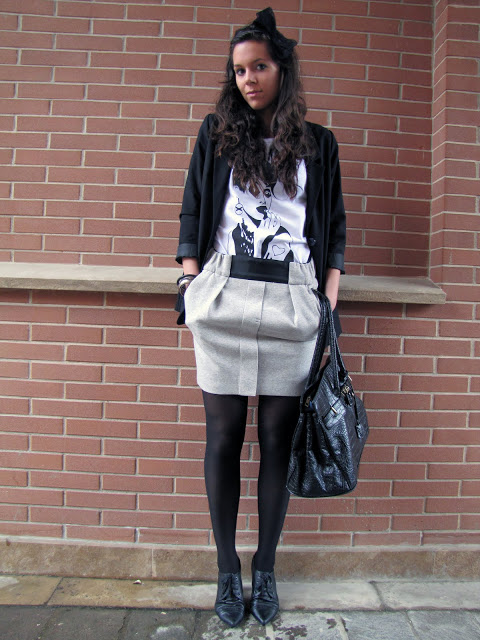 Ragazzi che tempaccio che c'è qui a Firenze! Piove a catinelle da qualche giorno e sinceramente mi sarei anche stufata! La pioggia mi piace molto a essere onesta, sopratutto quei bei temporaloni estivi che sono possenti ma terminano in un attimo. Dopo un po' però ti stufi a stare rinchiusa nella tua camera – mansarda sentendo ticchettare la pioggia sulle tegole :-D
E' proprio a causa del brutto tempo che ho deciso di indossare, qualche giorno fa, un outfit decisamente poco primaverile e provvisto ancora di calze.
What a awful weather here in Florence! It has been raining cats and dogs for a few days and honestly I'm bored now :-D! To be honest I love rain very much and especially those beautiful summer rainstorm which are powerful and then they end in a minute. Anyway I'm really bored to stay locked in my room – attic hearing ticking the rain on the roof :-D
That's just because of bad weather that a few days ago I decided to wear a not spring yet outfit provided also of tights.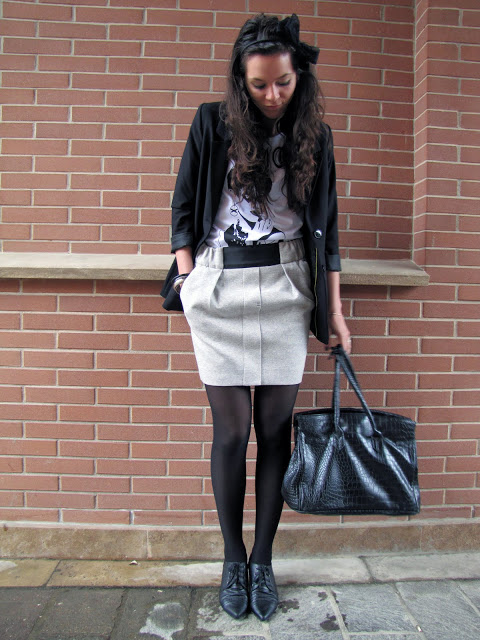 Il pezzo forte di quest'outfit è sicuramente
la Tee
"
Glamour"
di
Lux Society
, brand dietro al quale si nascondono tre giovani designer che, per la loro prima linea, hanno creato Tee, sia per
donna che per uomo,
dai colori che giocano sulla
combinazione del bianco e nero.
I prezzi non risultano nemmeno eccessivi
considerando
l'ottima vestibilità , il materiale di buona qualità ma sopratutto le rifiniture.
Infatti la Tee non presenta una semplice stampa ma ha anche dei dettagli cuciti a rilievo che mi hanno piacevolmente colpita all'arrivo della mia Tee a casa. Se volete dare
un' occhiata alla loro collezione
cliccate 
QUI
.
The highlight of this outfit is the "Glamour" Tee by

Lux Society.

Lux Society is a brand behind which lurk three young designers who, for their front line, have created Tee with black and white prints both for women and for men.
The prices are not expensive considering the excellent fit, the good quality materials but above all the trimmings. In fact, the Tee has not only a printed image but also relief details that I have pleasantly surprised to discover at the arrival of my Tee. If you would like to have a look at their collection click

HERE

.
Sto diventanto un pochino monotona con le foto, lo so. Le ambientazioni sono sempre dei semi-interni e le pose identiche. Purtroppo il mal tempo mi permette poco di giocare con le fotografie ma spero ugualmente che apprezziate il risultato :).
I'm a little bit monotonous with the photos, I know. The environments are always semi-internal and the poses are the same. Unfortunately the bed weather not allows me to play with the photographs but I hope you could enjoy the results anyway :-).
In molti mi avete scritto per avere informazioni sul "famoso" mercato di Sesto Fiorentino da cui provengono alcuni dei capi che indosso. Il mercato del mio paese è un semplice mercatino rionale dove, se si spulcia bene, sopratutto nei banchini "a razzolo", si trovano dei capi usati (da lavare con mooooolta cura, io poi che sono schizzinosina : -D) unici nel loro genere. Ecco un paio di foto.
Many of you guys have emailed me for informations about the "famous" Sesto Fiorentino's open market where I usually buy some of the items I wear. The market is just a neighborhood market where, if  you good grooming, you can find unique items. Here are a couple of photos.
COSA INDOSSO I'M WEARING:
SCARPE SHOES: bought in Berlin 3 years ago
GONNA SKIRT: ZARA 29,90 Euro (winter sales)
MAGLIA TEE:
courtesy of LUX SOCIETY
(Anyway the price is 39,90 Euro)
BLAZER:
H&M
about 20 Euro (last summer)
BORSA BAG (always the same :D):
SESTO FIORENTINO'S OPEN MARKET
30 Euro
Condividi