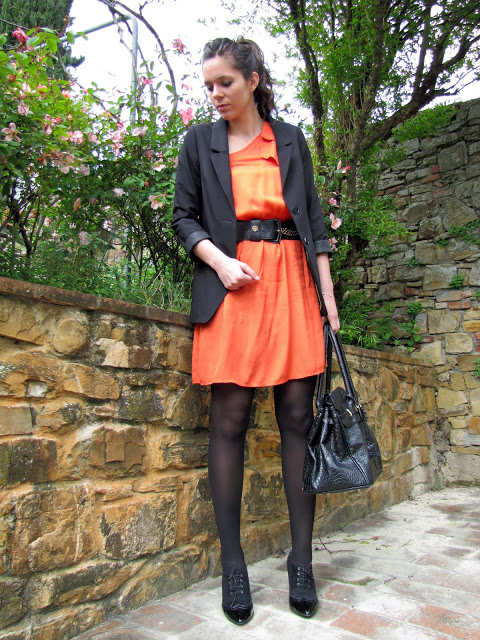 Qualche giorno fa una mia lettrice mi aveva scritto chiedendomi dei consigli su outfits da indossare in occasione di cerimonie . Mi è sembrata subito una idea ottima ma di difficile realizzazione. Infatti è un paio di anni che non partecipo a una cerimonia di tal tipo e dunque ho dato alla Caritas tutti i vestiti vecchi e, non avendo comunque nessuna cerimonia in vista, sarebbe stato difficile creare un post ad hoc. Per cui, in attesa di migliori idee, ho messo l'idea nel folder del mio pc.
A few days ago one of my readers have asked me for an advice about outfits to wear for cerimonies. It seemed a good idea but a little bit difficult to realize. In fact I haven't attended a ceremony of this type since long time and so I gave all old cerimony clothes to Caritas. Moreover I haven't any ceremony still in sight so it would be difficult to create a post ad hoc. So, waiting for better ideas, I put the idea in the folder of my PC.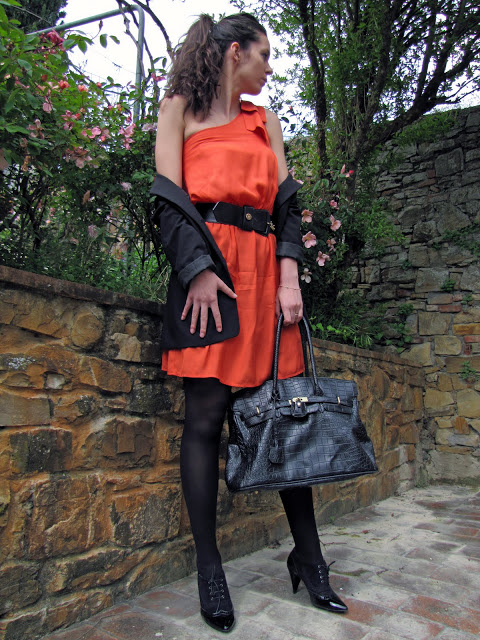 Poi, tra capo e collo mi sono caduti una festa di laurea e un battesimo. Il battesimo si svolgerà domenica prossima e siccome stanotte parto per Valencia e torno sabato pomeriggio, dovrò arrangiarmi con quello che ho in casa, per cui ne vedrete delle belle! Invece per la festa di laurea, una merenda cena che si è svolta in giardino, ho optato per l'outift che vedete in foto.
Then suddenly appeared a graduation party and a christening. The christening will take place next Sunday and as I leave for Valencia this night and i will be back Saturday afternoon, I will have to make the christening outfit with what I have at home, so you'll see crazy things! Instead, for the graduation party, a picnic dinner which was held in the garden, I opted for the outift you see in the picture.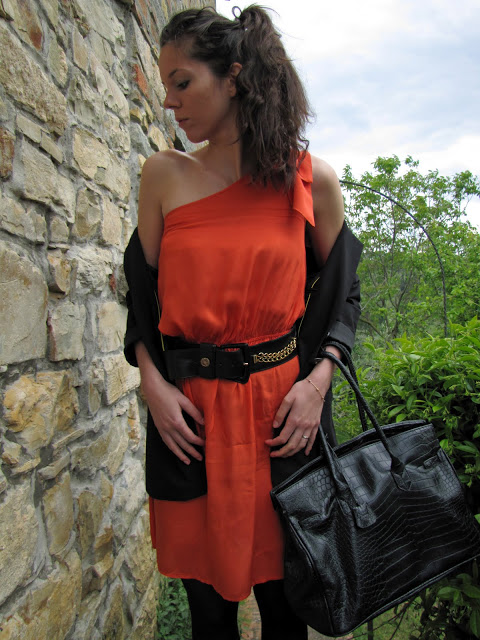 Troppo fiduciosa nelle previsioni del tempo (Maledetto Corazòn!), preparando il mio valigino da portare a casa del mio fidanzato sabato, ho riesumato dall'armadio il mio amato vestitino monospalla arancione di H&M, acquistato un paio di anni fa. La mia idea era quello di indossarlo senza calze e con i sandali. Purtroppo però ho dovuto indossare sia calze che scarpe chiuse, il tutto in modo imprevisto.
Too confident in the weather, preparing my clothes to take to my boyfriend's home on Saturday, I dug from the closet my beloved orange-shoulder dress by H&M, bought a couple of years ago. My idea was to wear it without socks and sandals. Unfortunately I was too trusting in the weather and therefore I had to wear closed shoes and tights, all unexpectedly.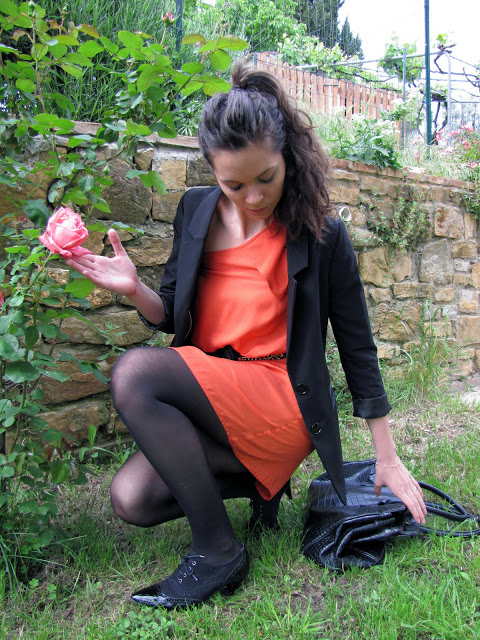 COSA INDOSSO I'M WEARING:
SCARPE SHOES:
SESTO FIORENTINO'S LOCAL MARKET
39,90 Euro
VESTITO DRESS: H&M bought some years ago
CINTURA BELT:
VINTAGE
10 Euro
BLAZER:
H&M last summer
about 20 Euro
BORSA BAG:
SESTO FIORENTINO'S LOCAL MARKET
30 Euro
Come vi ho detto dunque stanotte parto per Valencia con il mio fidanzato e, essendo una vacanza, ho deciso di staccare da tutto e da tutti, anche dal mio blog. Ho preparato comunque diversi post outfit e non per ognuno di questi giorni, per cui rimanete connessi :-). A presto!
As I told you tonight I go to Valencia with my boyfriend and, being a holiday, I decided to unplug from everything and everyone, even from my blog.

Anyway I have made several posts, outfit and not, for everyone of these days, so stay tuned :-).

See you soon!
Condividi