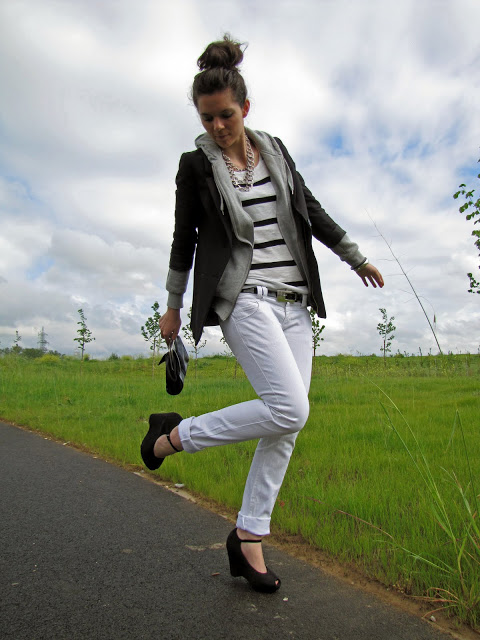 Che rottura questo tempo! E' da una settimana che piove e non ci da tregua. Non vedo l'ora di andarmene nella calda Valencia e staccare da tutto.. compreso il maltempo!
What a boring weather! It has been raining for a week and it does not give us peace! I can't wait to go to the warm Valencia and remove from all .. including the weather!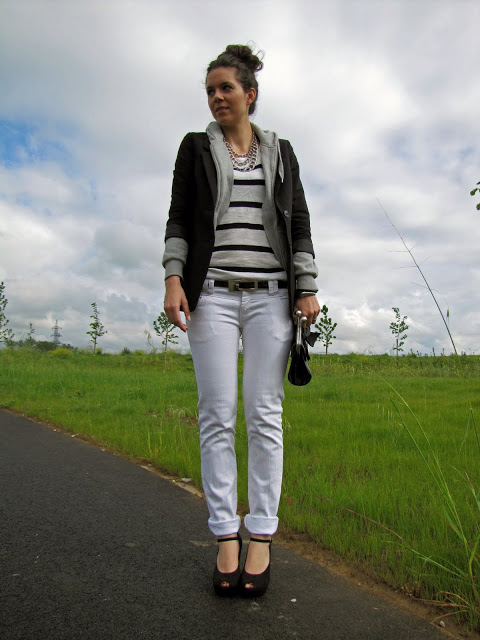 Ieri io e Giova siamo andati a cercare una guida per Valencia al centro commerciale I Gigli  e abbiamo fatto un giro alla FNAC appena aperta. Devo dire che sono rimasta piacevolmente colpita. Vendono di tutto, da ogni tipo di elettronica, alla cartoleria, ai libri.. e hanno creato anche una zona internet free con un bar e un palchetto per future rappresentazioni (o almeno così sembrerebbe).
Yesterday Giova and I went to Gigli Shopping Centre to look for Valencia's tourist guide and we visited the newly opened FNAC. I must say that I was pleasantly surprised. They sell everything: all types of electronics, stationery, books .. and they have also created an area with a bar and free internet and a platform for future performances (or so it seems).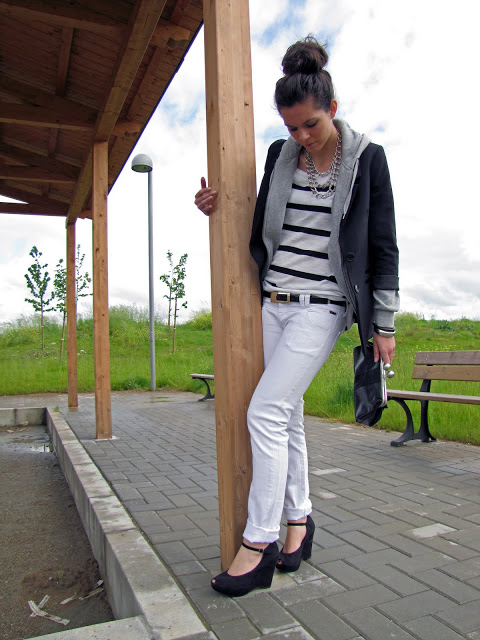 In una pausa dalla pioggia, finalmente, siamo riusciti a scattare delle foto nel vicino mini parco. Ho deciso di tirar fuori i miei jeans bianchi che fanno tanto tempo bello, abbinandoli alla maglia rigata e ad una cintura e una borsa bon ton. Ho deciso poi di rendere la mise più mascolina indossando una felpa con sopra la giacca. Il risultato mi è piaciuto molto e spero che possa piacere anche a voi!
Finally, in a break from the rain, we managed to take pictures in a nearby mini-park. I decided to wear my white jeans that reminds me beautiful weather. I decided to couple them with a striped shirt and a bon ton belt and bag. I decided to create a combo of sweatshirt and jacket with the purpose to make the outfit more masculin. I really like the result. What do you think?
Giusto per non fare tutte le foto uguali ho avuto poi la "splendida" idea di inoltrarmi nel prato credendo di essere immune al fango grazie alla folta erba.
With the purpose to take differents photos, I had  the "wonderful" idea of advancing in the field believed to be immune to the mud through the thick grass.
Invece, ecco il risultato, povere le mie scarpine!
Instead, here is the result, my poor shoes!
SHOES SCARPE: PRIMADONNA 20 Euro (winter collection, on sales)
JEANS: ZARA TFR bougth many many years ago
BAG BORSA: COLOURS AND BEAUTY 49,90 Euro
MAGLIA RIGATA STRIPED SHIRT:
H&M
19,95 Euro
FELPA GRIGIA CON CAPPUCCIO / GREY GYM SWEATER:
H&M
19,95 Euro
BLAZER:
H&M
about 20 Euro (last summer) 
BELT CINTURA:
VINTAGE
5 Euro
CHAINS NECKLACE  COLLANA:
H&M
12,95 Euro (winter collection)
Condividi