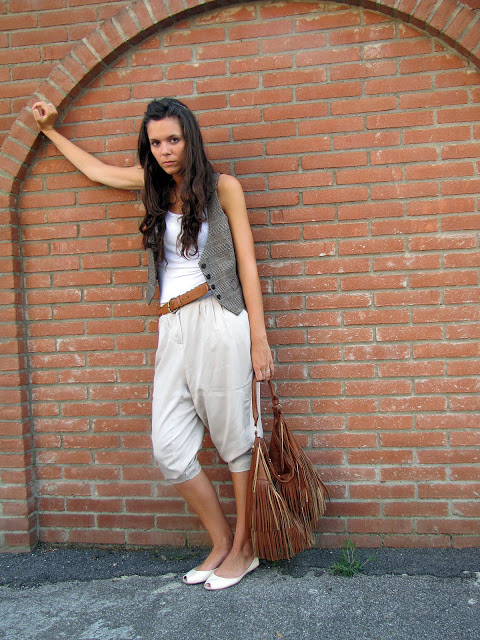 Buondì gente!
La tintarella si sta lentamente sbiadendo.. e io mi vesto di marrone e beige come rito scaramantico! Magari bastasse questo per mantenere la tintarella: ma, ahimè, secchi di crema idratante sembrano insufficienti!

Per questo outfit "brown and beige" ho deciso di indossare questi freschi e comodi pantaloni a vita alta, con il cavallo basso e leggermente sotto il ginocchio. Ho deciso di abbinarci un gilet maschile dalla fantasia tartain che sarà en vogue questo inverno, una cintura marrone come la borsa frangiata e delle ballerine peeptoe in tinta.
Questi pantaloni non sono proprio semplicissimi da abbinare per cui sarei molto curiosa di avere anche delle vostre idee su possibili abbinamenti. Voi come abbinereste questi strani pantaloni? :)
COSA INDOSSO I'M WEARING:
SCARPE SHOES: H&M (last summer) about 19 Euro
PANTS: H&M 24 Euro
GILET: ZARA about 30 Euro
CINTURA BELT: H&M 7 Euro
BORSA BAG:
H&M (last summer)
19 Euro
Pics taken by Giovanni Gambassi
All content on this website is protected by copyright.
You may use quotes and pictures from the website, but the source Ireneccloset.blogspot.com must always be given.
Condividi