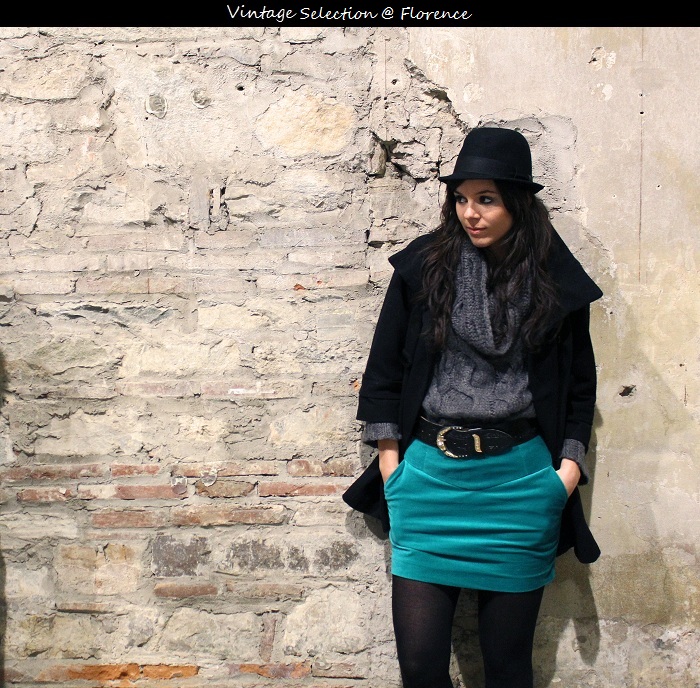 Questo sabato io e la mia amica 
Elisa
,
 insieme ai nostri rispettivi, abbiamo fatto un salto alla "Vintage Selection", la grande mostra – mercato che due volte l'anno, presso la Stazione Leopolda di Firenze, coinvolge i più famosi negozi vintage della Toscana e di Italia. Vi consiglio davvero di andare a sbirciare se capitate in zona: si trovano davvero delle chicche, anche se i prezzi molto spesso non sono proprio accessibilissimi. Per questo pomeriggio all'insegna del vintage ho optato per un outfit con richiami al tema (la cintura vintage con fibbia decorata dona davvero una marcia in più ad ogni outfit :P), in cui la gonna verde smeraldo fa da padrone! Anche nelle vostre città ci sono delle mostre, mercati o fiere del vintage? Sono proprio curiosa! Non vedo l'ora di farvi vedere le foto outfit di domani: le trovo meravigliose! Un grande bacio e b
uona giornata a tutti!
▪▪

This saturday Elisa from 

My fantabulous world
 and I,  went to "Vintage Selection", the huge Florence vintage exhibition that twice a year, envolves the most famous italian vintage shops. I really recommend you to drop by this exhibition, that takes place at Stazione Leopolda, located in Florence city center. There are many things to see and buy! For this special afternoon, I choose a comfortable and vintage style outfit in which the emerald green skirt has the leading  role.Do you like it? Are there any vintage exhibitions where you live? Can't wait to show you guys the outfit's pics from tomorrow's post: they are really stunning!
Hugs and have a wonderful day guys!
SKIRT: H&M from last year
BELT: VINTAGE bought for 5 euro
SHOES: bought in Berlin some times ago
COAT: ZARA fw 10 11 79 Euro
Condividi