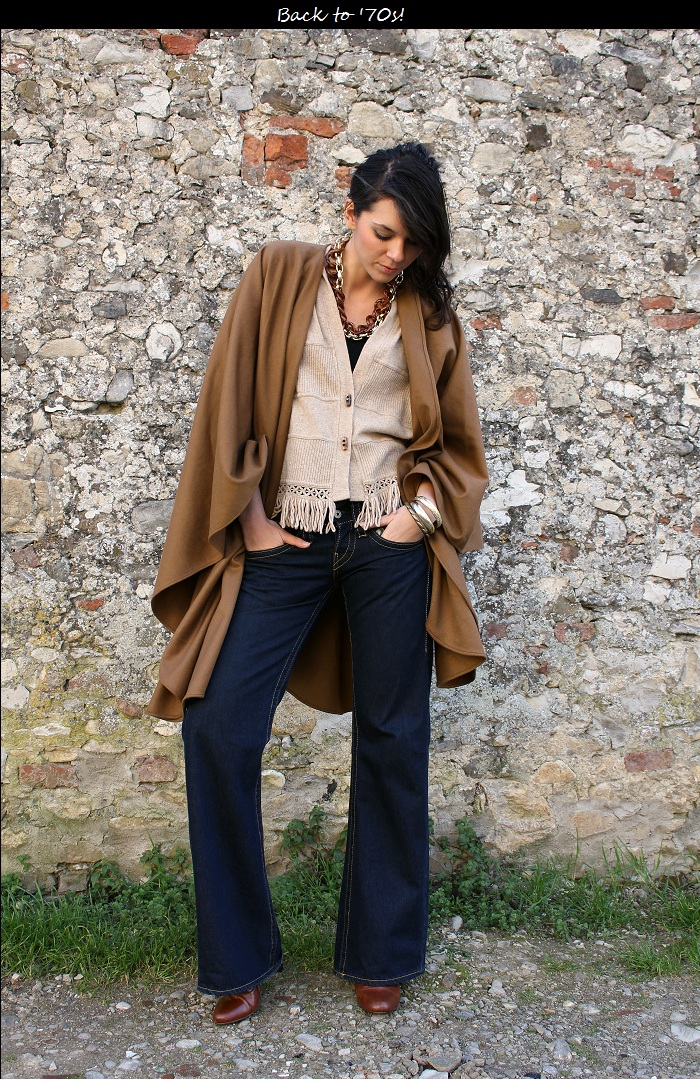 E' ufficiale, gli anni Settanta stanno tornando alla grande insieme a pantaloni a zampa d'elefante, uno dei simboli cardine dell'epoca. E' dunque il momento di iniziare una caccia al tesoro nei nostri armadi: sono sicura che troveremo qualcosa di adatto per limitare le nuove spese e per essere à la page! Io il mio "tesoro" l'ho trovato davvero: qualche giorno fa ho scovato nella mia anta "vestiti-in-buone-condizioni-ma-che-non-metto-più-nemmeno-se-mi-paghi", questo paio di pantaloni scampanati di Replay che ho indossato qualche volta nei primi anni di scuola superiore. E sono perfetti nella forma, nel colore e nelle condizioni! Ho deciso di indossarli per creare un look di richiamo anni Settanta sui toni del marrone grazie alla mantella in lana e ad un gilet con frange proveniente direttamente da quell'epoca. Sono davvero orgogliosa di queste foto scattate dal mio "fratellino", per cui spero davvero che siano di vostro gradimento!
 Passate una buona giornata e non perdetevi, se vi va, i post di questo weekend!
Un abbraccio ad ognuno di voi!
▪▪
It's official, fashion is back to '70's and the bell-bottomed trousers are the main symbol. It's time to start a treasure hunt into our closets: I'm sure we will find something suitable! Indeed some days ago I found into my "Good-clothes-but-not-fashion-anymore" closet door, this pair of bell-bottomed jeans by Replay that I used to wear when I was attending my first highschool year. And they are perfect: perfect shape, perfect colour and conditions! I decided to match them to create a '7O's like outfit with brown colours, a wooly cape and an original '70ies fringed gilet. I'm really proud of this pics taken by my brother, so I hope you like as much as I do!
 Have a nice day and don't miss this weekend posts! :D
 Big hugs to everyone of you guys
!
Pics taken by Gabriele Colzi
PANTS: REPLAY bought almost 9 years ago
WOOLY CAPE:
second hand
10 Euro
GILET: VINTAGE bought last year
Condividi