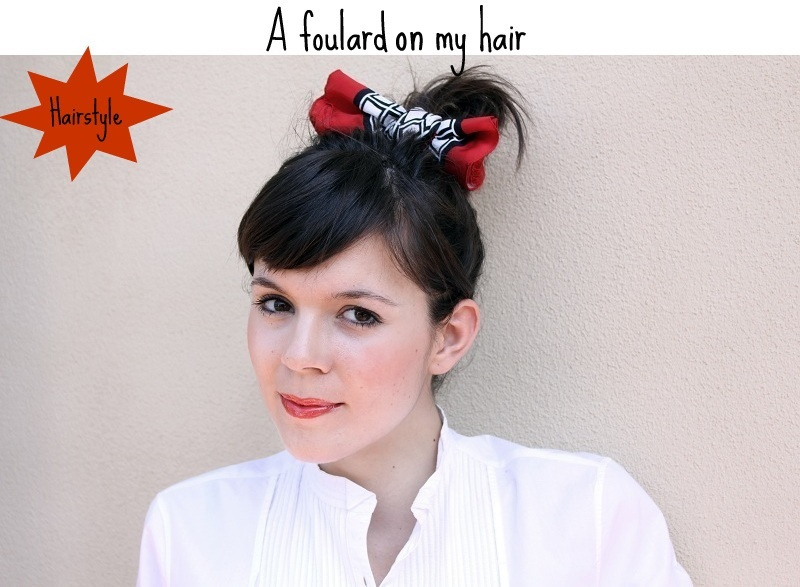 Come accennavo nelle risposte ai commenti del
post outfit di ieri

,
quando le temperature cominciano a crescere
la mia voglia di legare, appuntare, intrecciare i capelli cresce
! Un'idea che mi è piaciuta tantissimo è quella di utilizzare un foulard per legare il raccolto: basta prendere i capelli, legarli in una coda alta e, all'ultimo giro di elastico, lasciare la punta dei capelli all'interno. Poi, con un altro elastico fare un secondo giro intorno all raccolto per dare la forma desiderata (si possono utilizzare anche le forcine per questo scopo!). Infine, arrotolate il foulard attorno al raccolto e fermarlo con un doppio nodo sulla parte frontale. Il risultato devo dire che mi piace un sacco: secondo me arricchisce molto una mise povera (anche di colore) ed è un modo un po' diverso per dare seconda vita ai nostri foulard che se ne stanno nei nostri cassetti. Che ne pensate?
 As we told you on the comments on the yesterday outfit, when the temperatures start to grow, also my desire to tie and to braid my hair starts to grow! The idea that I love most is to use a foulard to tie the bun! I love the result: in my opinion it enriches the most simple outfit (also in terms of colours) and it's a way to give second life to our old foulard. What do you think?
 I'M WEARING:
MAKEUP: GIVENCHY
Pics by Gabriele Colzi
Condividi