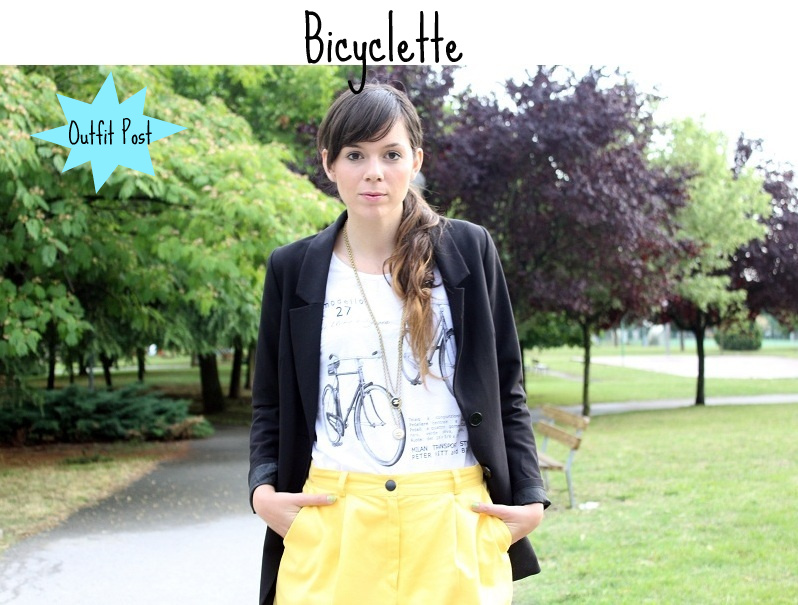 Questo è
uno di quegli outfit in cui mi sento davvero, davvero, bene! :)
Il tutto parte da una tee stampata in 100% cotone, firmata
Peter Witt
e che ha come protagoniste.. le biciclette (e non biciclette qualunque, biciclette dal perfetto stile italiano, come questa linea di tee del resto!) e da un paio di pantaloncini second hand oversize giallo fluo. Abbinare il tutto ad un blazer nero ed un paio di platform nere, diventa automatico per me! Spero che questo outfit vi piaccia come piace a me :P E nel mentre, vi auguro un buonissimo inizio settimana e un perfetto lunedì! :)
 This is one of those outfit with which I feel very very me! :) Everything starts from a printed cotton tee by

Peter Witt

with bicycles (and not the usual ones, the stylish ones!) and a pair of oversize lime yellow pants! Combine those items with a black blazer and a pair of black platform became natural to me :D I hope you'll like this outfit and in the meantime, I wish you a great week and a perfect monday!
I'M WEARING:
PANTS: SECOND HAND (bought in Paris)
Pics by Giovanni Gambassi
Ps. Fabi's giveaway winner is coming today!! :)
And the winner is..
Rabbit Heart ha detto…
partecipo!!
Giulia Orlandi
Congratulazioni! :D
E domani.. UN NUOVO GIVEAWAY! :D
Condividi