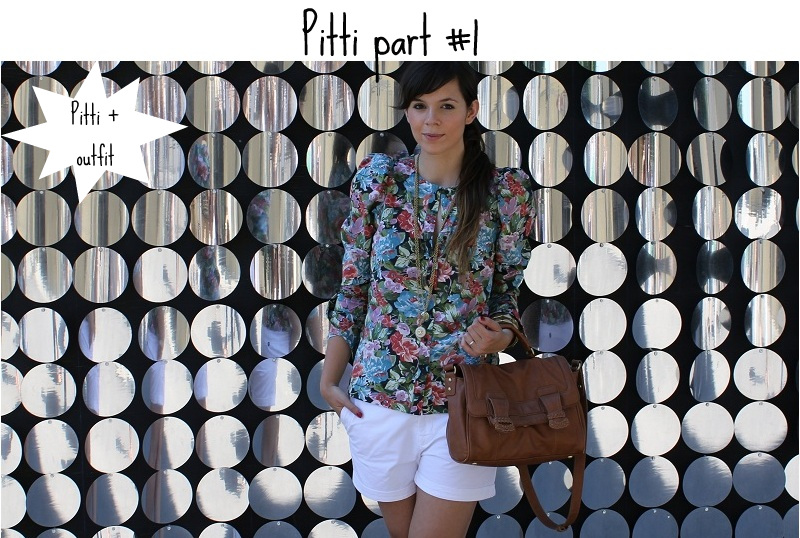 Con un outfit semplice e comodo, floreale + bianco e tocchi oro (avete visto che ganza la copertura del padiglione iniziale del Pitti?) la prima, vera, giornata dentro Pitti è iniziata con la visita agli stand di G-star raw, Converse, Firetrap e Il Bisonte per poi spostarci alla sfilata di US Polo al Loft di Piazza del Carmine e al cocktail party di Boutique Nadine per Vivetta.
 With a simple and comfortable outfit based on floreal, white and touches of gold (Have you seen how amazing is the cover of the Pitti structure?) we started the real first day inside Pitti with the visit of G-star raw, Converse, Firetrap and Il Bisonte. Then we moved to the US Polo runway show at Piazza del Carmine and at the end to the Butique Nadine for Vivetta cocktail party.
.
Come saprete Pitti è una manifestazione che interessa la moda uomo (ad eccezione di Pitti W che vedremo oggi)  ma, all'interno dei singoli stand, è possibile avere anche un
mini assaggio di quelle che saranno le collezioni donna. G-star raw
presenta, per la prossima stagione SS 12 donna, una collezione sì in linea con la filosofia del brand, ma che si differenzia per l'attenzione più marcata verso la femminilità nelle forme e nei tessuti. Giacche in pelle traforate, top dai tessuti inpalpabili e gli immancabili jeans! I cult? I jeans a vita alta, attilatissimi a poi fortemente a campana (ragazze, sembra che i pantaloni a zampa rimarranno nei nostri armadi!) e i jeans dalla forma maschile, effetto used, con lunghezza a 34.
As you know Pitti is an event that concerns the man side of the fashion world (Pitti W is the only ecception, I'll show you everything tomorrow) but inside the stands of the brands, it is possibile to have also a little preview of the woman collection. G-star raw presents, for the next SS 12 season, a collection which walks on the line of the brand, but that will be different for the attention on the feminility of the shapes and textures. Leather jackets, very light and sexy tops, and the cult jeans like the bell bottoms and the masculine like jeans with 34 leinght.
Abbiamo poi fatto una visita ad
Il Bisonte

,
stupendo marchio fiorentino di borse, famoso anche per la sua collaborazione con capsule collections per Luisa Via Roma. Presso lo stand ci hanno fatto un piccolo shooting indossando e giocando con le borse della collezione SS 12 e che vedrete tra oggi pomeriggio e domani mattina. Ma ecco, giusto due foto per farvi capire di che si tratta.
Then we went to the Il Bisonte stand, amazing florentine leather bags brand, very known also for the capsule collection for Luisa Via Roma. At the stand they took some photos of us, playing and wearing the bags of the SS 12 collection that you will see this afternoon or tomorrow morning. Here two pics to let understand you of what I'm talkin about.
Abbiamo poi fatto un salto veloce da
Converse
e
Firetrap.
Converse
propone, per la collezione donna, sneakers con una palette di colori inedita: dal rosa salmone al turchese. Per quanto riguarda le fantasie si va dalla scarpa con ghetta reversibile a pois, alle sneakers con linguetta multipla (le trovo molto belle!) a quelle spruzzate, a fantasia di frutta fino a quelle animalier e dai colori fluo.
Firetrap
invece, rimanendo fedele al suo stile londinese, ha creato una collezione molto carina e ampia: ecco i pezzi che più mi hanno colpita (la camicietta con la rondine!!)
Then we went to Converse and Firetrap. Converse shows us snakers with different colours from the salmon to the tourquoise. As regards the patterns of the shoes the cult pieces are the snakers with the double coverture, the ones with the multiple tongue (amazing!),  the ones squirted and the ones with the hearts dots. Firetrap not shoes something really revolutionary for the SS 2012 women, but with it's londoner style, some pieces catch my attention (the blouse is amazing!)
A metà pomeriggio si è svolta invece in piazza del Carmine la sfilata di
US Polo
. Una location suggestiva e un'organizzazione eccellente! Prima della sfilata ci sono stati mostrati un paio di video (di cui uno in 3d) come tributo al marchio e ai cavalli (senza i quali, come comprensibile, il marchio non avrebbe ragione di esistere). Due video emozionanti ricavati da spezzoni di film: incredibili! Per quanto riguarda invece la collezione, la linea maschile mi ha davvero entusiasmata: capi sportivi e in linea con la filosofia del marchio che risaltano la bellezza dell'uomo amante della comodità e dello sport. Per la donna capi semplici, puliti, con polo e camicie come capi cardine.
In the afternoon we moved to Piazza del Carmine to attend the US Polo runway. A suggestive location and an amazing organization! At first they show us a couple of videos (one of them 3d) as tribute to the brand and to the horses (the point from which the collection is born). Two emotional video created from pieces of very famous movies. As regards the collection, the man line has catch my attention: sporty clothes that highlight the beauty of the man that loves the comfort and the sports. For women linear, clean cloths with focus on polo and blouses.
Oggi terminiamo il Pitti Uomo e ci addentriamo nel Pitti W, sarete in zona?
Vi ricordo che fino alle 00.00 di oggi potete partecipare al
GIVEAWAY FABI
!
I'M WEARING:
PANTS: ZARA
BLOUSE: H&M
SHOES: H&M
BAG: ZARA
NECKLACES: BOUTIQUE NADINE
Condividi