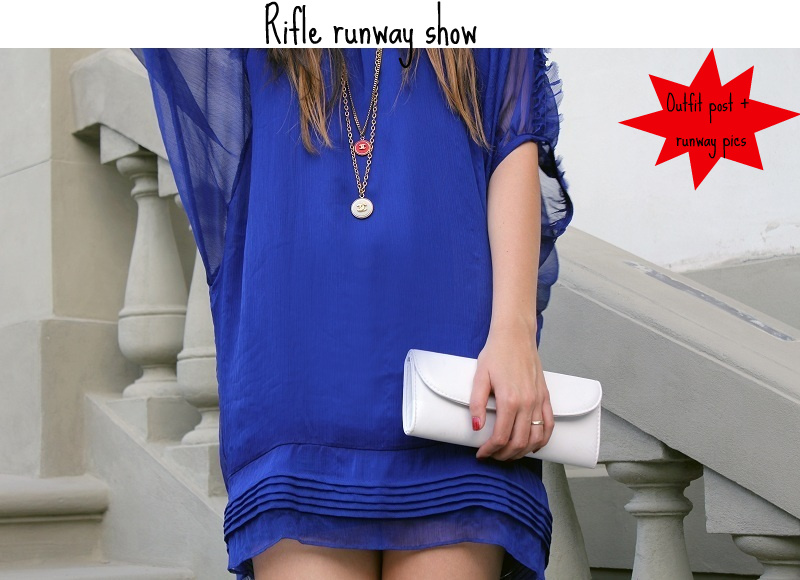 La prima giornata del Pitti è iniziata per me con uno 
shooting per 

Oysho
, nel centro della mia Firenze: una cosa molto informale ma carina che spero di farvi vedere presto! Ad orario aperitivo ci siamo trasferiti a 
Villa Cora
(magnifica!) per assistere alla sfilata S\S 2012 del toscanissimo
Rifle
, il marchio del denim che voi tutte conoscerete e che, sotto una nuova direzione stile, ha deciso di rinnovarsi e di rilanciarsi sul mercato. Angelo Bruni, nuovi direttore stile del marchio che a fine serata ha preso parola, ha deciso di rinnovare la tradizione del jeans portata avanti da decenni dalla famiglia Fratini, rinnovando il jeans, modernizzandolo nelle linee e nei lavaggi. 
Il mio oufit
? Un vestito over con maniche con applicazioni e lati trasparenti, di Mina UK by 
Boutique Nadine
, abbinato al bianco: scarpe Mellow Yellow che avete visto a 
questo post
,
e pochette in tinta. Oggi? Full immersion in Pitti e Pitti W e cocktail party da Boutique Nadine: ci vediamo in zona? :)

The first day of Pitti is started with a nice shooting with Oysho, in the centre of my beloved Florence: a very informal and cute thing that I hope to show you guys very soon! :) For the aperitif we moved to Villa Cora (stunning!) to attend Rifle denim SS 12 runway show. With a new style direction, it has decided to renew the brand and to lunch itself on the market again. Angelo Bruni, the style director of Rifle told us, after the runway show, that he wants to refresh the denim especially in silhettes and colours. My outfit? A oversize dress by Mina Uk from Boutique Nadine paired with white: Mellow Yellow shoes and pochette. Today? A Pitti full immersion and cocktail party at Boutique Nadine! Have a great day guys!
I'M WEARING:
MAKEUP: GIVENCHY
NAILPOLISH: KIKO
Pics by Giovanni Gambassi
GIVEAWAY FABI

until the 16th of june

HERE

!
Condividi