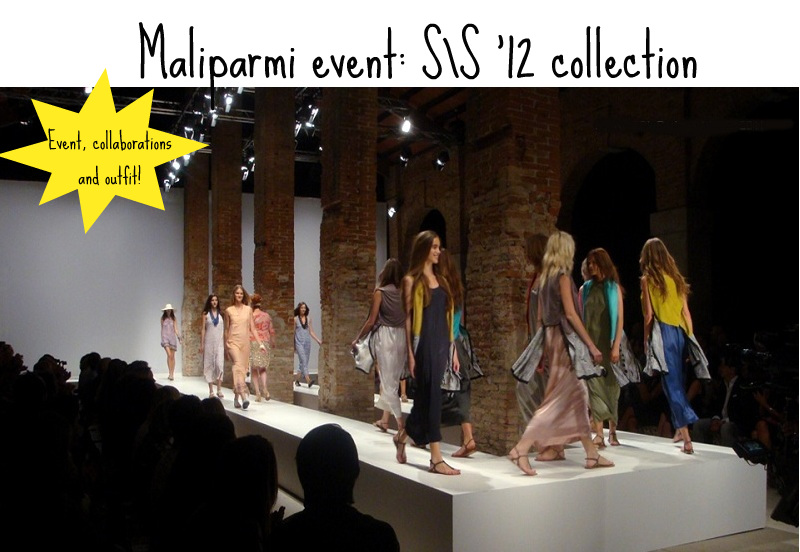 Nella campagna di Vicenza, in una location suggesiva, venerdì scorso si è svolta la sfilata di presentazione della 
nuova collezione 

Maliparmi
per la prossima stagione estiva 2012. Un casolare nella campagna vicentina, illuminato ad hoc ed arredato per l'occasione in uno stile minimal chic, ha accolto ospiti provenienti da tutto il mondo, riuniti per vedere in anteprima la collezione Maliparmi per la prossima stagione.
Next friday took place the runway for the presentation of the new Maliparmi collection for the next summer season. It took place on the Vicenza's countryside, into a suggestive location: a beautiful countrside farm with amazing lights and enriched by minimal chic forniture. Here there were guests from all over the world, together to admire the Maliparmi collection for the next season.
A dir la verità, la collezione SS 12 di Maliparmi, chiamata "Intrecci" mi ha sorprendentemente colpita: è una collezione che emoziona. Le luci si spengono, ti aspetti che le modelle facciano la loro apparizione. E invece no, una dolce melodia e un video proiettato sulle mura di un vecchio casolare in una notte d'estate ci riempiono i sensi. Un mercatino, delle cravatte e delle mani che ci giocano, intrecciandole, le une con le altre: ed ecco l'ispirazione per la prima parte della collezione. Un intreccio di cravatte, ognuna con una fantasia diversa, che da vita ad una stampa chiamata "Tecnocravatte" ottenuta rielaborando al computer un'immagine di cravatte tutte diverse e intrecciate fra di loro fino a creare un nuovo motivo astratto. Ed ora, sì,  escono le modelle, che presentano ciò che l'ispirazione di un momento ha creato sugli abiti: tutta un'altra storia.
 Diverse emozioni e ispirazioni hanno dato vita alle altre quattro parti della collezione, ognuna di essa presentata sempre con un video: i sassi ischitani sotto la superficie dell'acqua, trompe l'oeil, mare, sciarpe e borse.
Perchè "Intrecci" come nome a questa collezione? Silvia Bisconti, direttore artistico di Malìparmi, che abbiamo avuto anche il piacere e l'onore di conoscere, così spiega: "Il passato e il presente s'intrecciano per ottenere un futuro migliore, le tecnologie intuitive che semplificano il quotidiano fuse con i valori dell'artigianalità propri del marchio generano il nuovo pensiero di collezione".
Purtroppo le foto sono poche essendo una collezione che uscirà solo il prossimo anno, ma spero riuscirete ad avere un buon assaggio di quello che sarà! 
(Le foto del mio outfit sono sommarie a causa luce sfavorevole dato che l'evento si è svolto a partire dalle 21: riproporrò l'outfit appena possibile!).
I'M WEARING:
Runway pics courtesy of Maliparmi
Other pics by Giovanni Gambassi
Condividi