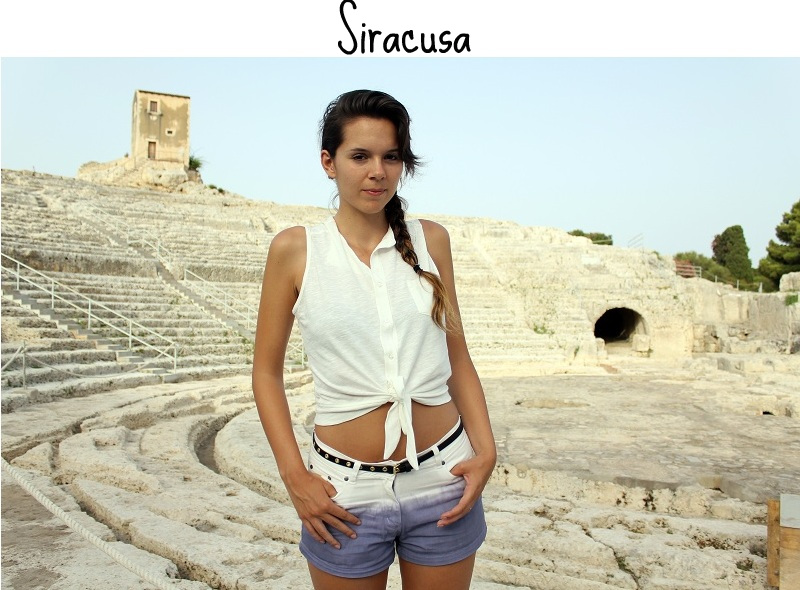 L'ultima tappa "storica" della nostra vacanza siciliana è stata Siracusa e il suo parco archeologico che comprende, tra le altre, il teatro greco e l'orecchio di Dioniso. Il primo è davvero suggestivo, lascia a bocca aperta per la sua grandiosità: un'intera scalinata scavata nel fianco di una collina, direttamente nella roccia. Il secondo, è unico, letteralmente: una voragine nella roccia dall'acustica talmente perfetta tanto che si dice che Dionigi lo utilizzasse per ascoltasse ogni singolo parola, anche la più sommessa, dei prigionieri li rinchiusi, in cerca di cospirazioni a suo danno. Il mio outfit? Da turista sotto il sole cocente: un paio di micro shorts a vita alta e una maglia annodata che lascia scoperto un pezzettino di.. stomaco, come vorrebbero le tendenze (sì, ma solo per il mare, almeno nella mia interpretazione!).
Spero vi piaccia! Vi auguro un'ottima giornata!
 Our last "historical" stop of our trip to Sicily has been Siracusa and its archeological parc where we have adimred the greek theatre and the "Orecchio di Dioniso". The first one is really stunning, it's really magnificent: hundreds of steps created from the rock of the hill. The "Orecchio di Dioniso" is a cave on the mountain in which you can hear perfectly every single words that everyone say. My outfit? For a tourist under the hot sun: micro shorts a little tee with the naked stomach, as the trands say! Hope you'll like it! 
I'M WEARING:
BELT: H&M
Pics by: Gabriele Colzi
Condividi