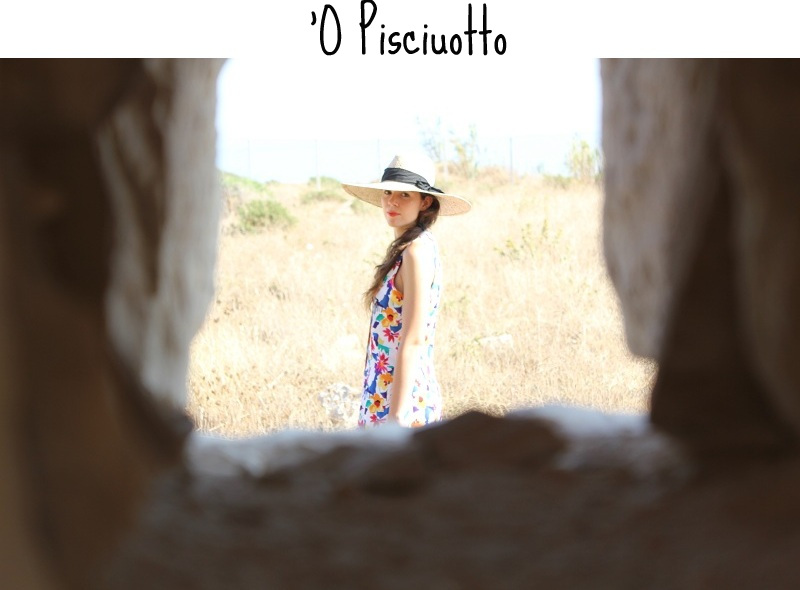 Una sveglia alle ore 5.30 causa caldo, ha avuto i suoi effetti positivi: un'alba romantica a due, una sessione di footing sul lungo mare, una colazione consumata con calma chiacchierando. Presto già sul mare abbiamo trascorso una mattinata immersi nelle
acque limpide tra Marzamemi e Portopalo di Capo Passero per poi recarci
, nel tardo pomeriggio a
'o Pisciuotto,
una vecchia fornace distrutta da un incendio
all'inizio degli anni Venti che si trova a Sampieri (Scicli) e che oggi è diventata parte integrante del (suggestivo) panorama, dato che si erge a 5 m d'altezza, in riva al mare. Location perfetta per una passeggiata dopo un bagno nella bellissima spiaggia sottostante: consigliatissimo! Abbiamo infine passato una splendida serata in compagnia di
Miriam,
blogger di
Fashion crazy ball
,
che abbiamo scoperto essere non solo di Portopalo ma anche connessa alla mia vita di Firenze in modi che solo le coincidenze più assurde possono creare!
  Yesterday we woke up at 5.30 cause of the hot temperature but it had positive consequences: a romantic sunrise with my bf, a footing session on the seaside, a slow and big breakfast. We went on the seaside very early and we spent hours on the crystal waters between Marzamemi and Portopalo di Capopassero. We spent our afternoon at O Pisciutto, that in Sicily is the name of a old heat structure destroyed by a fair at the beginning of the 1920 that is located at Sampieri (Scicli) and today is part of the (suggestive) panorama since it's 5 mt over the seaside. A perfect location for a promenade after a bath in the stunning sea. Then we spent our evening together with Miriam from The Fashion crazy ball and her boyfriend and friends and we spent an amazing amazing evening! 
I'M WEARING:
JUMPSUIT: SECOND HAND (bought in Paris)
SHOES: OYSHO
HAT: H&M
MAKE UP: REVLON
Pics by Gabriele Colzi
Condividi