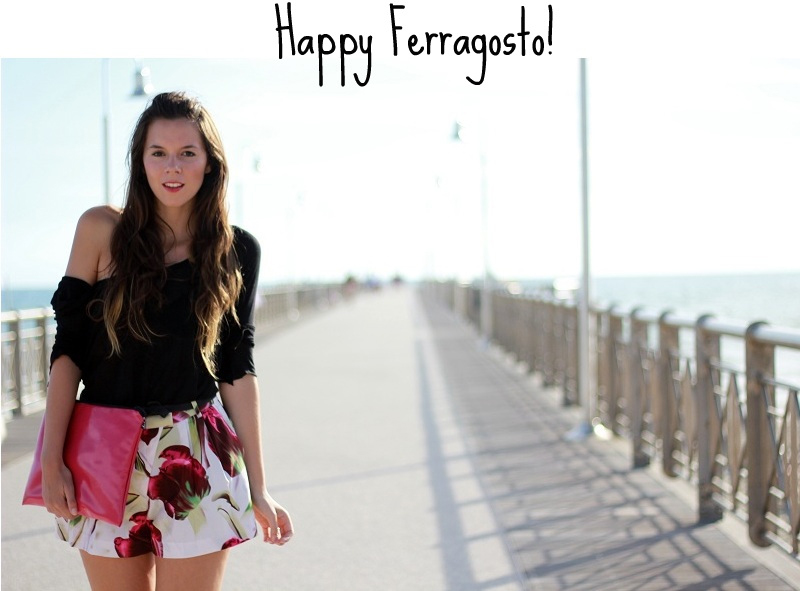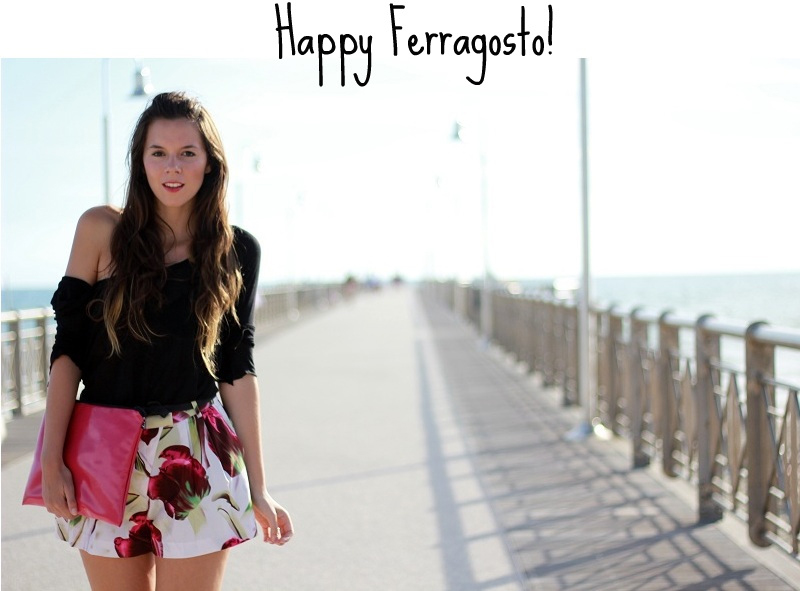 Buon Ferragosto a tutte, ragazze! :) Vi scrivo in diretta da Firenze, anche se in procinto di partire nuovamente per Forte dei Marmi, dove starò fino al 18 per festeggiare poi il 19 agosto il mio compleanno (si invecchia, eheh!). Proprio al Forte sono stata anche quattro giorni la scorsa settimana, dove io e Gio, ci siamo dedicati allo studio e al lavoro, nella tranquillità e al fresco, intermezzati da passeggiate sulla spiaggia, giri in bicicletta e scorpacciate di schiacciatine di Valè!. Scattato sul pontile di Marina di Pietrasanta, ecco un outfit che mi piace particolarmente: un paio di shorts con fantasia floreale sui toni del fucsia, così come la maxi pochette e il rossetto, abbinati al nero, che fa subito chic: una maglia a maniche lunghe dal tessuto impalpabile e un paio di sandalini. Nei prossimi giorni, oltre agli outfit dal mare, ho anche un bel giveaway in serbo per voi e un post sui "New in" del mio "Closet" (tra cui un paio di scarpe che già adoro)! Stay tuned! :D
PS.
Un enorme, immenso, megagalattico GRAZIE a tutte le persone che mi hanno votata al contest Westrags: grazie del sostegno, degli in bocca al lupo, dell'affetto che mi avete dimostrato! Mi avete resa felice e commossa, mi fa tantissimo piacere che il mio lavoro sia apprezzato da così tante persone! Sono felice di annunciarvi che sono tra le 10 finaliste, ce l'abbiamo fatta!!! Il 17 agosto la giuria Westrags sceglierà la vincitrice del concorso: incrociate tutte le dita (anche quelle dei piedi, ne ho proprio bisogno :P), per me!
Happy Ferragosto to all of you girls! :) I'm writing you live from Florence even if we're planning to leave again for Forte dei Marmi where I'll stay untile the 18th of august since the 19th is my birthday (I'm getting older, sigh, eheh :)). I went to Forte dei Marmi also last week, for 4 days. There we have studyed and worked, relaxed in the fresh breeze, we walked and we did bike rides. We took this photo outfit at Marina di Pietrasanta, an outfit that I like very much: a pair of shorts with pink floreal print, pink lipstick and the bag. I decided to pair them with black: a light tee and flat sandals. Next days, on Irene's Closet, there will be a very nice giveaeay and a "New in" post! Stay tuned!
,
OUTFIT:
Do you need any price information? Ask me!
Hai bisogno di qualche informazione sui prezzi dei vestiti? Chiedi pure!
INFO:
PICS:
by Giovanni Gambassi (Canon 550D with a 50 mm)
Condividi