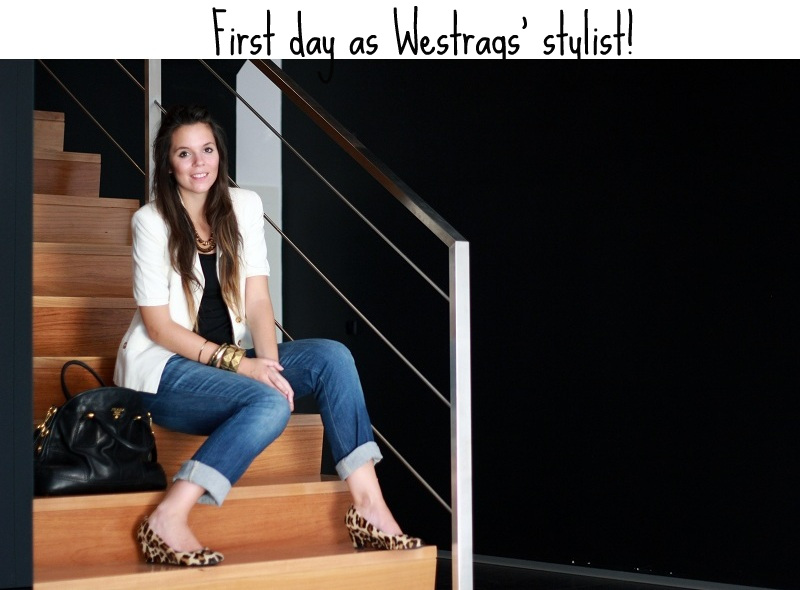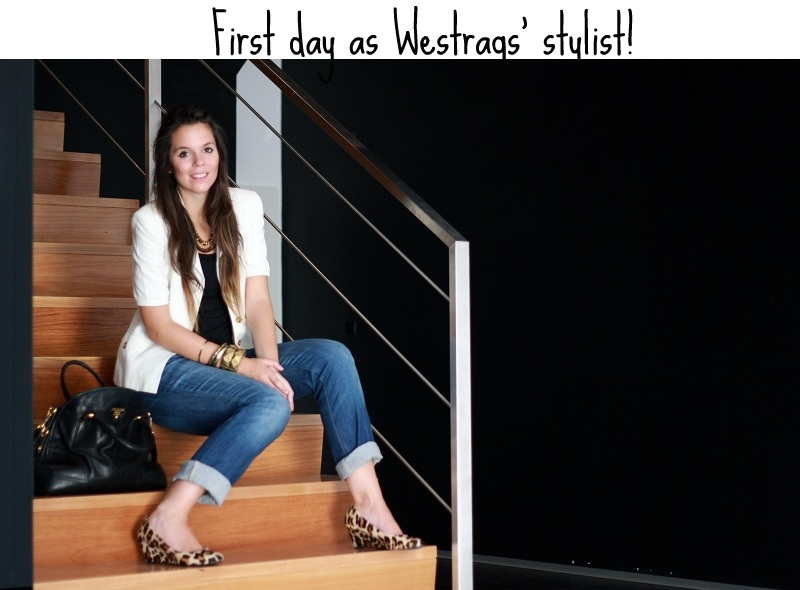 Che giornata ragazze! In compagnia dei miei jeans boyfriend, una giacca vintage, un paio di ballerine con zeppa leopardate e con la pancia piena di una buonissima colazione (peccato non possa mangiare i dolci, maledette intolleranze!) e dopo una nottata passata su un morbidissimo e grandissimo lettone, accanto al mio "fratellino", è cominciata ufficialmente la nostra avventura "Westrangsiana"! La visita dell'azienda e la spiegazione di come nasce, si sviluppa e funziona uno shop online, è stata la presentazione prima di iniziare il vero e proprio lavoro. Per 5 ore, una stanza piena di vestiti, da uomo e da donna, borse, scarpe, occhiali, accessori sono stati i miei compagni. Ogni tanto il team di Westrags (delle persone davvero eccezionali, super ospitali!) passava a portarci un po' di viveri, tra una scelta e l'altra. Il compito non è stato per niente facile, ma credo che il risultato sia buono (spero)! Ancora nessuno ha visto il mio lavoro e domani, tutto verrà allo scoperto davanti al team Westrags al completo, durante lo shooting alla modella e, lucky me, al modello, per i quali curerò anche lo stile del trucco e del parrucco. Spero che, al momento della prova dell'outfit, rispetto a vedere il look su uno stendino, non ci siano troppi ripensamenti: non avrò modo per fare nessun cambio! Incrocio le dita :D E intanto.. ecco le foto della giornata, il mio outfit e a fondo post un video girato durante la scelta dell'outfit!

What a day girls! Together with my jeans boyfriends, a vintage blouse, a pair of leopard wedges and after a huge breakfast (I'm not lucky, I'm intollerant to milk and so on, so I can't eat sweet things!) and a very realaxing night in our kingsize beds, our Westrag's adventure has finally official started! The factory visit and the explenation of how a shop online works, has been the presentation before the real work. I stayed for 5 hours in a room full of clothes, bags, shoes, accessories, sunglasses. My job has not been easy at all but I think that, at the end, it has been a good job (I hope that!). Nobody has seen my work yet and everyone will discover it tomorrow, during the shooting with one male and one female model. Hope that, when the model will put on my outfit, everything will be ok like the general viuw I had on the styling room today! Finger crossed! Hope you'll enjoy those pics! :)
OUTFIT:
Do you need any price information? Ask me!
Hai bisogno di qualche informazione sui prezzi dei vestiti? Chiedi pure!
INFO:
PICS:
by Gabrieel Colzi (Canon 550D with a 50 mm)
Condividi