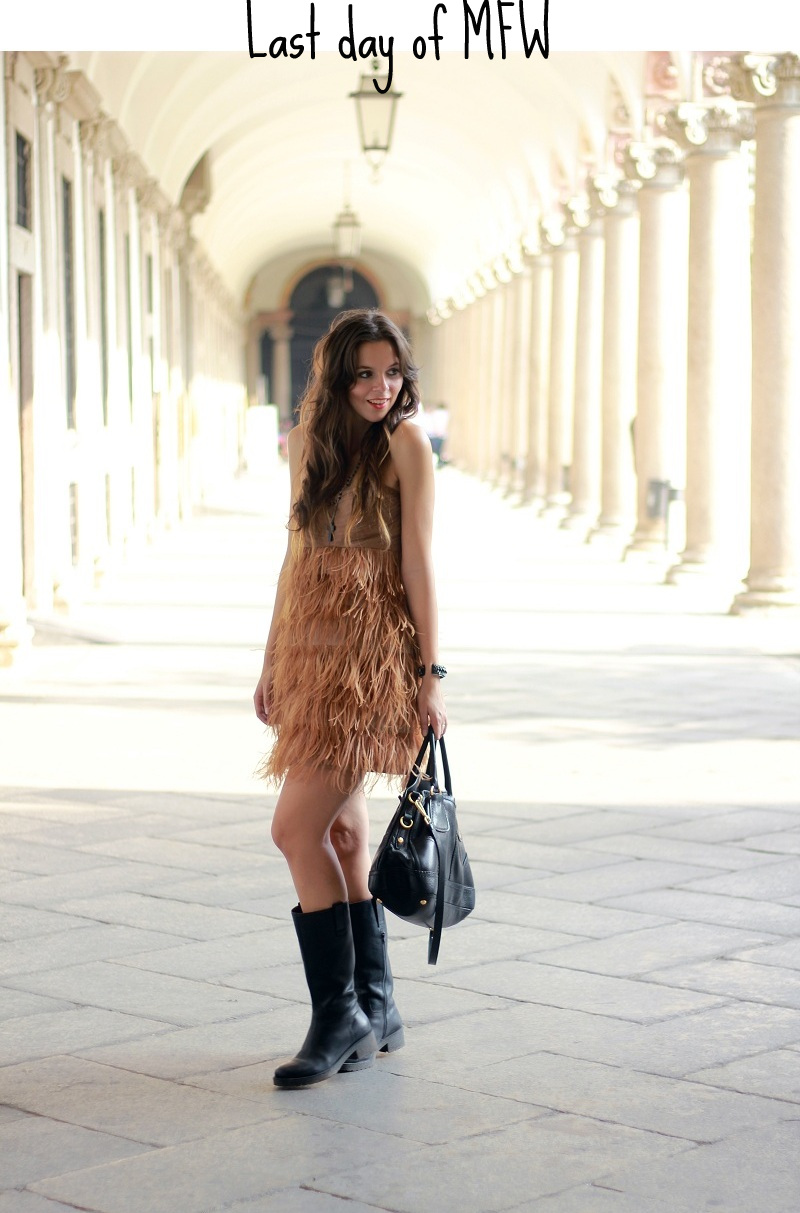 Il nostro ultimo vero giorno di Fashion Week è stato domenica: intensissimo di sfilate e presentazioni e concluso con una stratosferica pizza in compagnia di un bel gruppo di amiche bloggers che ad ogni fine evento mi piange il cuore lasciare! Per la giornata ho scelto un vestito in piume, elegante e importante, sdrammatizzato con un paio di boots in pelle nera e una collana doppio giro con croci, gentile prestito della mia coinquilina milanese e blogger Elisa Taviti. Le mie ultime sfilate da Fashion Week? Ecco una carrellata di tutte le immagini più belle!
My last day of MFW has been sunday: very full of fashion shows and presentations it has been ended with an amazing pizza with all my bloggers friend that at the end of each event I'm so sad to say goodbye to! For this amazing day I decided to wear a feathers dress, elegant and important that I decided to combo with black leather boots and a double necklace with a dark cross (taken from my milan roomete, Elisa Taviti from My Fantabulous World). My last fashion shows from Milan Fashion Week? Here a huge gallery of all the most beautiful pics!
 FRANKIE MORELLO
Ne ho parlato anche 
qui
, su 
Bigodino.it
: un giro d'Italia la sfilata di Frankie! E poi orgoglio toscano a gogo con i riferimenti a Firenze e a Pisa! L'unica pecca? Ho notato un forte richiamo alla precendete collezione di Moschino, sembra anche a voi?
I have talked about it also on 

Bigodino.it

: a grand tour of Italy for Frankie Morello! And tuscan proud thanks to the iconic images of Pisa and Florence! The only negative side of this fashion show has been the very strong reference to the last Moschino collection, what do you think?
JUST CAVALLI
Cavalli non si smentisce mai. In che senso mi han chiesto nei miei
tweet
? Nel senso che, anche per la prossima stagione estiva, la collezione non si distacca da i temi cardine del brand quali animalier e frange: insomma Cavalli non si smentisce mai (l'avevo detto, no? :D).
Just the same Cavalli. Also for the next season, the collection is very closed to the most important themes of the brand like the animalier and fringes!
EMPORIO ARMANI PEOPLE
Belli, bellissimi, che streetstyle fuori da Emporio Armani! Ecco tutte le foto e molte altre a
questo articolo
!
Beautiful, stunning. What a streetstyle in front of Emporio Armani fashion show! Here all the pics!
MISSONI
La sfilata democratica di Missoni
è la nostra meta fissa: un
ippipurra
per la Maison Missoni che apre ogni anno la sfilata al pubblico (Sì, la sfilata di Missoni che si svolge in Statale è free entance).
The democratic fashion show of Missoni is our Mecca: a yey for Missoni Maison that every year open the fashion show to the public (yes it's free entrance).
ALVIERO MARTINI
Gli occhiali, i bracciali e le scarpe: il top. Vestiti, tute e gonne dalla linea pulita. Alviero mi ha sorpresa in modo decisamente molto positivo!
The sunnies, the bracialets and the shoes: lovely!. The dresses, jumpsuits and skirt very linear and clean. Alviero has surprised me in a very positive way!
OUTFIT:
Do you need any price information? Ask me!
Hai bisogno di qualche informazione sui prezzi dei vestiti? Chiedi pure!
INFO:
PICS: by Irene Colzi (fashionshows) Elisa Taviti (outfit) (Canon 550D with a 50 mm)
Condividi