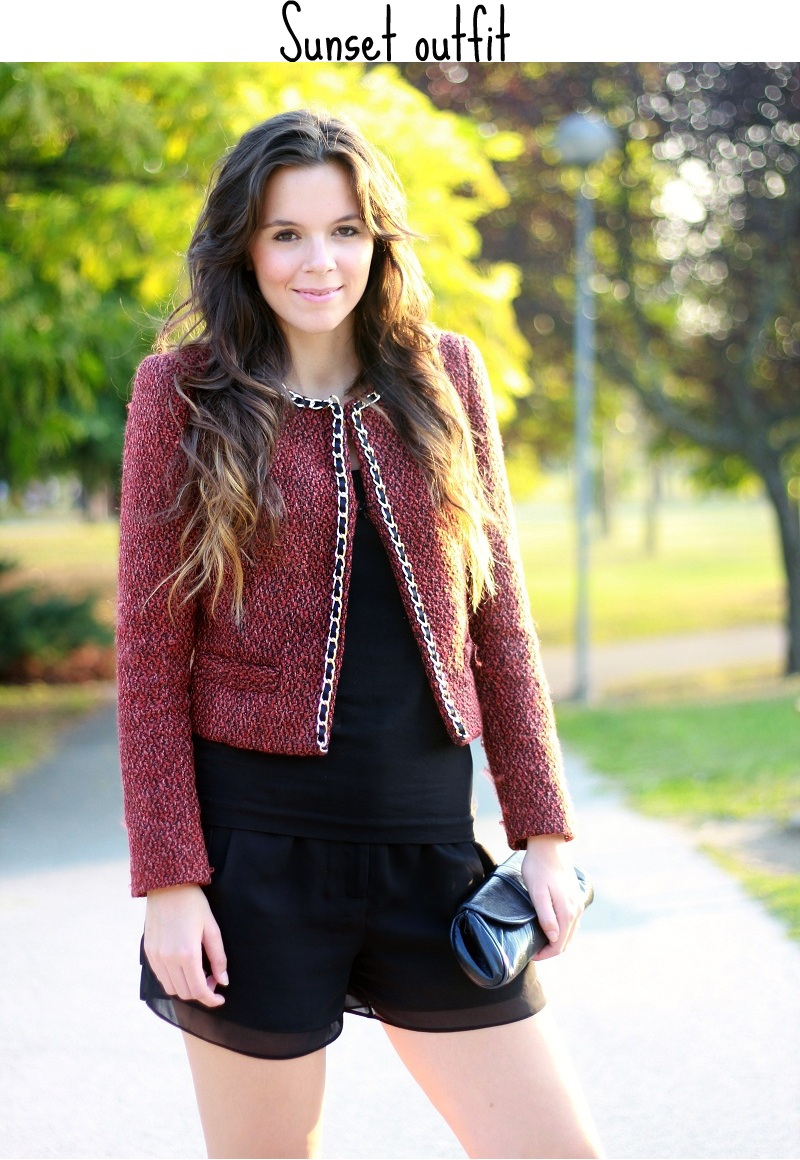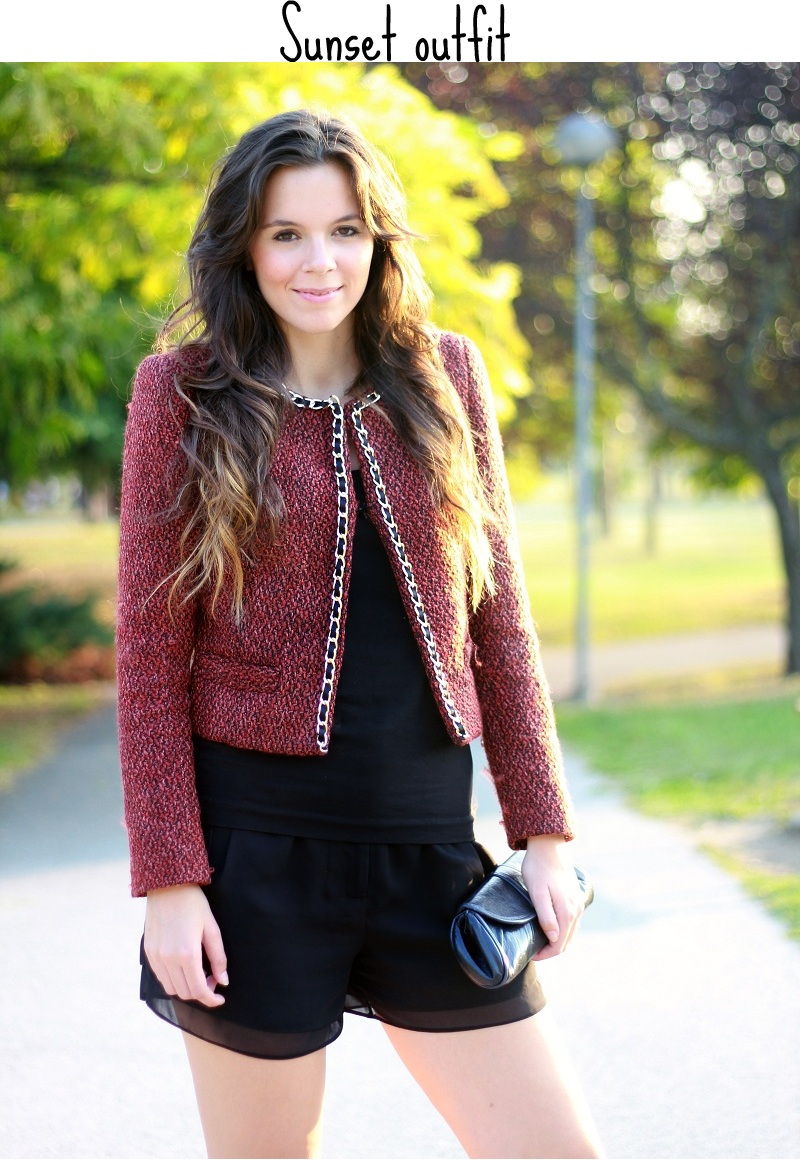 Buon venerdì ragazze! :) Ecco a voi un post indossato per una
serata pub in compagna di alcuni amici
e scattate al tramonto (adoro questa luce!). Ho indossato la giacca con profilo oro che avevate già visto
in questo post di sfuggita
e che ho deciso di indossare insieme ad una pochette – baguette (decisamente più corta rispetto a quelle per la prossima estate proposte da Krizia,
vi ricordate
?) e dei pantaloncini double. Oggi sarò tutto il giorno tra Ravenna e Firenze per un
progetto
per una testata straniera che
sembrerebbe molto carino e del quale spero di farvi vedere presto il backstage sul mio blog: incrociate le dita per me, per il mio inglese e per il nostro
tour de force
, eheh :D Un abbraccio a tutte ragazze, buon venerdì!

Happy friday girls! How are you? Today you can find the outfit I wore for a evening at the Pub with my friends: those pics have been taken at sunset time, isnt' the light softer the usual? :) I decided to wear this Rinascimento red jacket, the same I wore
my first day in London here
, this little baguette pochette and a double black short. Today I will be all day long between Ravenna and Florence for an editorial project for a foreign editorial company: I think it could be a very nice project but I'm a little bit scared about my english.. and also about this huge tour de force day, eheh! So finger crossed for me, please! Hugs to everyone of you girls, happy friday!
OUTFIT:
EYES MAKEUP:
DIOR MAKE UP
Do you need any price information? Ask me!
Hai bisogno di qualche informazione sui prezzi dei vestiti? Chiedi pure!
INFO:
PICS:
by Giovanni Gambassi (Canon 550D with a 50 mm)
Ps. Il giorno 8 Ottobre sarò ospite per l'intera giornata, insieme ad altre fantastiche bloggers come Veronica Ferraro, Alessandra Airò, Eleonora Carisi e le baresi
Marzia Peragine, Fausta Bolettieri e Laura Tassielli presso la boutique

Mimma Ninni

, nell'altrettanto fantastica cornice di Bari! Vi aspetto dalle 18.30 alle alle 21.30! Partecipazione straordinaria di Cristina Tardito alias Kristina Ti che presenterà il progetto
TI- shirt. Dopo Milano, Forte dei Marmi e Saint Tropez il workshop si sposta a Bari.
Parola d'ordine customizzare… sarà possibile creare la propria TI – shirt personalizzandola
con le proprie iniziali, ricamate a mano da una ricamatrice durante la serata.
La selezione musicale sara' curata da uno dei giovani DJ Baresi emergenti della scena elettronica, Tany d' Amely. Tutte le informazioni del caso le trovate 

QUI

! Chi di voi ci sarà? Vi aspetto tutte!!! <3
Condividi