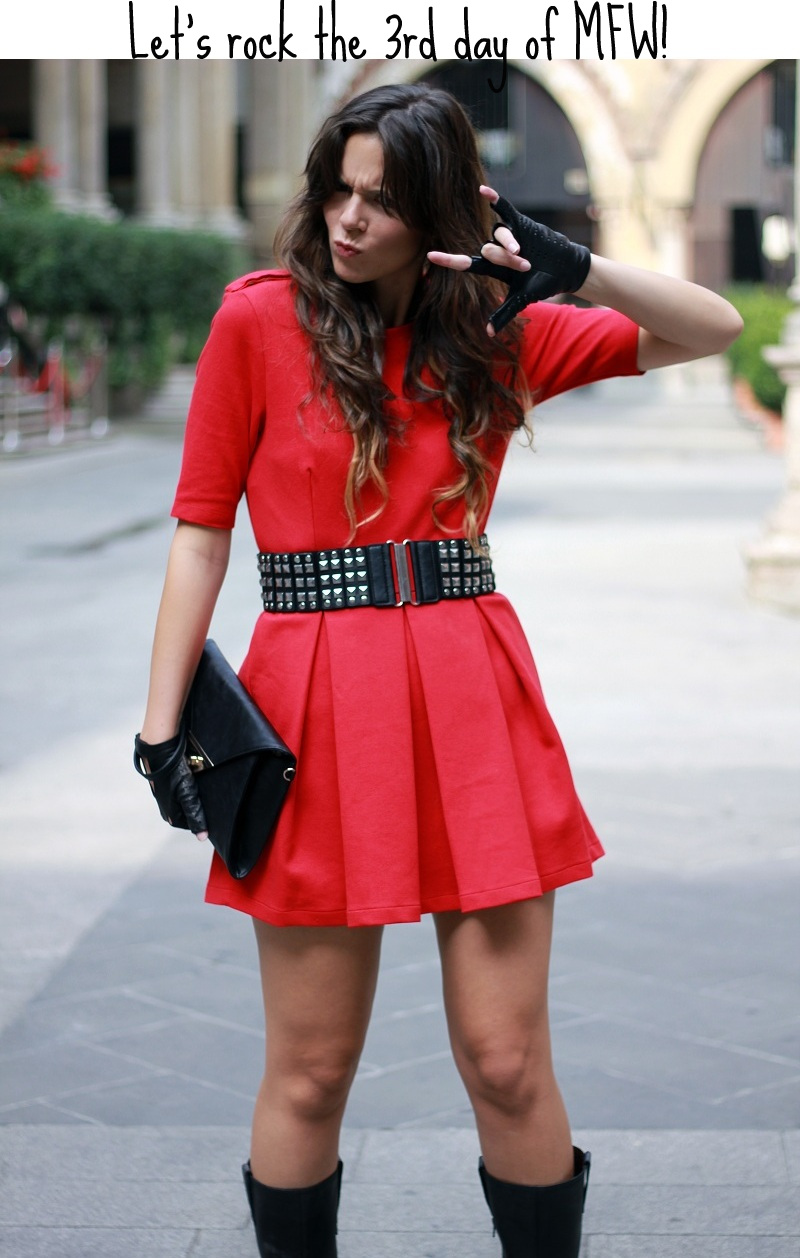 L'avevo promesso! Niente scarpe alte per il mio terzo giorno di Fashion Week. Ed in effetti è stata tutta un'altra storia: che comodità scorrazzare tra una sfilata e una presentazione senza dover fare il "cambio di scarpe" (sì, noi abbiamo le ballerine in borsa, tant'è che, quando indossavo l'outfit con le scarpe dorate di ieri, la scena del cambio scarpe insieme a Nicoletta è stata talmente bella, che The Sartorialist ha pensato bene di fotografarci!). Al di là di questo, ho deciso di creare un outfit molto grintoso, dato non solo dai boots abbinati al vestito rosso, ma soprattutto dai guantini biker e gli occhiali Laura Biagiotti vintage. E, nonostante le scarpe basse, credo che il risultato sia stato buono :)

I have promised you that girls! No high heels for my third day of MFW! And thinking about that, it has been a very nice decision: how comfy is to walk around, between a runway and another, without change our shoes? (the changing of shoes. what amazing moment! Also The sartorialist shoot me and Nicoletta while doing that, ahah!). I decided to create a very aggressive and rock-ish outfit thanks to the boots, the biker gloves and the glasses combined to this simple red dress. Hope you'll like the final result!
.
Secondo post della giornata in arrivo nel pomeriggio! Si parla di tuuuuuttti i nuovi modelli di Candy Bag by Furla in arrivo la prossima estate con la gallery completa dei nuovi modelli (che sono sicura vi piaceranno un sacco!).
Second post of the day is coming in the afternoon! We're talking about all new Candy bag by Furla  for SS 2012 with the complete photogallery!
Intanto non perdetevi tutti i post che ho scritto per Bigodino.it (molti altri in arrivo in giornata):
OUTFIT:
GLASSES:

LAURA BIAGIOTTI VINTAGE
Do you need any price information? Ask me!
Hai bisogno di qualche informazione sui prezzi dei vestiti? Chiedi pure!
INFO:
PICS:
by Elisa Taviti e Nicoletta Reggio (Canon 550D with a 50 mm)
Condividi