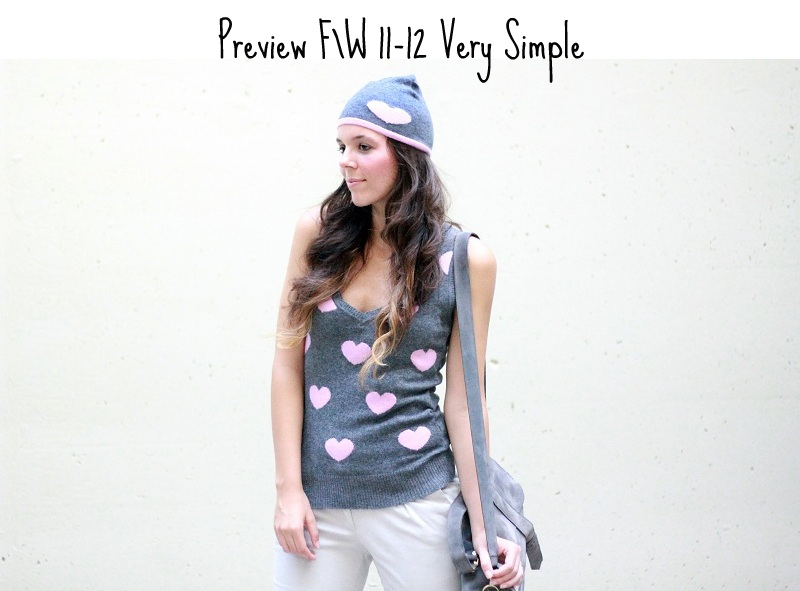 Vi ricordate 
QUESTO
e 
QUESTO
 post, quando vi ho parlato del mio lavoro con 
The Fashion Fruit
, per Very Simple? Bene, è arrivato il momento di svelarvi un po' di cose. In primis, in questo post, potete vedere un'anteprima della collezione F\W 11-12 Very Simple: i pantaloni slim color ghiaccio (vestibilità perfetta, consigliatissimi!), il gilet e il cappello in abbinato con fantasia a cuori, la fantasia proposta da Very Simple che più mi è piaciuta, così romantica, femminile e perchè no, adolescenziale! E in secondo luogo… in giornata sarà, finalmente online, 
il nuovo sito Very Simple
, dove potrete vedere tutti i video girati a Bari da me e Veronica durante lo shooting della campagna. Sono video in cui io e Vero, spieghiamo come noi avremmo abbinato i capi cardine della collezione Very Simple, in una sorta di "Consigli di stile" formato video! Sono curiosissima di vedere il risultato.. era la prima volta che parlavo davanti ad una telecamera, spero di non aver fatto troppo trapelare la mia emozione! :) Vi tengo aggiornate anche sull'uscita di questi video che pubblicherò appena possibile! Buon venerdì a tutti!
Do you remember 

THIS

 and 

THIS

 post, when I told you, girls, about my job with The Fashion Fruit for Very Simple? Well, it's time to show you something! First of all, you can see, in this post, a preview of the F\W 11-12 Very Simple preview: the ice colour pants, the gilet and hat with hearts fantasy (the most beautiful print of Very Simple collection, so romantic and youngh!). Then, during the day, the new 

Very Simple website

, will be online. There you could see all the videos that me and veronica shoot in Bari, in which we explain how we would combine the most important items of the collection. I can't wait to see the results.. it was the first time I was talking in front of a camera.. I hope to have done a good job anyway! I'll keep you uptodate! Have a nice day everybody!
OUTFIT:
Do you need any price information? Ask me!
Hai bisogno di qualche informazione sui prezzi dei vestiti? Chiedi pure!
INFO:
PICS:
by Gabriele Colzi (Canon 550D with a 50 mm)
Condividi