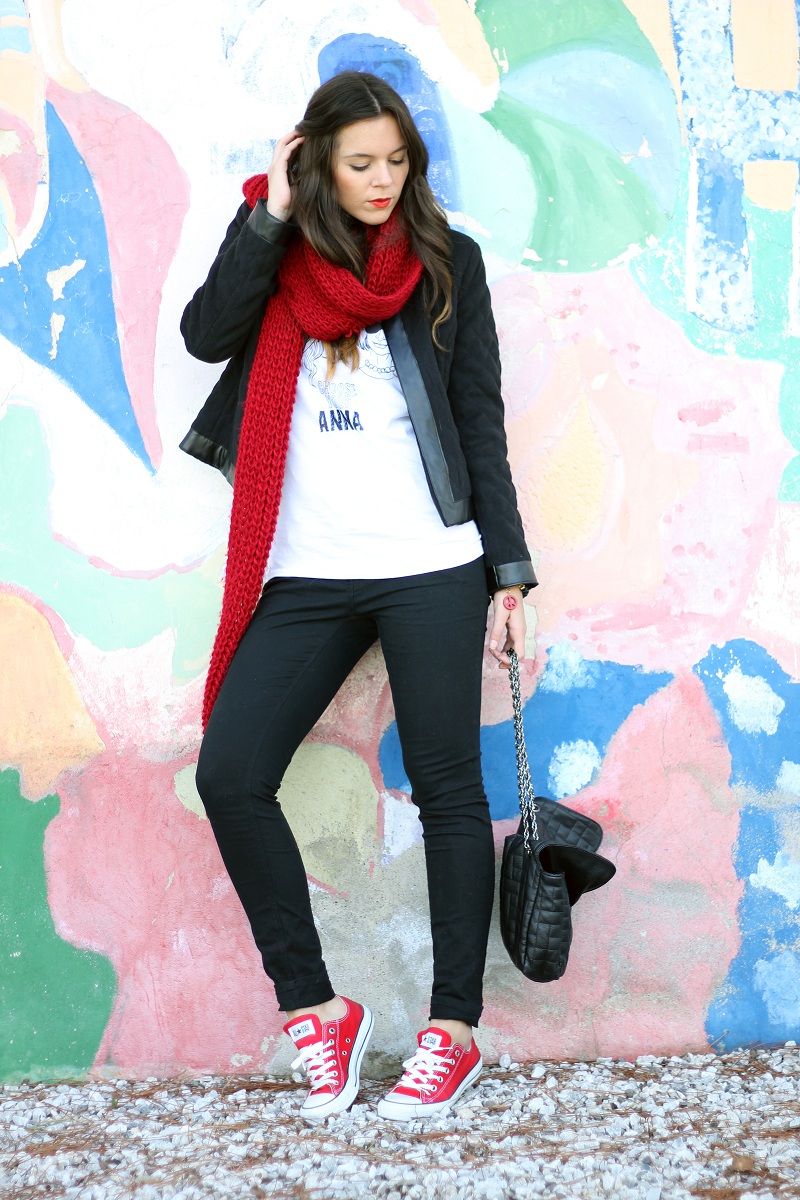 Outfit casual per un weekend con i fiocchi. Le temperature ancora sono davvero alte (ieri ho tolto pure la giacchetta e sono rimasta gran parte del pomeriggio a maniche corte!) e quindi, come non potevo sfoggiare la mia nuova Tea 
Anna vs Anna di 

JesùLaFrench
? (Sì è proprio il 
GIVEAWAY
 di questa settimana!) Non è stupenda? Ho deciso di abbinarla ad un total look black con dettagli rossi: adoro rendere chic la mise più glamour con una semplice passata di rossetto rosso! Se anche voi volete vincere una tee 
JESU'LAFRENCH
 potete partecipare al mio giveaway seguendo pochi semplici passaggi cliccando 
QUI
. In bocca al lupo e buon lunedì di Halloween! A domani!
Casual outfit for a casual weekend. The temperatures here in Florence (Italy) are still high as a matter of fact yesterday I spent all my afternoon wearing half slaves!). Then I decided to wear my new tee Anna vs Anna by JesùLaFrench (Yes, that's right, it's the 

GIVEAWAY

 of this week!). Isn't it wonderful? I decided to pair it with a total black with red details: I love the chic red lipstick on my lips wearing a very casual outfit! If you would like to win a JESU'LAFRENCH tee, you can enjoy my giveaway clicking 

HERE

. I wish you good luck and happy Halloween! See you tomorrow with a new interesting post!
OUTFIT:
SCARF & PURSE: ZARA
PANTS: H&M
BRACIALET: 
courtesy of a fantastic reader of my blog (you can buy it
HERE
)
MAKE UP: Dior
DETAILS:
 Pics by: Giovanni Gambassi (Canon 550D with a 50mm)
Styling and text: Irene Colzi
Location: Sesto Fiorentino
Condividi