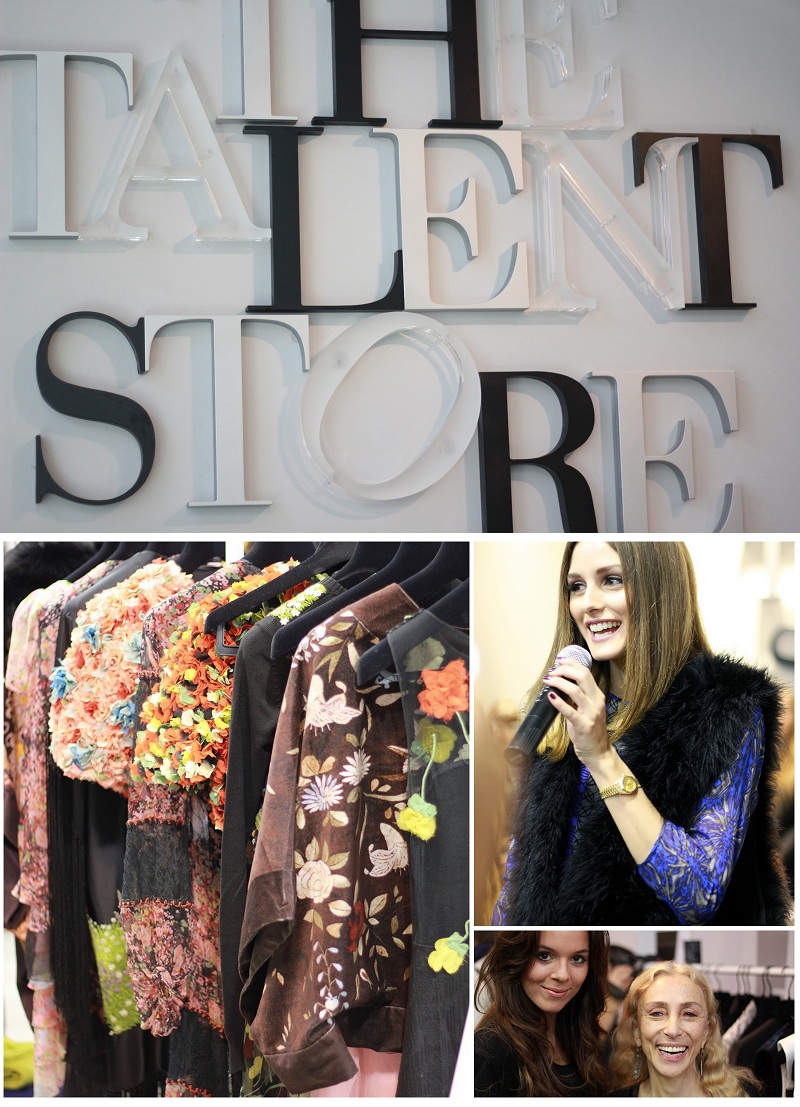 "The Talent Store"
, inaugurato ieri mattina presso il 
Fidenza Village
 (uno dei 9 villaggi di lusso che sono presenti in Europa sotto il gruppo Value Retail), è un'idea decisamente innovativa che mi ha entusiasmata subito. 
Cos'è questo The Talent Store, del quale tanto vi ho parlato in questi giorni?
 E' una boutique esclusiva ospitata dal Fidenza Village, che 
rinchiude in sè la moda che verrà
: ospita infatti le collezioni dei 25 giovani talenti più promettenti d'Europa (Simone Rocha, Erkan Coruh, Silvio Bettarelli, giusto per citarne alcuni). Quindi non solo un semplice shopping site, il Fidenza Village diventa vero e proprio luogo creative lab e fulcro di futuri interessanti fashion events. Insomma, ieri mattina alle ore 11, come saprete dai miei
 tweet
 e dai miei 
aggiornamenti di Facebook
 live, si è svolto il grande opening all'interno del "The Talent Store": presentato da 
Desirée Bollier
, CEO del gruppo Value Retail (l'elegante signora con il cardigan marrone, giusto per visualizzarla nella carrellata di foto che seguono) e da 
Franca Sozzani
, direttrice di Vouge Italia e grande fautrice del progetto. Guest speciale della mattinata, 
Olivia Palermo
. E' stata una giornata davvero interessante: sono rimasta 
piacevolmente sorpresa dalle collezioni di questi 25 giovani
 pieni di talento (anch'essi presenti all'evento, li potete vedere dietro la signore Bollier nella foto di gruppo): sono convinta che questi ragazzi, prestissimo, entreranno con forza nell'élite della moda. Sono davvero felice che Fidenza Village sia un luogo così attento nel proporre vere novità nel campo della moda (e, a mio parere, questo dovrebbe essere un esempio per molti altri progetti!). 
Franca Sozzani e Olivia Palermo
 sono delle grandi donne! Franca Sozzani ha fatto un discorso di apertura bellissimo (Peccato non aver avuto il tempo per girare un video!), sempre sorridente, 
charmant 
e disponibile, è una donna con la D maiuscola. Olivia Palermo invece è una bambolina, bellissima, impeccabile, piccolina, con un visino dolcissimo e, permettetemelo, mi piace moltissimo perchè non se la tira! 
Spero questa carrellata di foto random dell'evento vi piaccia :)
 A domani con un nuovo post outfit!
All the pics are by Giovanni Gambassi
.
.


Condividi