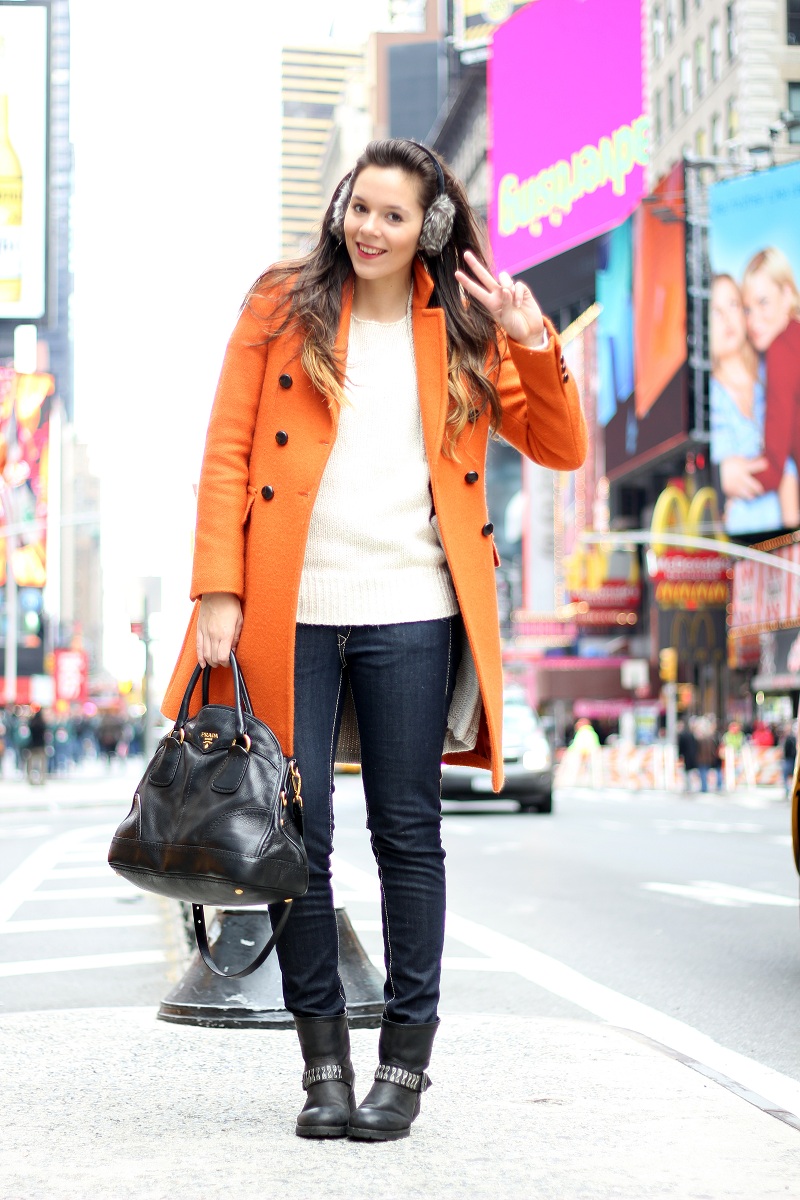 Wow. Cioè, davvero, 
wow e ancora wow
. Non c'è parola che meglio descriva le sensazioni che mi sta dando 
New York! 
Nicoletta

,
veterana della Grande Mela e compagna dell'avventura firmata Kerastase, insieme a 
Camilla
, che vive a NY da qualche mese e che abbiamo incontrato ieri mattina, mi hanno portata a vedere alcune delle mete irrinunciabili: Times Square (anche di giorno, ma secondo me di notte è più bella), Forever 21 in Times Square (tra le bellezze nazionali, of course, eheheh!), Central Park (ho rivisto circa 10.000 film nella mia mente visitando questo parco mozzafiato, con tanto di pista del pattinaggio sul ghiaccio), la 5th avenue, Rockfeller Center (Il mega albero di Natale è enorme, mi sarebbe piaciuto vederlo acceso!) e infine Soho (Quartiere assolutamente top!). New York 
ti lascia a bocca aperta
 per la sua grandiosità e per l'aria frizzante che si respira: amo, amo, amo questa città! L'outfit? Comodissimo e caldo grazie al cappotto arancione firmato Aspesi e che adoro, il copri orecchie in pelo e un morbido maglione in lana.  Ecco le foto scattate nella nostra domenica a NY da me (panorami) e da
Nicoletta
 (foto dell'outfit). Che ne dite? Un abbraccio grandissimissimo ad ognuna di voi!
Wow, wow and more wow!
 There are not more appropiate  words to describe New York City. It is amazing! 

Nicoletta

, my blogger friend with me in NY for the Kerastase project and 

Camilla

, an italian blogger who has moved in for some months, guided me into a tour of the city. We saw Times Square, Central Park, the 5th avenue, Rockfeller Center, Soho and so on. Here the pics of our sunday in NY! What do you think? A big hug to all of you!
OUTFIT:
INFO:
Pics by
Irene Colzi and Nicoletta Reggio (Canon 550d 50 mm)
Styling and text:
Irene Colzi
location: tim
es square, central park, 5th avenue
Condividi