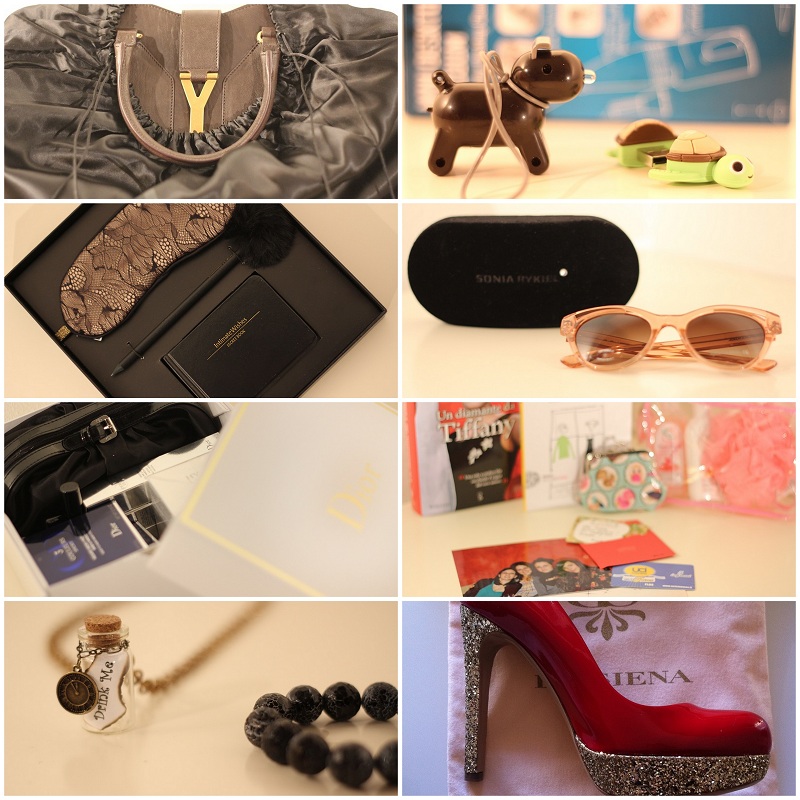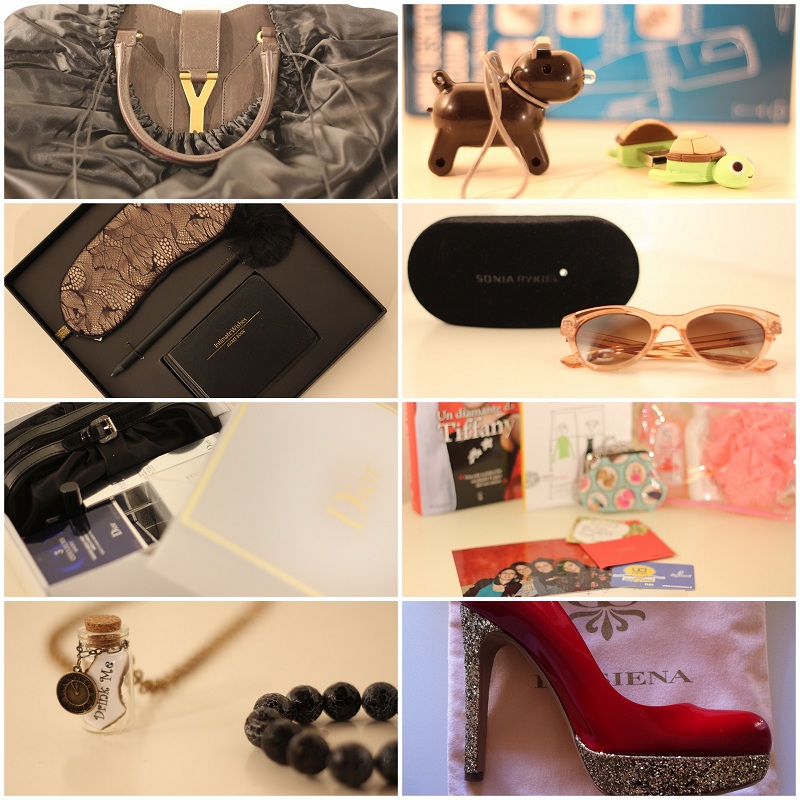 .
Dopo gli aspetti più smielati di questo Natale, come promesso, ecco qui alcuni dei regali che ho ricevuto per questo Natale da amici, parenti, sponsor.. e autoregali! Sono davvero grata per tutto ciò! Pronte? E voi, cosa avete ricevuto? Fatemi sapere che sono curiosissima! :D
Ps.. Domani uno di questi regali sarà oggetto di un Giveaway! :)
After the most emotional sides of this Christmas, as I have promised you, here we are with some of the gifts I have received this Christmas from friends, family and sponsors! I'm really happy about all this! And you? What have you received? Let me know I'm so curious!
ps. Tomorrow one of those gifts will be part of the new year eve giveaway!
1. Occhiali da sole SONIA RYKIEL
2. CHIAVETTA USB tartaruga e CANE CERCA CHIAVI (Sì, le perdo sempre)
3. OYSHO kit secret dreams
4.  
Collana Drink me
 e bracciale di Ambra creato artiginalmente
5. Kit trucco Dior
6. De Siena shoes
7. Libri, tessera per ingressi al cinema gratuiti, foto biglieitto di auguri con le mie migliori amiche, buono per manicure, creme per il corpo formato viaggio.
8.
Borsa YSL
Thanks to Gabriele Colzi for those pics
.
Già mi segui su Facebook? Segui i miei aggiornamenti quotidiani, le mie avventure e le notifiche in tempo reale dei miei post cliccando su LIKE :D
Are you following me on Facebook? Follow my daily uptodates, my adventures and the reminders of new post just clicking LIKE :D
Condividi