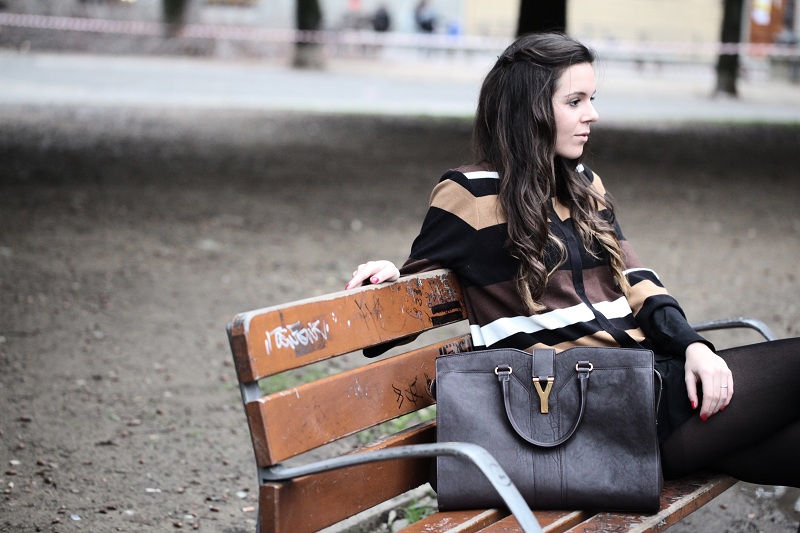 Giovedì, prima dell'aperitivo pre Luisa Via Roma, ho trascorso il pomeriggio con 
Sara
: sì, è proprio la fotografa degli scatti del mio stylelab che vi farò vedere domani e non vedo l'ora! Tra un giro per saldi (Ho scovato solo una camicetta, sigh!) e una merenda in compagnia, abbiamo anche scattato le foto che vedete oggi! Il focus? La mia nuova 
borsa di YSL
 che avevate già intravisto
tra i miei regali di Natale
. Questa borsa ha una pelle morbidissima ed è così capiente che sembra la borsa di Mary Poppins: credo che la sfrutterò tantissimo! Se volete fare un investimento ve la consiglio, è semplice e pratica! Purtroppo su Runin2 è terminata, ma ancora trovate 
qualche affare interessante a saldo
! Ci vediamo al Pitti! Buona giornata girls!
 Last week, before the Luisa Via Roma opening cocktail, I spent my afternoon with 

Sara

: yes, she is the photographer of the pics of my Luisa Via Roma stylelab that I'll show you tomorrow (can't wait!) We went shopping and then we took those pic focused on 

my new YSL brown bag

 that you have already seen 

among my Christmas gifts

. The leather is so soft and it's so big that i can put everything inside! Unfortunately it is sold out on Runin2 but you probabily 

find some good purchase

! Have a nice evening!
Dove mi trovate oggi?
Dalle ore 10 alle ore 14 sarò all'interno di Pitti Uomo per
Le coq sportif 
per fotografare i look più cool
! Vieni a farti fotografare se sei in zona: ti pubblicherò sul mio blog e su bigodino.it! Se non mi trovi, scrivimi semplicemente
sul mio facebook
, ti aggiornerò sulla mia posizione.
L'ingresso a Pitti è consentito soltanto se muniti di pass Stampa o Buyer.
Dalle ore 17 invece sarò presso il negozio Raspini (proprio accanto a Luisa Via Roma) per la presentazione di una fantastica linea di borse, Pomikaki. Venite a scoprirla con me (Potete avere tutto le info intanto sulla pagina Facebook di Pomikaki), a fare due chiacchiere, a prendere un aperitivo e naturalmente a fare il vostro pre-ordine (Poi capirete perchè..). Ingresso Libero.
Domani
Dalle 15 alle 19 sarò presso il negozio Gerard Loft per la presentazione della nuova collezione di Gstar Raw. Creerò degli outfit e alle ore 17.30 ci sarà una sfilata pop-up innovativa che si svolgerà in soli 4 metri quadrati. A seguire aperitivo e chiacchiere! Siete tutte invitate! Ingresso Libero.
OUTFIT:
BAG: Yves Saint Laurent by  Runin2
Già mi segui su Facebook? Segui i miei aggiornamenti quotidiani, le mie avventure e le notifiche in tempo reale dei miei post cliccando su LIKE :D
Are you following me on Facebook? Follow my daily uptodates, my adventures and the reminders of new post just clicking LIKE :D
Condividi