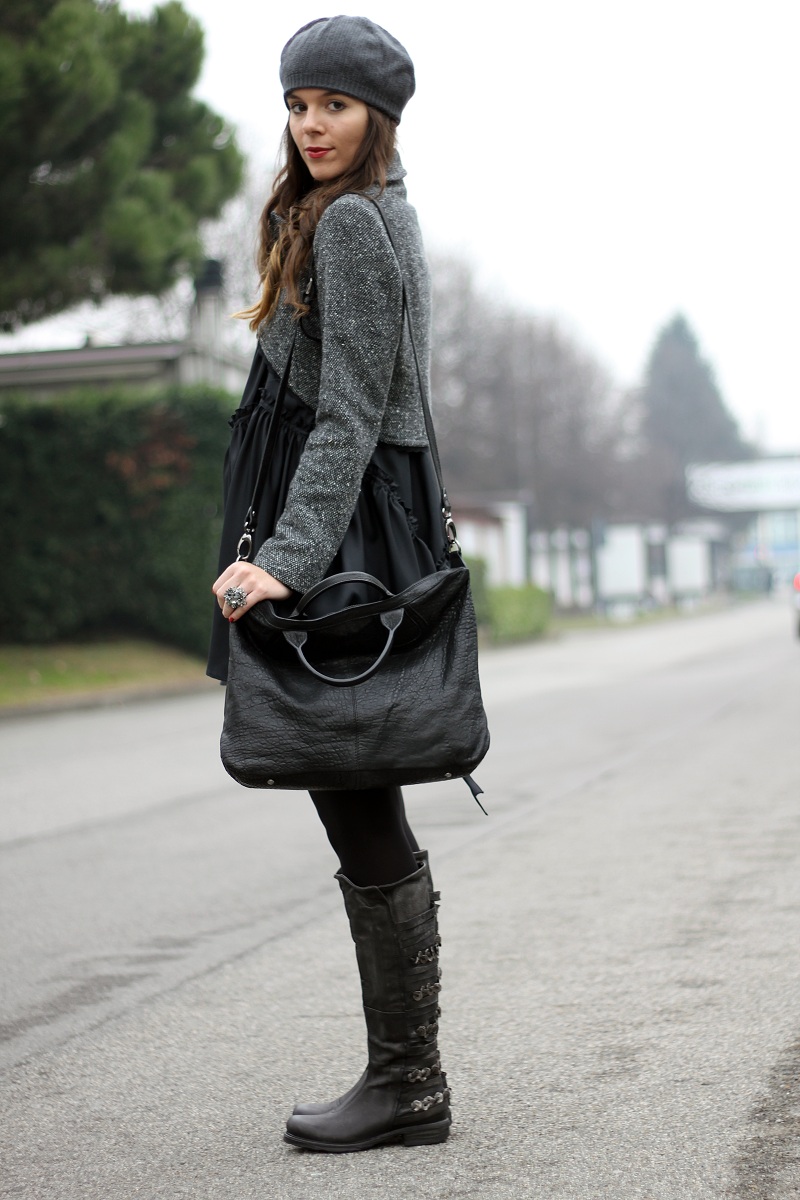 Bonjour!
 Come procede il vostro martedì ragazze? Brrr a Firenze fa freddissimo e ieri a Milano, dove mi sono recata per mezza giornata per un paio di appuntamenti, non era da meno: sembrava fosse nevicato da quanta brina c'era! E proprio pensando a Milano, oggi vi faccio vedere un outfit scattato prima di Natale quando sono stata da 
Provocation
(Vi ho fatto vedere gli altri oufit creati 
QUI

 e 

QUI
). Il tema? Una parigina un po' urban tra grigio, nero e dettagli metallici! Qual è il pezzo che vi piace di più? Riuscite ad indovinare il mio? Lo so, è troppo facile, oramai mi conoscete, ehehe :D Un abbraccio ad una ad una di voi fanciulle!!
Bonjour! 
How your day is going? Brr Florence is freezing and yesterday also Milan was like this (I was there for a couple of meetings). Yesterday Milan was all white: it seems like it was full of snow but it was only ice! And just thinking about Milan, today I would like to show you a outfit shoot in Milan some weeks before Christmas when I went to 

Provocation

 showroom (I've shown you the other outfits I have created 

HERE

 and 

HERE

). The mood of this outfit has been the urban chic among gray, black and metal details! Whichs is your favourite item? Are you able to understand mine? I know, it's too easy, you already know me :D A big hug to all of you girls!!
OUTFIT Total look Provocation INFO:
PICS by Giovanni Gambassi
STYLING and TEXT: Irene Colzi
LOCATION: Milan
Già mi segui su Facebook? Segui i miei aggiornamenti quotidiani, le mie avventure e le notifiche in tempo reale dei miei post cliccando su LIKE :D
Are you following me on Facebook? Follow my daily uptodates, my adventures and the reminders of new post just clicking LIKE :D
Condividi