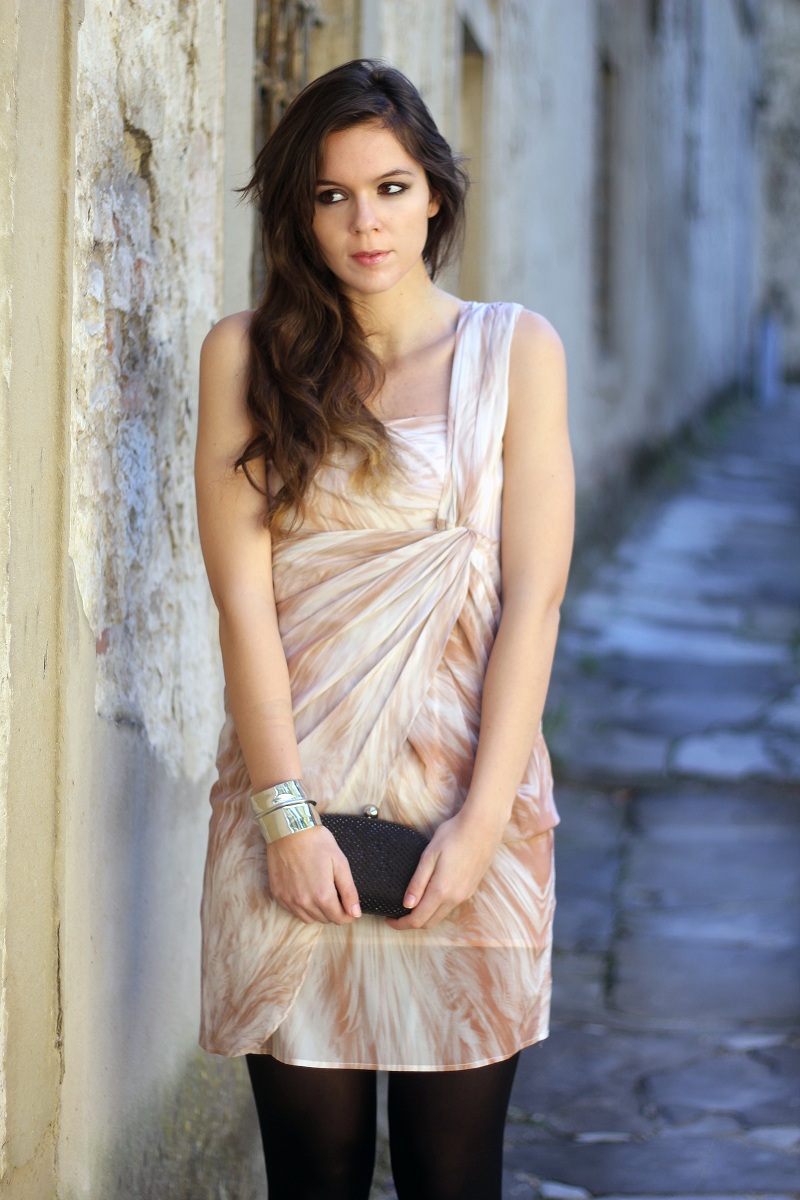 Buon lunedì a tutte ragazze! Tornate dalle vacanze? Pronte a ricominciare? Uuuh 
quante cose vi siete perse
 in questi giorni! Dopo un 
ultimo dell'anno sulla neve 
e una 
cena tra bloggers

,
 ho partecipato alla quarta edizione del Firenze 4ever presso Luisa Via Roma dove, venerdì scorso, mi sono cimentata nel
famoso StyleLab
: ho visto ieri sera una piccola preview delle foto ufficiali, non vedo l'ora di farvele vedere! Sabato sera si è svolto invece il 
Pink Carpet
, il party conclusivo e a tema rosa al quale sono stati invitati moltissimi bloggers e che ha chiuso il Firenze 4ever. Il mio outfit per la serata? Firmato 
Byblos 
(Vi ricordate, vi avevo già parlato della mia collaborazione con 
Byblos
) e composto da un vestito drappeggiato, un cappotto fucsia (Che vedo già in mille outfit diversi), le mie Miu Miu scultura e la pochette gioiello di Fruscio. Ho deciso poi di riprendere i dettagli neri dell'outfit con un trucco molto marcato sugli occhi: il risultato mi è piaciuto molto! Ma aspetto naturalmente tutte le vostre opinioni :)
Nel pomeriggio arriva un secondo post, con tutte le foto scattate con amici e colleghi bloggers durante la serata. Se avete qualche foto scattata insieme da mandarmi, scrivetemi pure a 
[email protected]
, inserirò tutte le foto :)

Good morning girls! How about your holidays? On Irene's Closet many things have happened. A 
very special New Year's Eve
, a 
blogger dinner
 and at the end the Firenze4ever 4th edition at Luisa Via Roma (Florence). I have shown you girls some 
pics of my stylelab
 (I'll show you everything soon!) and now, here we are with the pics of my pink outfit for the saturday night pink carpet party at Luisa Via Roma. I wore a Byblos total look (dress and coat), Miu Miu shoes and Fruscio bag. Then I decided to wear a black makeup: do you like it? What do you think about?
This afternoon a new post will come: I'll show you all the pics taken with the other bloggers during the night! Stay tuned!
Vieni a trovarmi!
.
10 GENNAIO
Dalle ore 10 alle ore 14 sarò all'interno di Pitti Uomo per Le coq sportif per fotografare i look più cool! Vieni a farti fotografare se sei in zona: ti pubblicherò sul mio blog e su bigodino.it! Se non mi trovi, scrivimi semplicemente sul mio facebook, ti aggiornerò sulla mia posizione.
L'ingresso a Pitti è consentito soltanto se muniti di pass Stampa o Buyer.
Dalle ore 17 invece sarò presso il negozio Raspini (proprio accanto a Luisa Via Roma) per la presentazione di una fantastica linea di borse, Pomikaki. Venite a scoprirla con me (Potete avere tutto le info intanto sulla pagina Facebook di Pomikaki), a fare due chiacchiere, a prendere un aperitivo e naturalmente a fare il vostro pre-ordine (Poi capirete perchè..). Ingresso Libero.
11 GENNAIO
Dalle 15 alle 19 sarò presso il negozio Gerard Loft per la presentazione della nuova collezione di Gstar Raw. Creerò degli outfit e alle ore 17.30 ci sarà una sfilata pop-up innovativa che si svolgerà in soli 4 metri quadrati. A seguire aperitivo e chiacchiere! Siete tutte invitate! Ingresso Libero.
Vi aspetto, spero di conoscere e rivedere molte di voi! :)
OUTFIT:
DRESS: 
BYBLOS
COAT: 
BYBLOS
BAG: 
FRUSCIO
SHOES:
MIU MIU
INFO:
Già mi segui su Facebook? Segui i miei aggiornamenti quotidiani, le mie avventure e le notifiche in tempo reale dei miei post cliccando su LIKE :D
Are you following me on Facebook? Follow my daily uptodates, my adventures and the reminders of new post just clicking LIKE :D
Condividi