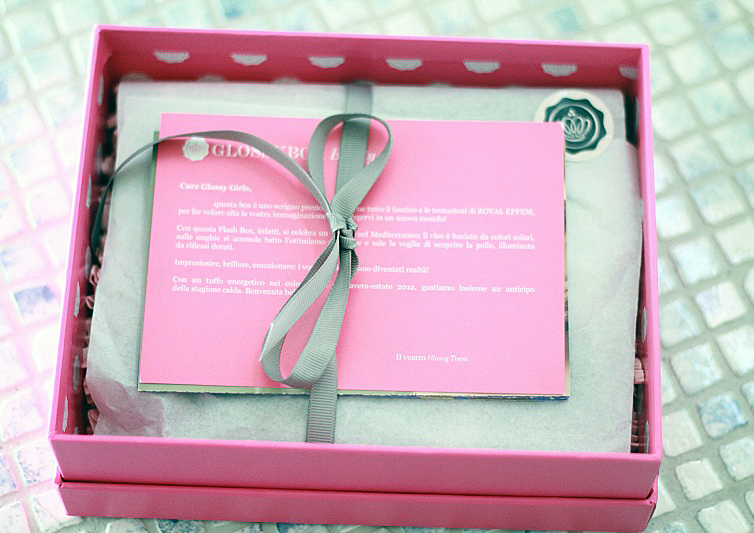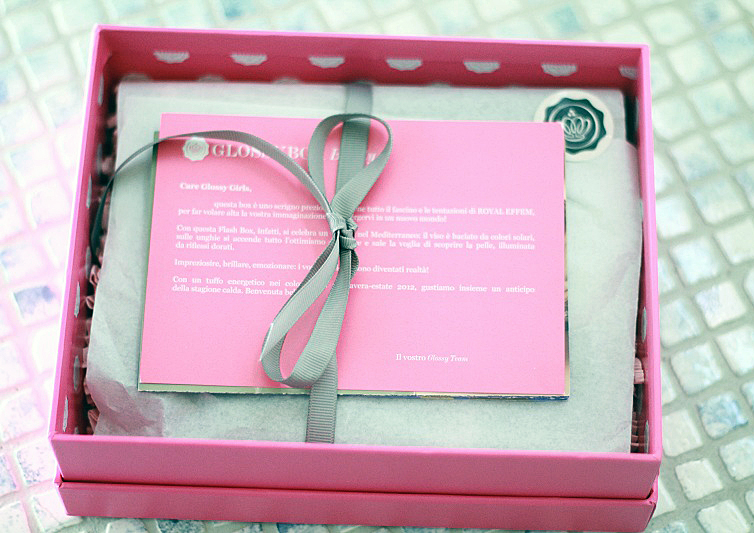 Lo conoscete

GlossyBox

?
Come sicuramente già sapete è un cofanetto curato nei minimi particolari che, arrivando direttamente a casa tua, ti permette di avere ogni mese 5 prodotti mini taglia o full size delle migliori case cosmetiche al costo di 14 euro. Però c'è una novità:
la GlossyBox Flash
! Un cofanetto con 5 prodotti di make up dei marchi più prestigiosi in formato full size! Mi raccomando, ci vuole il click lesto per accaparrarsele: le prime due GlossyBox Flash firmate Diego Dalla Palma e Royal Effem
hanno fatto il tutto esaurito in soli 6 minuti
dall'apertura delle vendite online! Io sono rimasta super positivamente colpita dalla cura del dettaglio della mia GlossyBox Flash firmata
Royal Effem
: il packaging è così invitante che sei davvero indecisa se, aprire il tuo box con la dovuta calma e dolcezza per non rovinare la carta velina e il romantico fiocco o se aprire tutto in puro stile flash (e bambina davanti all'albero di Natale) per scoprire i prodotti all'interno, che sono davvero ottimi come ci si aspetta da Royal Effem, del resto!
Do you know
GlossyBox?
 As you probabily know is a box with an amazing packaging that you can find directly at home and that allow you to have 5 products from the best beauty brands every month! Now there is a super new, the GlossyBox Flash: a box with 5 full size products from the most amazing brands: Diego della Palma and Royal Effem boxes were sold out in 6 minutes! So you have to be very fast! Here it's my Royale Effem box! I loved it! It's so cute and the products are really awesome! Big news for you girls: for all my readers the glossybox is now available on March at 10 euro just put this discount code promoIC10, yey!!
Ps. Per tutte le mie lettrici
Glossybox è in promozione per un mese a 10 euro
. Inserisci il codice
promoIC10
al momento dell
'

acquisto
e otterrai 4 euro di sconto sul prezzo pieno della box. Riceverai direttamente a casa tua un elegante cofanetto con 5 minitaglie o full size di prodotti cosmetici o di makeup delle migliori case cosmetiche, poi fammi sapere cosa ne pensi!! E mi raccomando, collegati alla
pagina Facebook di Glossybox

!
Condividi