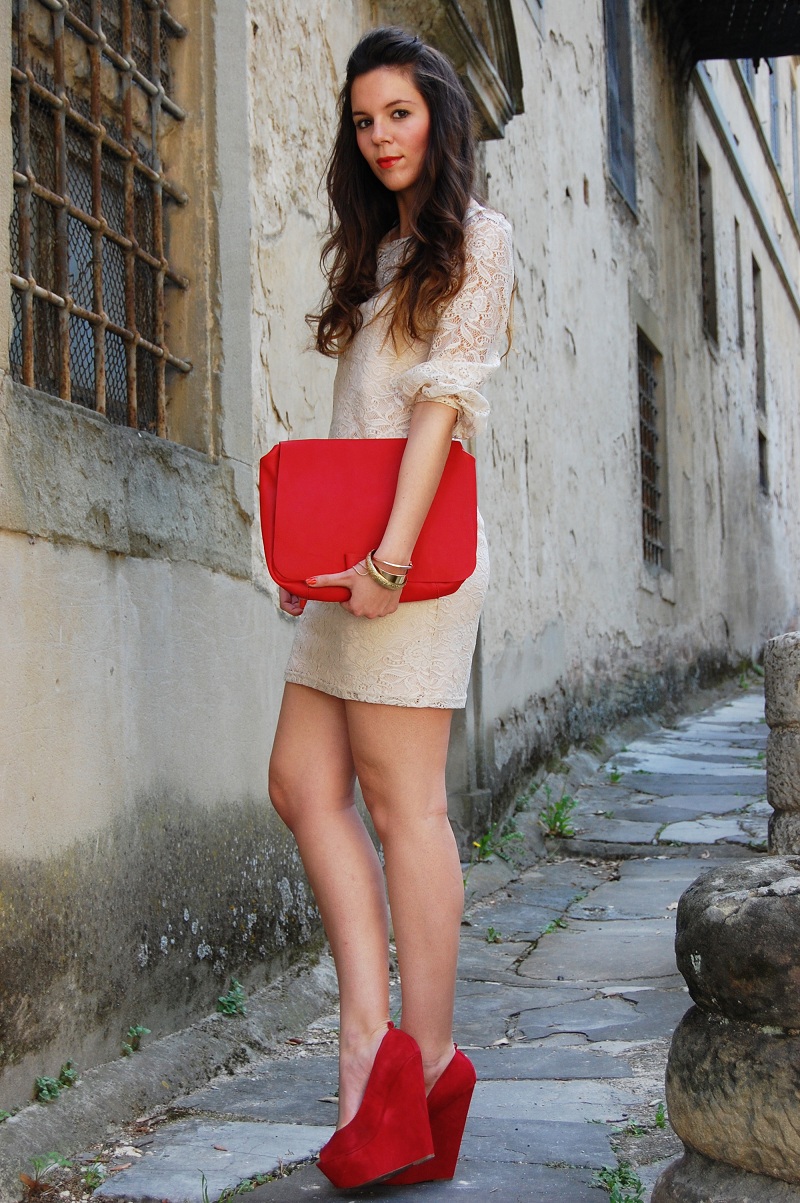 Buongiorno a tutte fanciulle (e fanciulli)! Dopo le 
giornate no
di questo inizio settimana, le cose sembrano essere tornate ad una splendida normalità. Queste giornate di primavera che ti permettono di 
lavorare con le finestre spalancate tutto il giorno
, di pranzare al parco e di indossare finalmente 
vestiti più leggeri 
sono super complici di quella 
serenità inaspettata
 che spero stia invadendo un po' tutte noi! In questi giorni poi, mi aspettano dei 
progetti interessanti
 che spero di poter condividere con voi: domani sarò in diretta su RADIO RAI dalle 10 alle 11.30 nel programma 
"Le conseguenze della moda"
 (Pregate per me, nonostante aver affrontato anche ieri un'intervista telefonica, continuo ad essere agitata ed emozionata, come vi ho raccontato su Facebook!). Sabato invece sarò a Milano con due amiche blogger per girare un video super super carino per un marchio che mi sta molto a cuore, vi terrò aggiornate sulla 
mia pagina Facebook
! Ma
 torniamo all'outfit oggi, dopo queste chiacchere :D
 Ho scelto di indossare un outfit molto semplice, composto da pochi pezzi, ma che secondo me è molto di effetto: un vestito in pizzo doppio strato con maniche trasparenti, la maxi pochette (che ha anche la tracolla) che vi avevo fatto vedere 
QUI
 e le mie Carvela, che come oramai saprete, adoro! Spero che questo outfit vi piaccia e ovviamente, fatemi sapere che cosa ne pensate! Un abbraccio forte ad ognuna di voi, grazie mille per il vostro appoggio e il vostro calore!
Good morning to all of you girls! After the last super bad days, now everything seems to be ok again. Those days are super beautiful: spring is defenitly coming! Now I use to work with open windows all day long, I eat my lunch at the park and I finally wear spring clothes, like today! Then new interesting projects are coming: tomorrow I will be ad Radio Rai to be interviewed by "Le conseguenze della moda", an interesting radio show about fashion. Then I will be in Milan to shoot a super funny video together with two bloggers friends: I'll keep you uptodate on my 

Facebook page

! But let's talk about my today outfit: I decided to wear a very simple outfit with few items but that I think it's very cute (Of course, let me know your opinion!). I'm wearing a white lace dress, a big red pochette and my super high red Carvela. A big hug to anyone of you, my girls, and thank you SO MUCH for your comments!!

Condividi