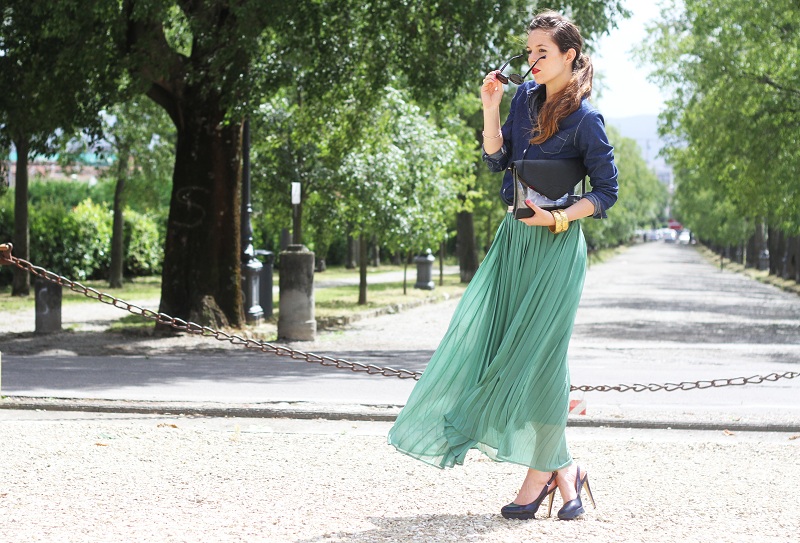 Buongiorno carissime! Vi scrivo di nuovo da Firenze, dopo due giorni di riunioni con il team di Chicisimo a Valencia, team che ho avuto il piacere di conoscere di persona soltanto ora, dopo quasi due anni di lavoro insieme esclusivamente svolto tramite videochiamate: sembra incredibile! Prima di farvi vedere alcune foto scattate a Valencia.. (Continua)

Good morning ladies! I'm writing you again from Florence, after two days spent in Valencia with Chicisimo team, warking on exiting news! I'll show you some pics of my stay tomorrow! Today I would like to show you a new outfit.. (To be continued)
.. vorrei farvi vedere un outfit che mi piace particolarmente, scattato un paio di settimane fa ed indossato per una serata con gli amici. Il pezzo che più mi piace è sicuramente la gonna doppio velo, plissettata,del marchio NIOI: mi piace perchè la lunghezza della gonna sottostante è perfetta per far intravedere le scarpe creando un effetto vedo non vedo, secondo me molto elegante ma anche perchè fluttua, diventando una vera e propria nuvola, ad ogni passo.

Today outfit is one of my fav. It has been shoot a couple of weeks ago for a dinner with friends. The item that I love more is for sure the long skirt by NIOI: i love it becouse it's very long but the first skirt is not so long and allowed you to see shoes. Super elegant! Then, everytime you walk, the skirt become like a real cloud: I think it's so beautiful!
Ho deciso di abbinare alla gonna elegante, una camicia in jeans per sdrammatizzare il tutto e abbinare accessori divertenti come la pochette in PVC di Bershka (Che avete visto in un altro outfit recente) e i nuovi occhiali Giorgio Armani – frames of life, rotondi e super cool!
I decided to combine the elegant skirt to a denim shirt to create a different combination and also to pair funny accessories like the transparent bag by Bershka and the round Giorgio Armani – frames of life glasses!
E a proposito di new in! Devo farvi vedere un sacco di cosine nuove che ho scovato dopo questi giorni sempre in viaggio: urge un post New in :D Questo weekend, oltre a farvi vedere le foto di Valencia, vi sommergerò di post :D Un abbraccione a tutte e fatemi sapere che cosa ne pensate di questo outfit!
And talking about new in: I have so much to show you after those days spent travelling around! This weekend I hope to show you something (For sure tomorrow I'l shoe you all the valencian pics!). A big hug and let me know if you like this look!
Condividi