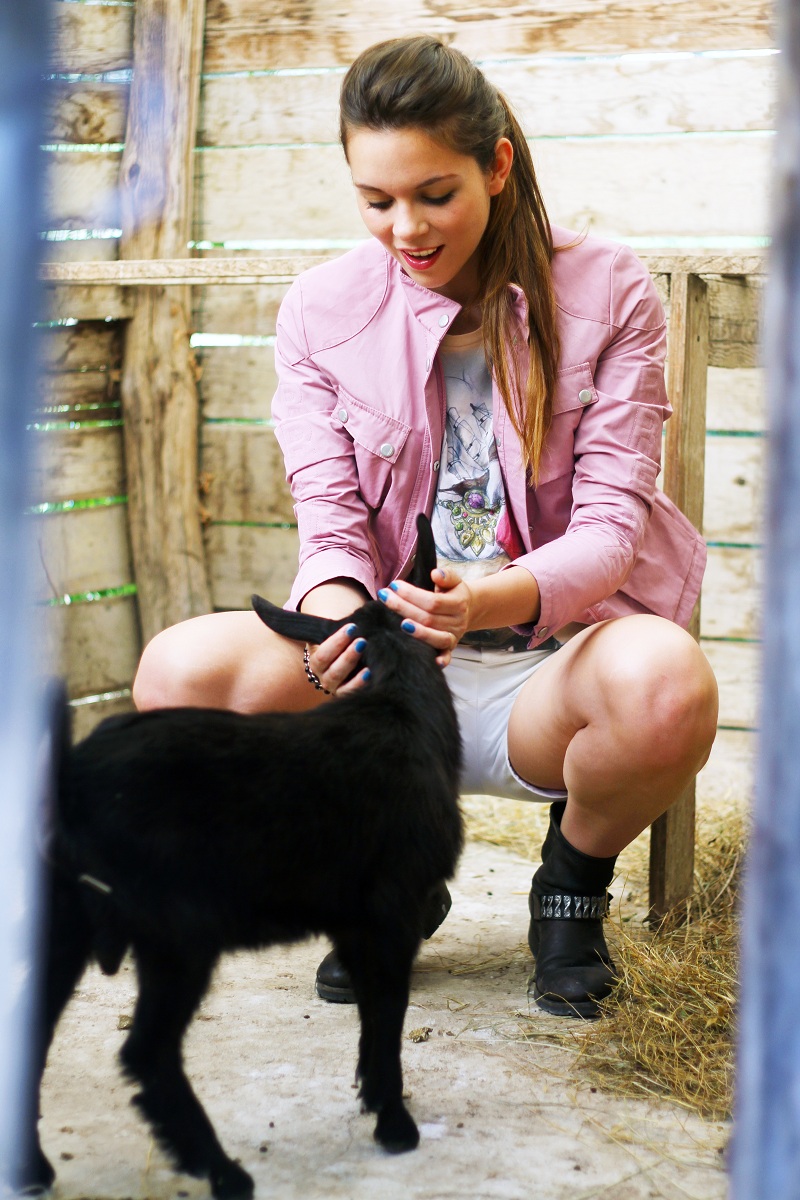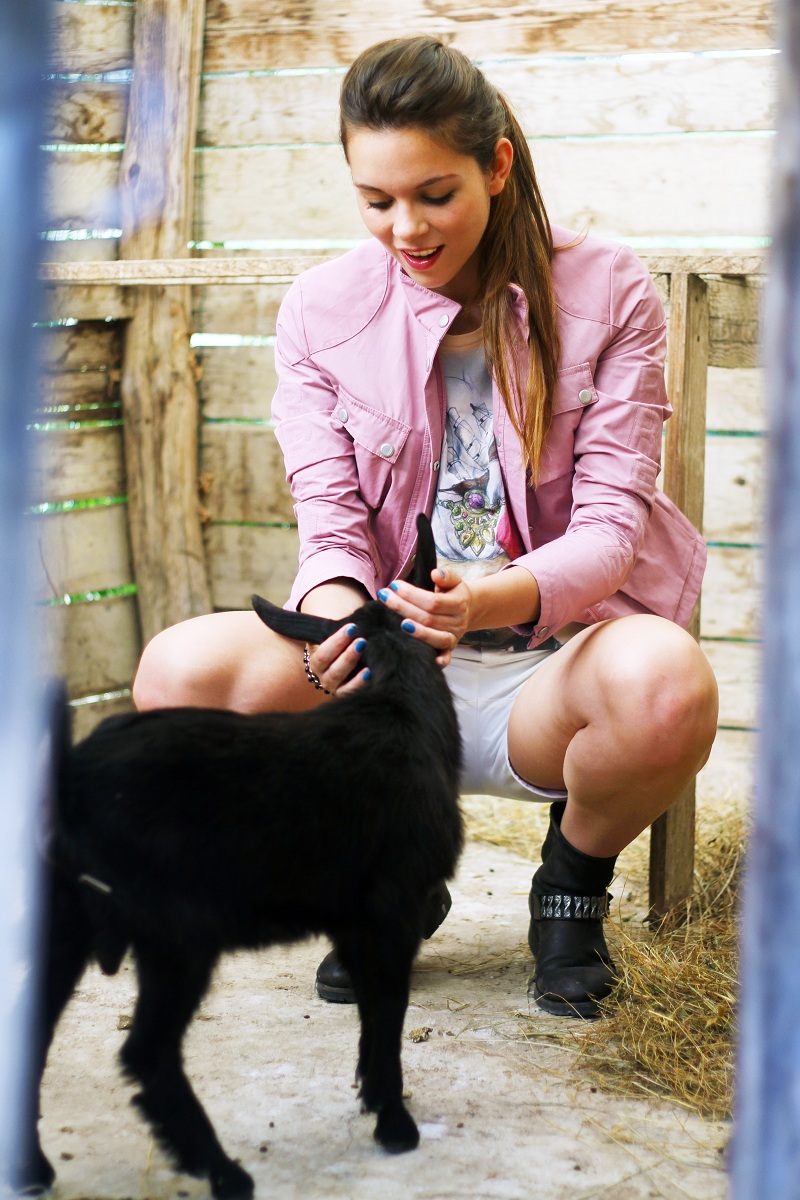 Buongiorno ragazze! Passato un buon weekend? Il mio è stato davvero perfetto, tra 
natura, campagna, amici e buon cibo!
 Vi racconterò tutto nei post di questi giorni, iniziando dalle tanto attese foto del nostro 
nuovo amico peloso, Felipe,
 una capretta nana Tibetana che ha appena compiuto tre mesi e che è stata salvata dal macello. Adesso è il nuovo compagno di giochi di Dodo e Kira, delle galline, dei miei nipotini e ovviamente nostro: è super affettuoso e come un cagnolino ci segue ovunque, soltanto che, invece di abbaiare, bela! E poi, fa morire dal ridere, salta come un grillo :) Ecco tutte l foto scattate con Felipe e 
l'outfit sportivo che indossavo per l'occasione
 (E che spero vi piaccia ugualmente!), composto da un paio di bikerboots (Li avete visti l'ultima volta indossati in tutt'altra mise 
QUI
), shorts e tee (Che avete già visto 
QUI
) e la mia nuova giacca traspirante di Brema. Nel pomeriggio vi farò vedere tanti altri spezzoni della casa in campagna. Giova ha scattato delle bellissime foto. Vi faccio vedere tutto dopo ma intanto, fatemi sapere le vostre opinioni! Bacini!
Ps. Se il post vi è piaciuto, cliccate 
mi piace
 proprio qui sotto: mi aiuterete a crescere :) Grazie <3
Good morning girls! How about your weekend? Mine has been really perfect among nature, countryside, good friends and amazing food! I'm going to tell you more about everything int he next posts, starting from the pictures of our new pet, Felipe! It's a small African goat that only is 3 months old and that has been saved from the death :( Now is the new friend of our big dogs Kira and Dodo, of my nephews and of course our new friend! Felipe follow us everywhere like a dog and it is so funny! He jumps and jumps and jumps :D Here you can find all the pictures of Felipe and of the outfit I was wearing at the country side. This afternoon I'll show you more pics of the countrryside house, Giova has shoot super amazing pics! 
Ps. If you liked this post, please click mi piace (like in italian) just here: you help me growing :) Thanks <3
I'M WEARING
SHOES:  SARENZA (Le avete viste l'ultima volta QUI)
PANTS: ZARA
NAILPOLISH + LIPSTICK: DIOR (New collection)
Condividi