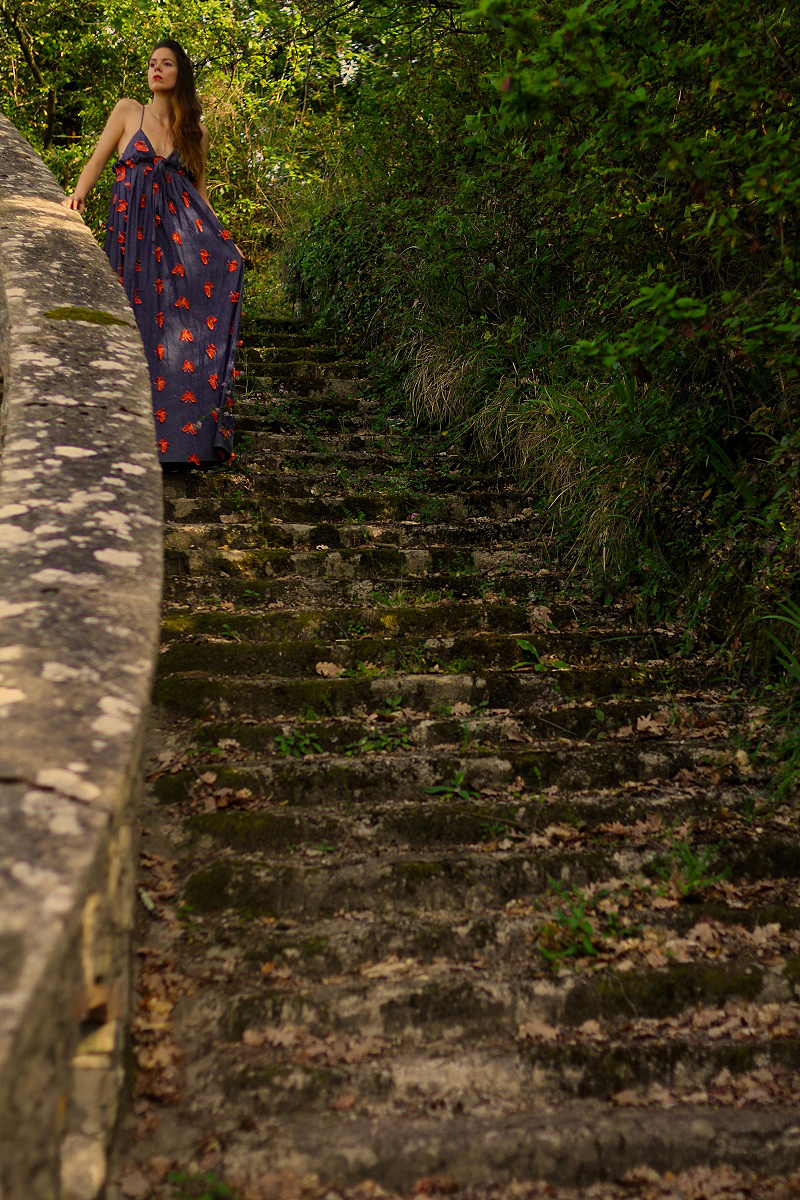 Buon lunedì mie care, come state? Questo weekend è stato super caldo in tutta Italia ed io, con una ragione in più del solito, mi sono rifugiata nel Chianti dal mio fidanzato dove però l'afa non ci ha dato scampo: televisione, pc e ventilatori sono stati i nostri migliori amici! Nel tardo pomeriggio di sabato però, mentre eravamo in macchina direzione mare per un aperitivo con gli amici (Vi faccio vedere tutto domani!), abbiamo scorto questo bellissimo scorcio (continua..)

Happy monday dears! How are you? This weekend has been super hot all around Italy and me I have moved for a couple of days to my BF's house in Chianti area. Even here the super hot weather was really annoying: television and pc have been our friends for the weekend. On saturday evening, while we was driving to go to the sea for a happy hour with friends (I'll show my outfit tomorrow!), We saw this amazing place (to be continued..)
Una scalinata (Ok, un po' pericolante e davvero ripida) immersa nel bosco e ricoperta dalla vegetazione. Un luogo davvero incantato che è salito subito al posto numero 1 tra le location da sfruttare per le foto che scattiamo e inseriamo sul blog. Così domenica pomeriggio, ci siamo immersi in questa atmosfera fatata e abbiamo scattato un po' di fotografie indossando uno dei miei capi preferiti del momento.
A huge flight of steps (Ok, really ancient and a little bit dangerous!) completely sourrounded by the wood. An encianted place that has suddently become the number 1 among the location to use to shoot some pics for the blog. So on sunday afternoon we went to that amazing place wearing one of my fav pieces of art of my closet right now.
L'abito è una creazione di un
marchio emergente fiorentino
,
GildaGiambra
e che potete trovare
online
 oppure  per
email
. Fatemi sapere che cosa ne pensate di questo vestito e di queste foto! Ci sentiamo nel pomeriggio con un nuovo post! Un abbraccio
The dress is a creation of a florentine brand called GildaGiambra (You can find them
online
). Hope you'll like this dress and pics, let me know what do you think! A big hug and let's talk this afternoon for a new post! A big hug!
Pics by Giovanni Gambassi 
Condividi