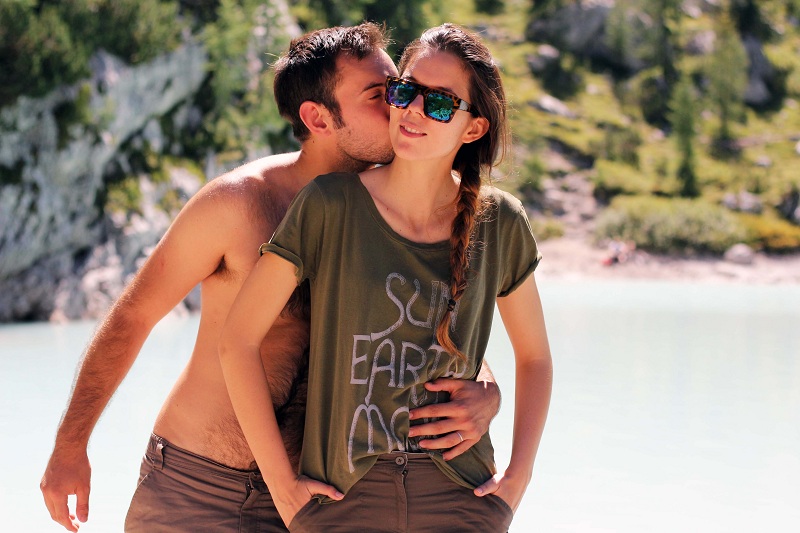 |
Primo sentiero Rifugio Vandelli lago Sorapis con le sue acque turchesi. Ecco il mio look sportivo verde militare firmato Billabong con occhiali lenti a specchio di Primark
|
Ciao care!! Vi scrivo dalla mia camera di hotel,
stanca ma soddisfatta
del bellissimo trekking che stiamo facendo.
Primo sentiero "di riscaldamento"
per questa settimana, quello per raggiungere il
Rifugio Vandelli e il lago Sorapis
, dal caratteristico colore turchese. A causa dell'ondata di caldo, anche qui, prima del temporale  impressionante di ieri notte, che mi ha tenuta con il fiato sospeso per diverse ore fino ad addormentarmi (Incredibilmente suggestivo), faceva caldissimo (ben 30 gradi) e per questo nonostante i quasi 2000 metri, rinfrescarsi nel lago ghiacciato e' stato d' obbligo dopo 4 ore totali di camminata e svariati KM macinati in salita. Spero che questo outfit sportivo, con occhiali a specchio Primark e tee Primark vi piaccia , così come gli splendidi paesaggi! Vi abbraccio!

|PHOTOS
|
 by 
Gabriele Colzi e Giovanni Gambassi 
|

First path of our Sudtirol holidays has been Rifugio Vandelli and Sorapis blue lake. Here my military green sporty outfit by Billabong and Primark

|
Hi girls! I'm writing you from my hotel room, very tired but so happy about this amazing trekking that we are enjoying. The first path of our week has been very easy, the one to reach Rifugio Vandelli and the blue Sorapis lake. In italy cause of this strange weather it's super hot and also here in high mountain the weather is incredibly hot and so we took a bath in the lake at 2000 mt after 4 hours walking. Hope you'll like those pics and my military green outfit by Billabong and Primark. A big hug!
|

MY LOOK

|
Military green t-shirt:

Billabong
Mirror Sunglasses:

Primark
Military green pants:

Dechatlon 
Condividi