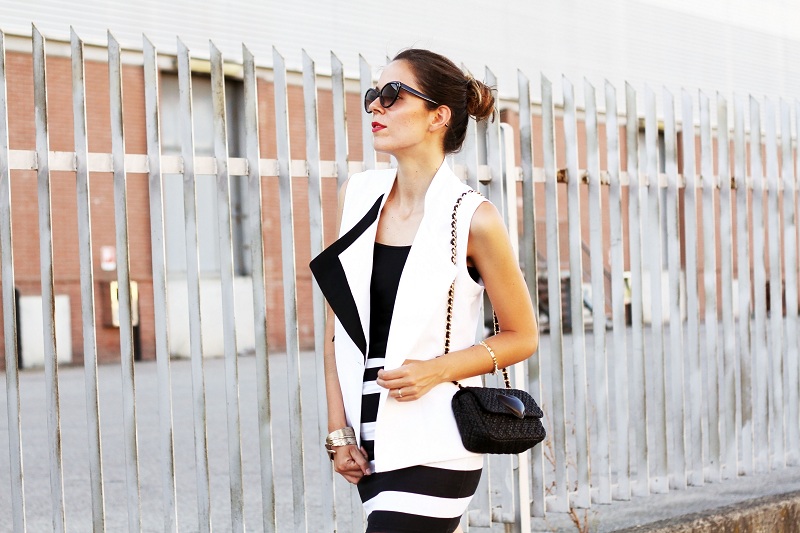 |Un outfit elegante a modo mio. Tra bianco e nero, strisce e chignon
|
Buongiorno, buongiorno, buongiorno! Esordisco con il dire che
l'organizzazione lavoro ed ufficio
è andata a buon fine anche se, da stasera, mi aspetta un'altra, grande, impresa:
riordinare il mio armadio
(La
stanza delle scarpe
fortunatamente è già in ordine!). Ikea docet, in questo caso: vi tengo aggiornate :D Ieri sera, in cerca di un paio di oggetti per l'organizzazione della mia postazione, sono andata a fare un giretto pre cena con mio fratello. Ovviamente
sono finita da Zara
e, ultimissimi saldi, ho fatto un affare pazzesco! Domani vi dico tutto :D Ma intanto ecco le foto dell'outfit che ho indossato:
un look giocato sui toni del bianco e del nero
con un tocco di rosso, sulle labbra. Fatemi sapere che cosa ne pensate! Vi abbraccio forte!
|PHOTOS|
by Gabriele Colzi
|A chic outfit among white and black, stripes and chignon|
Good morning, good morning, good morning! I would like to start this post saying that it's done, the
organization of the office

and desk is done but tonight a new fight is going to start. The restyling of my closet (Luky me the

shoes room

is already done :D). Ikea docet, i
n this case: I'll keep you posted girls :D Yesterday night, before dinner, I went out to find some items to organize in the better way my office and, of course, at the end I went to Zara (ahaha :D). There in the last sales tiny section, I found a real bergain! Tomorrow I'll tell you everything :D But in the meanwhile here the outfit I wore: a white and black outfit with red details on lips. Let me know what do you think! A big hug!
Ho già indossato i capi di questo outfit in questi post.
Condividi