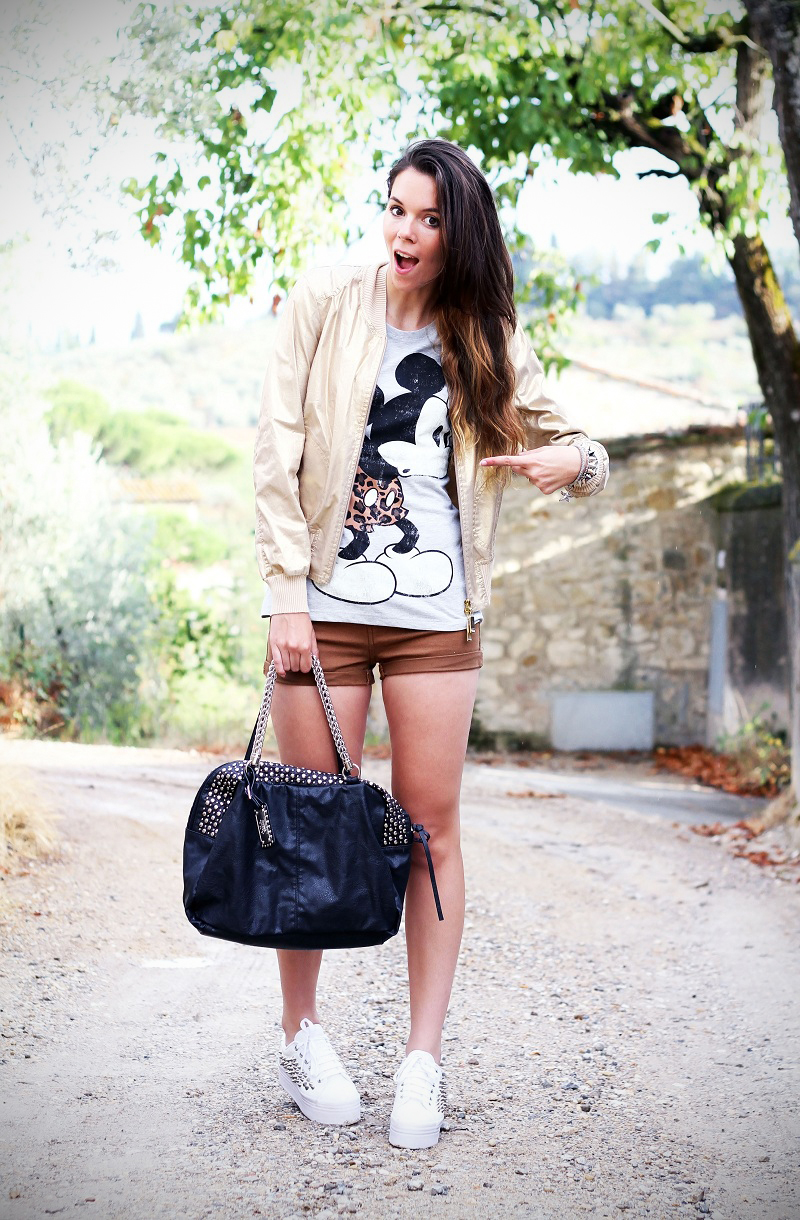 |Un bomber oro, una tee cartoon e le mie sneakers con la zeppa di Jeffrey Campbell: ecco il mio divertente outfit del weekend
|
Buongiorno mie care!
Chi di voi oggi è tornata
a lavoro? E quando invece ricomincerete scuola ed università? Io oggi ho deciso di iniziare la giornata la massimo, nonostante la pioggia che un po', ammettiamolo, ci mette tristezza! Questo weekend ho lavorato tantissimo al
nuovo Irene's Closet
e non vedo l'ora di andare avanti con il progetto! Inoltre sto organizzando la mia presenza alla
VFNO di Milano
: farò infatti un salto dai miei amici di
Silvian Heach
dalle ore 18 alle ore 20 pressi il corner Silvian Heach di la Rinascente! Venite a farmi un salutino? Mi farebbe tantissimo piacere! Fatemi sapere! Oggi vorrei farvi vedere l'outfit che ho indossato ieri, per la mia domenica in relax:
un outfit casual ma divertente
grazie alla maglietta cartoon di Topolino (Avete visto? Ha le mutande leopard :D), un bomber oro e le mie
sneakers Jeffrey Campbell con la zeppa
. Che ne dite di questo outfit? Vi abbraccio e ci sentiamo nel pomeriggio: per chi è tornato dalle vacanze in questi giorni vi farò vedere un madlay di tutti i miei outfit estivi :D
|PHOTOS|
by Giovanni Gambassi
|A golden jacket, a cartoon tee and flatform Jeffrey Campbell sneakers: here my weekend outfit|
Good morning girls! Who is back to work? And when are you going to start again school and university? Today I decided to start my day with high energy even if the rain is getting me a little bit sad :( This weekend I have worked on the new Irene's Closet and I can't wait to go ahead with the project! Then I'm planning my visit to Milan for the Vogue Fashion Night Out where I'm going to say hallo to my Silvian Heach friends from 18 to 20 PM at Rinascente corner. Come to say hello!! Today I would like to show you girls the pics of my sunday outfit: super casual and super funny thanks to the Mickey Mouse tee (Have you seen? He is wearing leopard underwear :D). I decided to combine it with a golden bomber and Jeffrey Campbell flatform! What do you think? Let's talk this afternoon!
Condividi