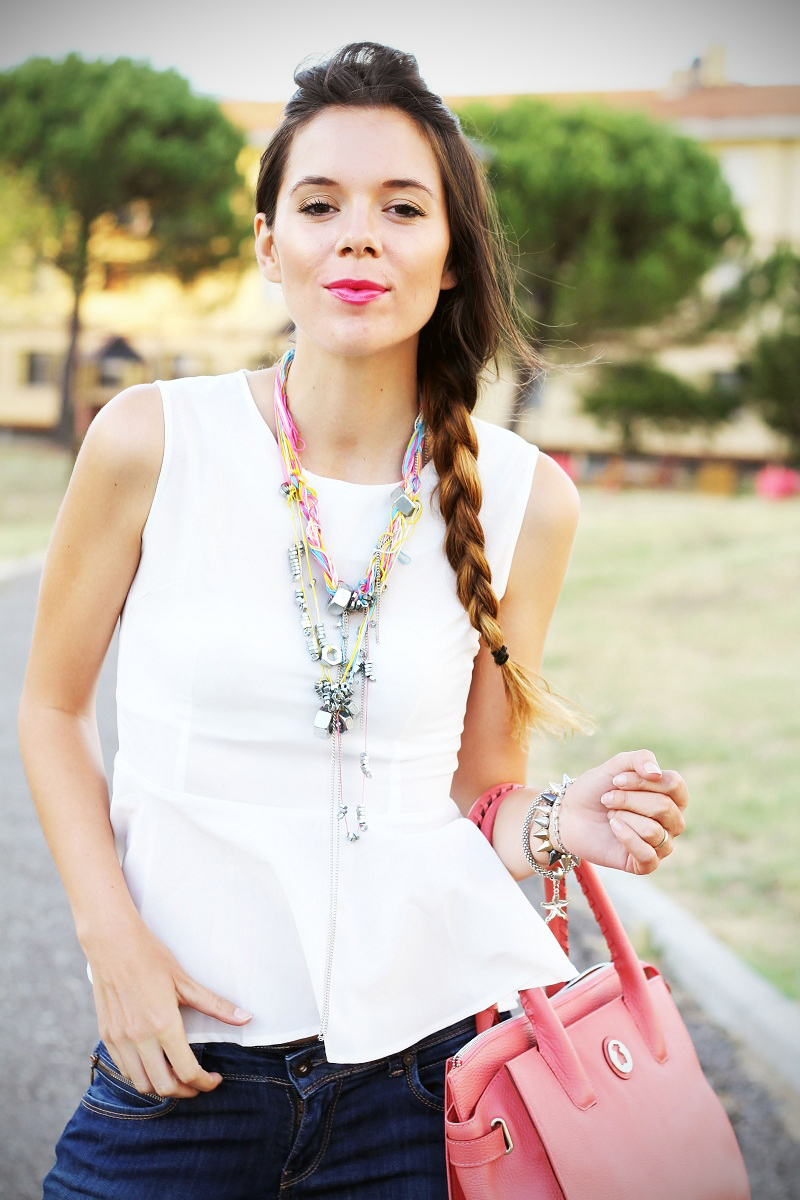 |Un peplum bianco, un paio di jeans e una collana creata da un'amica: bye bye summer!|
Buongiorno girls! Le temperature a Firenze sono ancora afose, 
aspettando un po' di pioggia
 che riempia i nostri fiumi oramai riarsi (E anche le nostre campagne, ahimè!): mentre i giubbottini da mezza stagione mi fanno "ciao ciao" con la manina dall'anta del mio armadio, è ancora tempo di
 indossare capi estivi 
mixandoli a capi un po' più pesanti. Per questo outfit, ho deciso di indossare una 
tee peplum
, abbinata a jeans classici e tocchi di rosa e celeste grazie alla collana con i bulloni che ha creato per me la mia amica Micol del blog 
Feed your Style:
 è bravissima a fare DIY, 
date un occhio
! E, a proposito di peplum: lo sapete che andrà alla grande non solo questo autunno.. ma anche la prossima estate? Nel pomeriggio arriverà un 
post ispirazione
 per indossare questo capo anche in inverno :D Un abbraccio a tutte!
|PHOTOS| by Giovanni Gambassi
|A white peplum, a skinny jeans and a handmade necklace: bye bye summer!|
Good morning girls!  Temperatures in Florence are still hot while waiting some rain (Here everything it's dry :(. My autumn jackets are still in the closet and so I can still wear some summer items combined with autumn stuff like classic denim and suede shoes. I decided to wear my white peplum with colours flashes thanks to the beautiful handmade necklace created by my friend Micol from Feed your Style blog. And speaking of Peplum. do you know that it will be a great trend both for this winter and next summer? This afternoon an inspirational post will be up! stay tuned :) a big hug!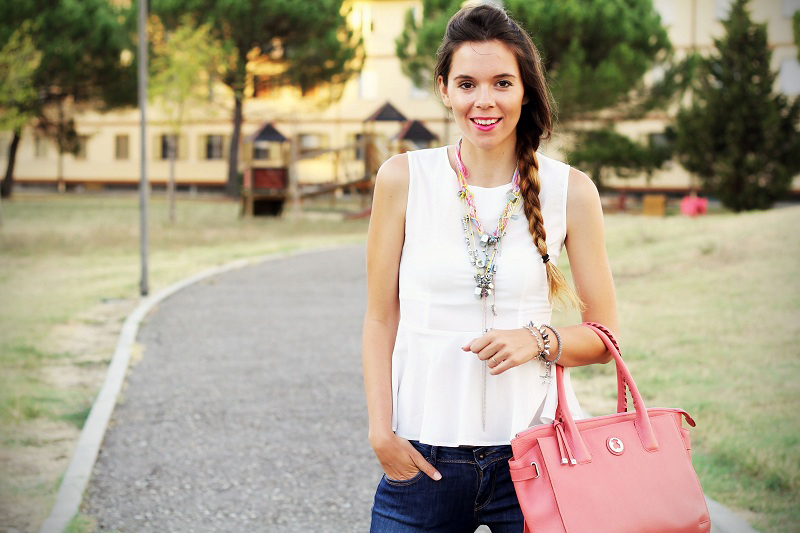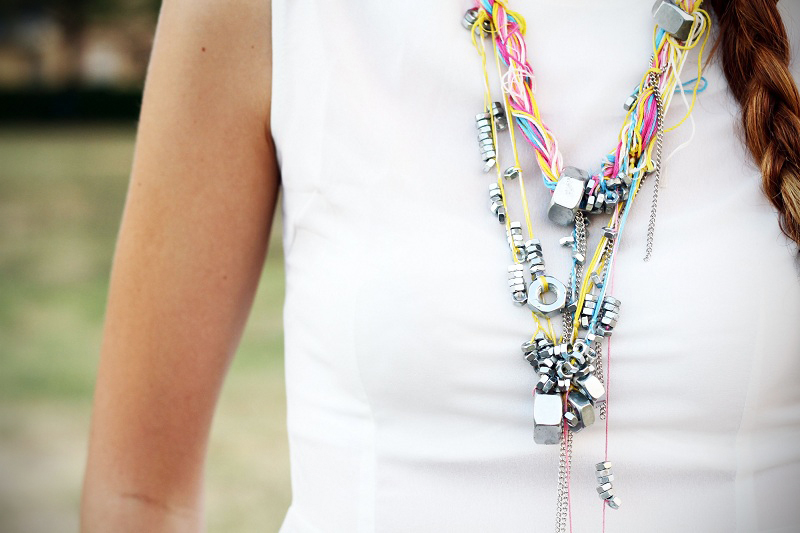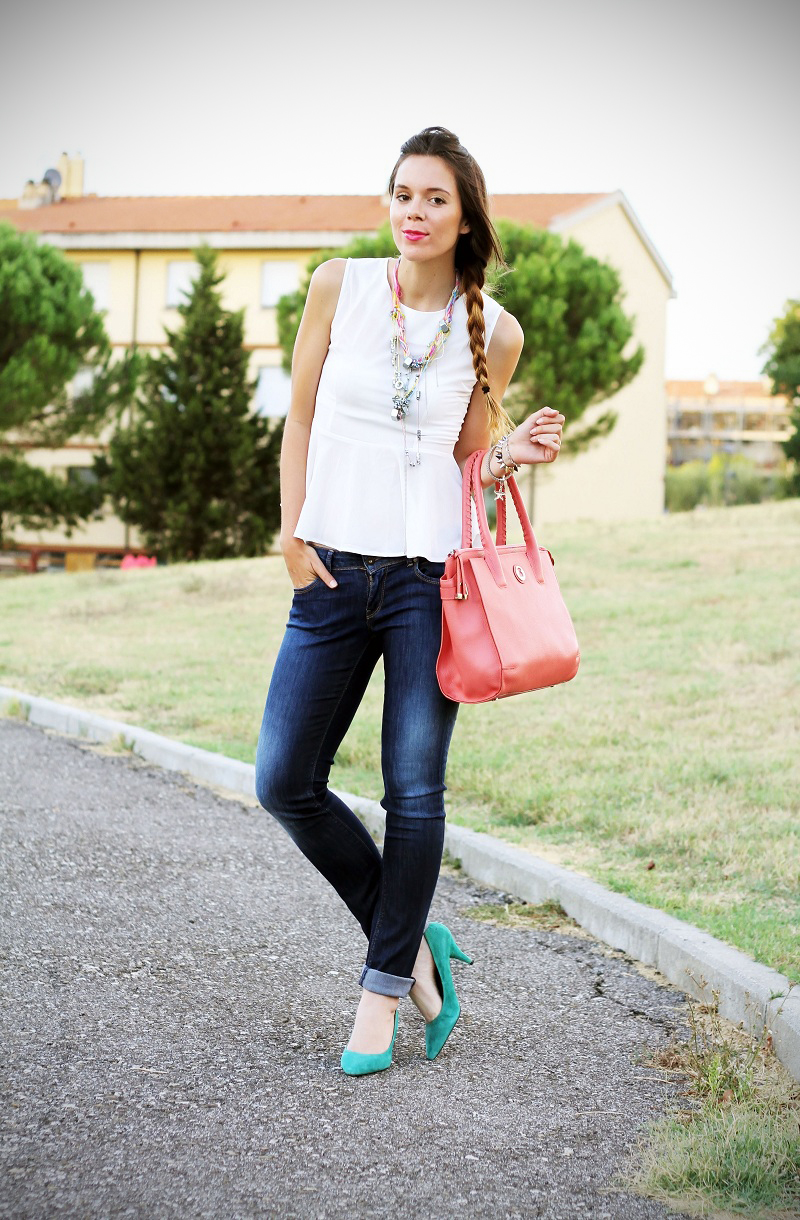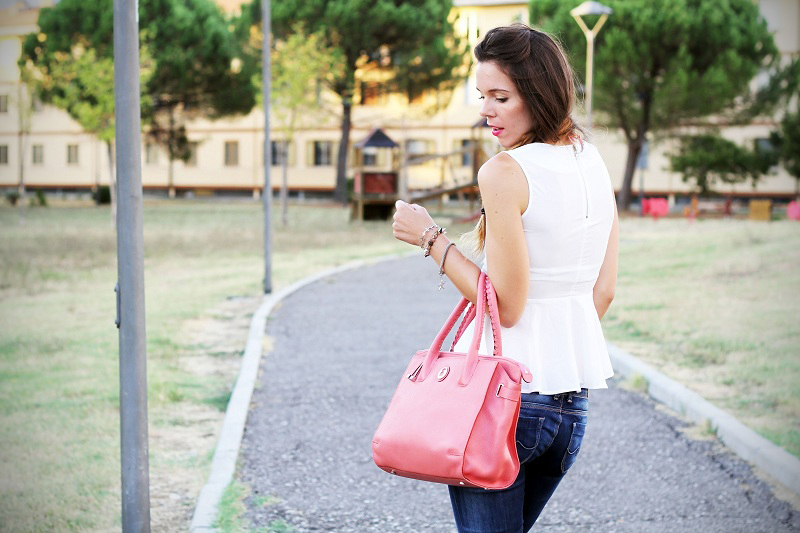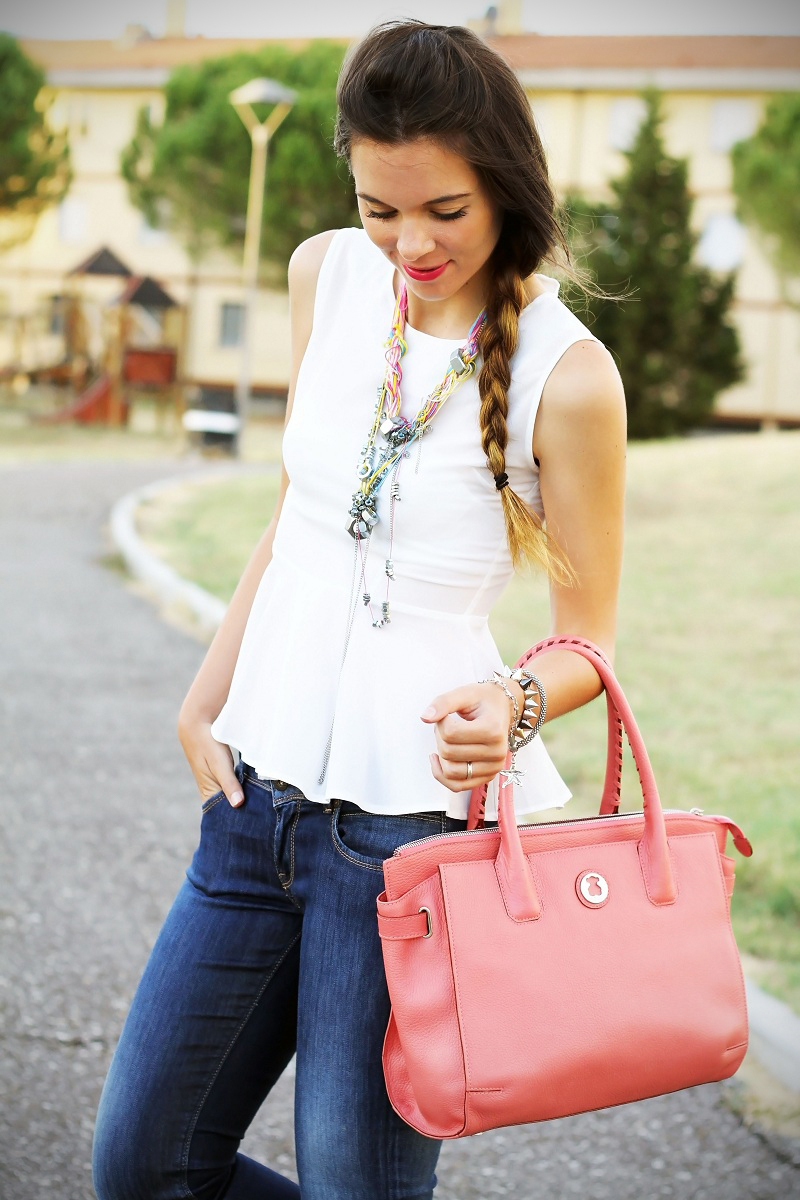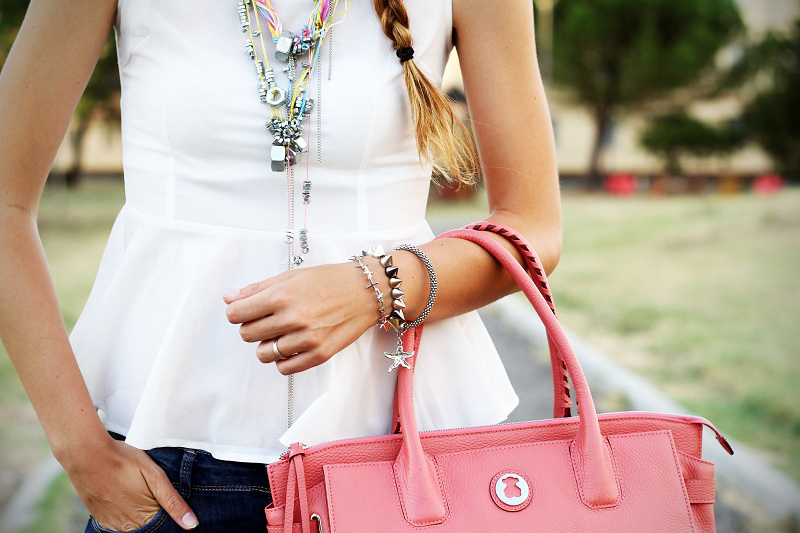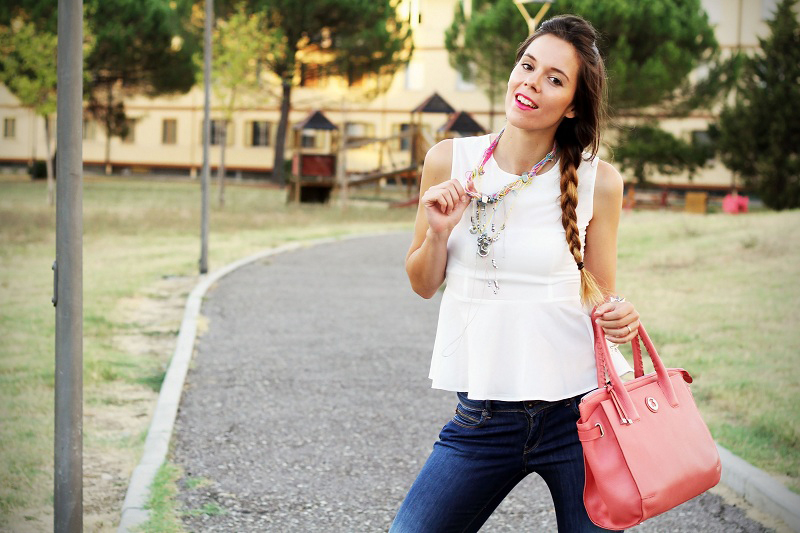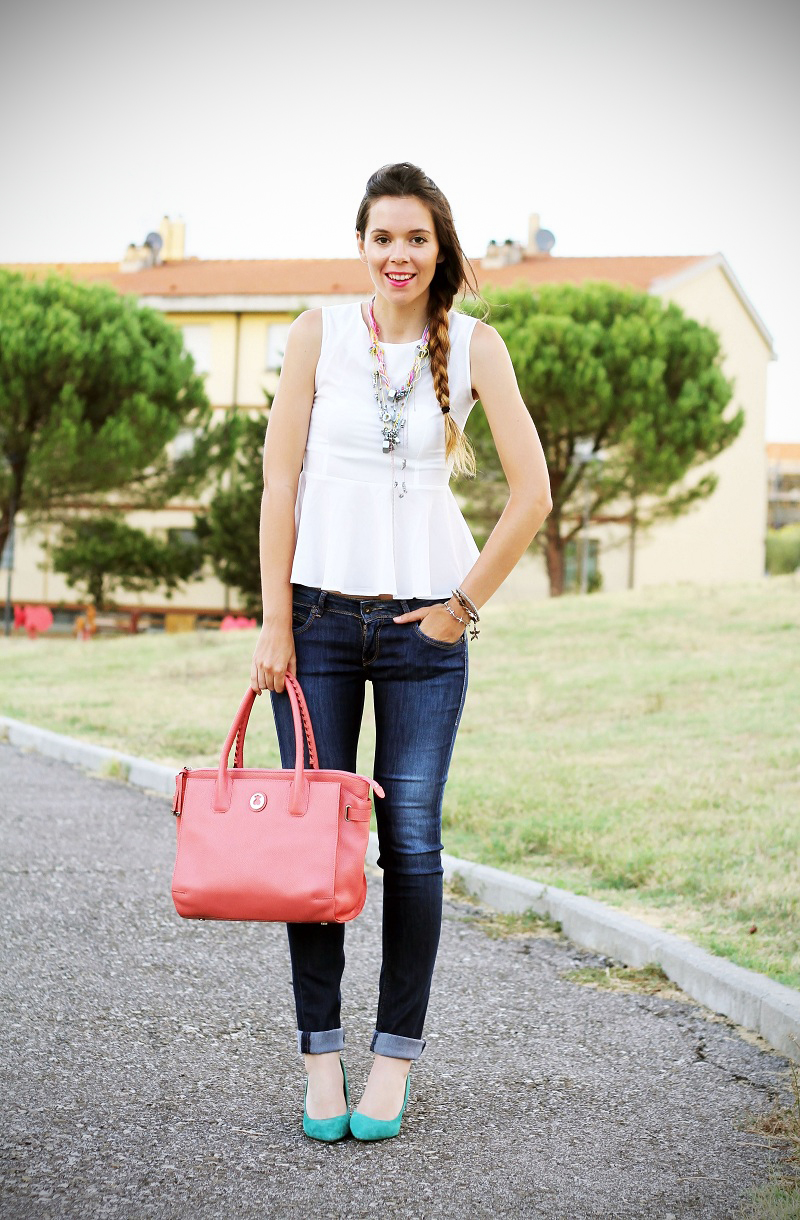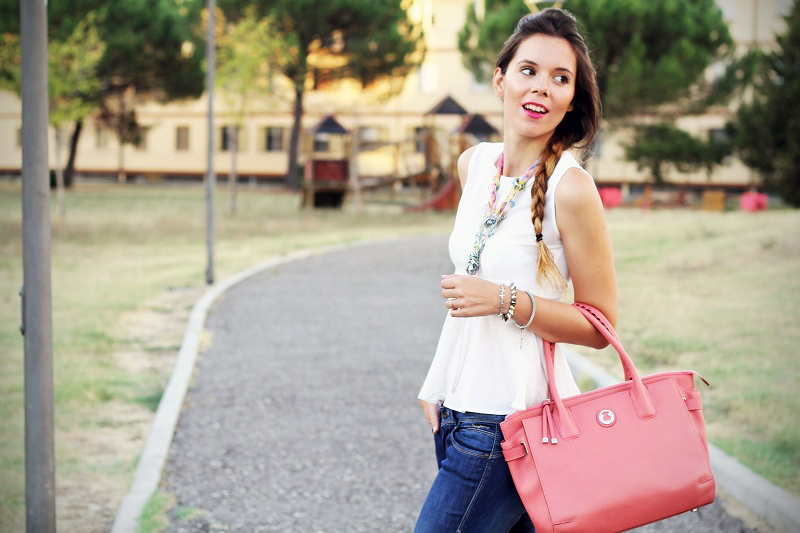 Ho già indossato i capi di questo outfit in questi post. 
I have already worn those items here.
Miss Pigghy and pink accessories 
I'm happy
Pastel
 Dopo la tappa di 
Torino 
il grande tour degli eventi 
GUESS 
dedicati al denim si sposta insieme a me a 
Milano 
(venerdì 28 dalle 16 alle 19 store Guess di San Babila) e a 
Firenze
 (Sabato 29 dalle 16 alle 19 store Guess di via degli Speziali). Se passate di li, venite a salutarmi!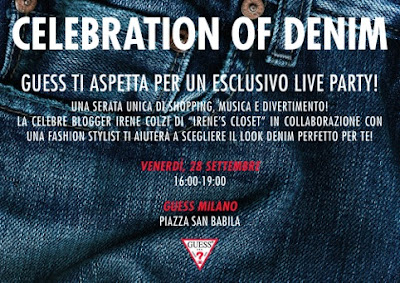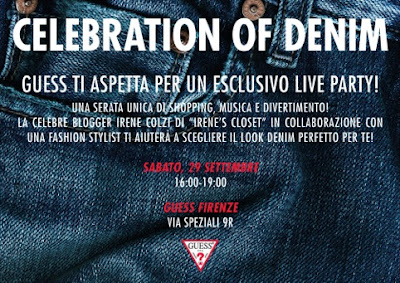 Condividi