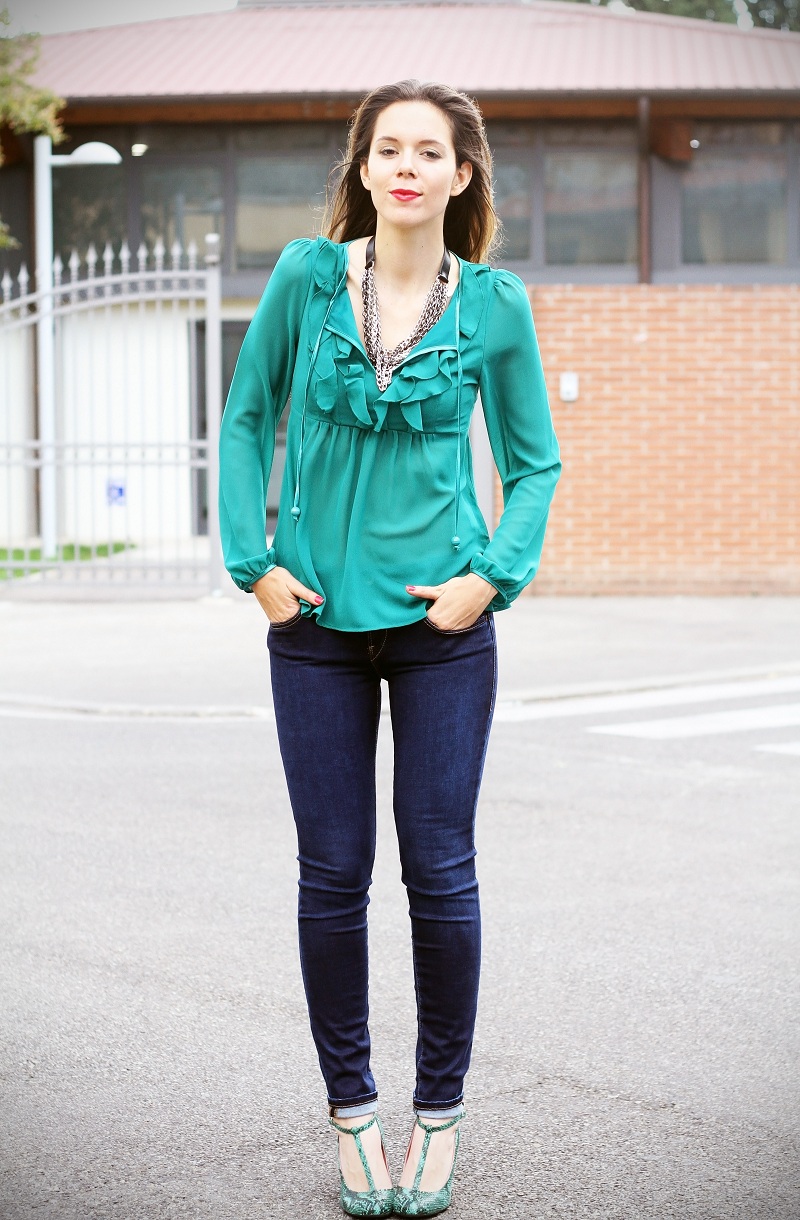 | Ecco l'outfit che ho indossato durante la Vogue Fashion Night out 2012 di Firenze presso il negozio Fornarina!
|
Buongiorno ragazze, buon mercoledì! Che serata ieri sera!! 
GRAZIE GRAZIE GRAZIE
 e ancora grazie per essere passate ieri sera presso lo store 
Fornarina
 di piazza del Duomo a Firenze. E' stata una serata troppo divertente e sono felice di averla trascorsa con voi! Nel pomeriggio vi farò vedere tutte le foto scattate durante l'evento e tutte le foto con voi, carissime! Intanto vi lascio le foto 
dell'outfit casual
che indossavo per la serata. 
Nel pieno mood denim Fornarina,
 indossavo uno dei miei modelli preferiti abbinati a scarpe T-bar dalla linea vintage e una camicia di un punto di turchese che trovo bellissimo. Fatemi sapere che cosa ne pensate di questo outfit casual! Ci sentiamo nel pomeriggio con tutte le foto dell'evento!! Spero vi piaccia, fatemi sapere che cosa ne pensate e seguite le news sull'evento sulla 
pagina facebook Fornarina, twitter
 e ovviamente 
Pinterest.
Ps. Seguite i miei aggiornamenti live dalla settimana della moda sulla mia 
pagina Facebook, Twitter
 e Instagram 
(@ireneccloset
)
|PHOTOS|
by Giovanni Gambassi
|Here the outfit I was wearing during the Vogue Fashion Night Out 2012 in Florence at Fornarina store|
Good morning ladies! What a night yesterday night! THANKS THANKS THANKS to all the girls how stopped by at Fornarina store  in Florence. It has been a unique night, so funny! And I'm so glad that I have spent it with you girls! This afternoon I'll show tou all the pics shoot during the event and all the pics with you, girls! In the meanwhile all the pics of the casual outfit that I was wearing during the night. In the Fornarina mood, I was wearing one of my fav denim by Fornarina, t-bar shoes and a beauiul blue shirt! Hope you'll like this casual outfit! Let me know if you like it and let's talk this afternoon <3
Ps. Follow the uptodate live from the weekend on my
Facebook page

, 

 Twitter
 and Instagram (@ireneccloset)
|

MY LOOK

|
FORNARINA
total look
BRITTA gold mini clutch
(in vendita negli store di Firenze e Roma per tutto settembre!)
Ho già indossato i capi di questo outfit in questi post. 
I have already worn those items here.
Condividi